Finding reliable electric bikes for under $1000 is part research, part luck, and part compromise. E-Bikes cannot come too cheap because, besides the bike itself, there are few other expensive parts to be considered like the motor, the battery, and the controllers.
This is probably the main reason you'll see a lot of complaints about the lack of support, poor documentation, and some flimsy parts that you have to live with. 
If you don't believe me, just check these Rocky Mountain e-bikes which are roughly six times more expensive, and for good reasons.
With this being said let's look at 5 e-bikes that in our opinion are worth buying.
ANCHEER 26″ Electric Bike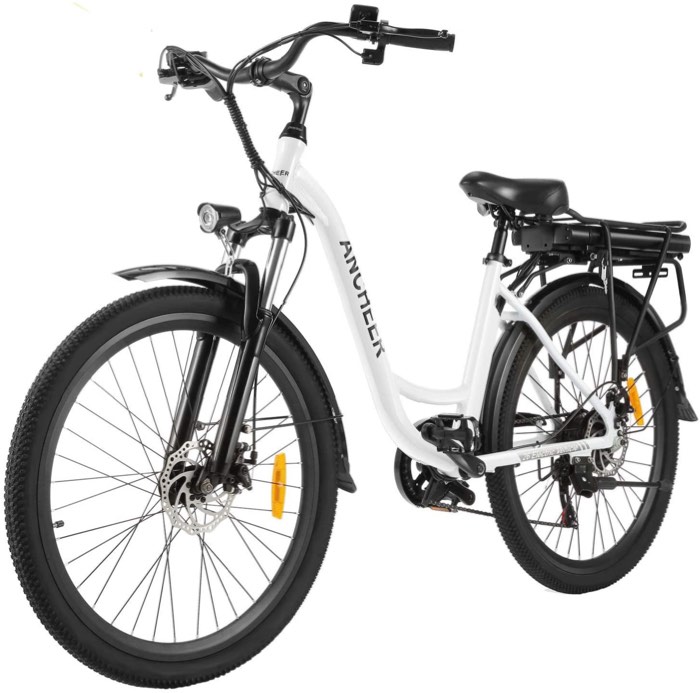 The 26" wheels Ancheer electric bike cruiser has at its heart a large capacity 12.5 Ah lithium-ion battery. The 250W motor provides a speed of up to 16 mph for up to 35 miles.
The battery is protected by a locking mechanism to prevent stealing.
The e-bike has a 6-speed gear shift system, front and rear mechanical disc brakes, and three working modes: Pedal assist; Throttle only; Pedal only.
The frame is made of aluminum alloy, and the bike is equipped with a front suspension fork. There is no rear suspension, but they added a spring-loaded seat with gel to increase comfort.
Pros:
Smooth, quiet and comfortable
On average you can get up to 25 miles on a charge in pedal assist mode. Of course the road type and your weight is greately influencing the range.
It has a USB port so you can charge your phone on the road
The bike is equipped with front and rear lights
Cons:
Instructions are minimal so you'll need to figure it out yourself, or to ask someone more experienced to help you.
The bike is heavy on the back due to the rear motor and the battery, so the balance is a bit off.
The acceleration is a bit unpredictable so you need to be careful when in traffic.
Poor wiring design.
Overall it is a nice entry-level bike, fun to drive, and with plenty of power.
Speedrid Electric Bike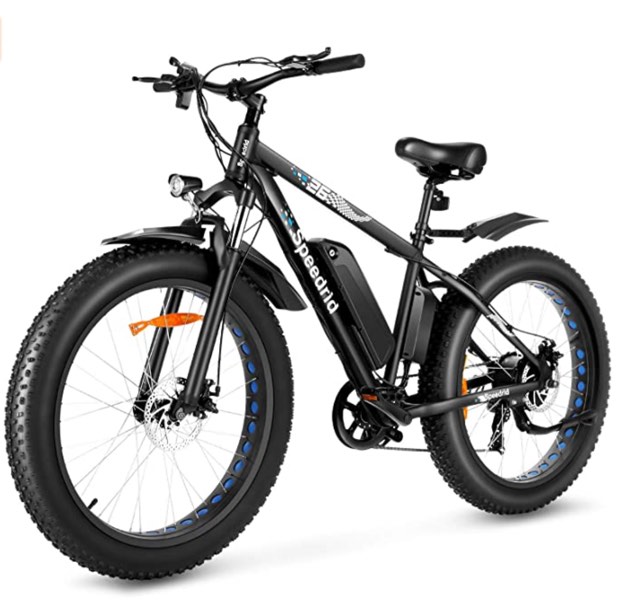 Speedrid bike is equipped with a 48V 500W high-speed brushless motor providing more than enough power for hill-climbing, your daily commute, or a meander along your favorite trail.
The 48V 10Ah battery provides up to 22 miles per charge.
The display options: 5 Speed Display, Speed Display, Battery Level Display, and Mileage.
Bike configuration: Double-layer aluminum alloy wheel rim. Front high-strength carbon steel front fork shock absorption. Mechanical front and rear disc-brake design and 7-speed professional transmission system.
Our opinion
Built tough and rugged, the bike works great, it cruises at 20 mph with light pedaling, but you have to remember that the throttle only works when you set pedal-assist to 0.
The bike is overall a great product for the price. The biggest issues are the fenders that are of really cheap plastic and the fact that you have to double-check each screw and make the necessary adjustments otherwise you may end up losing parts on the road :). Also, customer service might as well not even exist as it is worthless at best.
Pros:
It comes 85% assembled.
Built though and rugged.
Fat tires are great when it comes to an e-bike.
Confortable to ride and firm traction.
Powerful motor (500W) and good battery life.
Cons:
Assembly instructions are terrible.
Both fenders are cheap plastic and if you really need them, you have to find replacements.
While the bike comes mostly assembled, you should check and probably readjust almost everything, the brakes, the gears, the cranks …
While this bike is a bit over $1000 it is still a good choice mostly because of the 500W motor and the larger battery.
Sailnovo Folding Mini E-Bike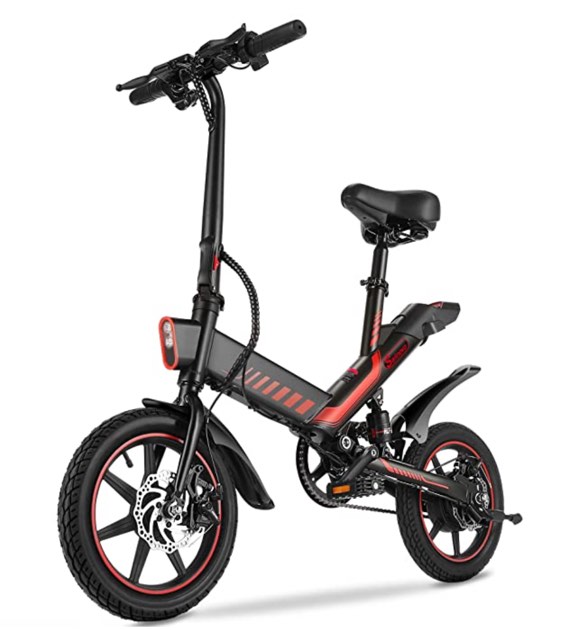 Technical Specs
Foldable bike with 14″ wheels
36V 10.4Ah rechargeable Lithium-Ion battery – 5-6h charging time.
350W motor providing a top speed of 18mph
Riding range of 18 miles in pure electrical mode
IP54 waterproof rating
Rear shock absorber
Weight: 55lb
If you're not a tall person, this electric bike is great for commuting on flat city roads even in light rain days according to its IP54 waterproof rating.
Battery life is great, especially if you use pedal assist and overall the bike feels sturdy and is great on paved roads. Just remember that your weight and incline of the road greatly reduce the performance and range.
The bike has a well-built steel frame bike. While heavier, the practicality of a fold-up bike with 14″ wheels is great when placed in the trunk of your car.
Pros
The bike is almost assembled right from the box
Compact enough to fit into a small trunk
Three Pedal assist modes
Built-in headlight, taillight, and horn.
Taillight flashes when braking – even if the lights are turned off
Wide and confortsable seat.
Rear suspension works great
Comes with 2 keys and electric functions will not work without the key in place and turned.
Cons:
The battery is not designed to be removable
Display shows metric speed and distance only
A bit heavy (55 Lb)
If you're a tall person you may not be able to adjust the seat corectly, and you'll need to replace the seatpost.
Roadster v2
For number four we picked an e-bike designed in California and shipped from Nevada by the Ride1UP brand.
Technical Specs
Type: Class 3 e-bike, pedal assist up to 24 mph.
Weight: 33 lbs.
Battery: 36V 7Ah Samsung 35e Cells integrated into the frame (Can be replaced if needed).
Drivetrain: 64Tx20T Belt Drive.
Saddle: Custom Gel Ergonomic Road Saddle.
Motor: 350w geared hub motor with 40nm torque.
Range: ~20 miles, but it greatly depends on rider weight, terrain, incline, level of assist, etc.
Frame: 6061 Aluminum Alloy Frame.
Frame geometry & components built for road performance
The roadster from Ride1Up is back again with its clean and simple design. While this is not meant for hilly terrain, it is a great choice if you're going to ride it around town. Simple, fast, and fun, this electric bike is as clean as it gets. The battery is completely concealed but it can be replaced if needed. They also offer replacement batteries if needed.
The Roadster v2 features a belt-drive, internal Samsung Cells, a compact LCD display, and fully smoothed alloy frame. Perfect for flat surfaces and urban commutes