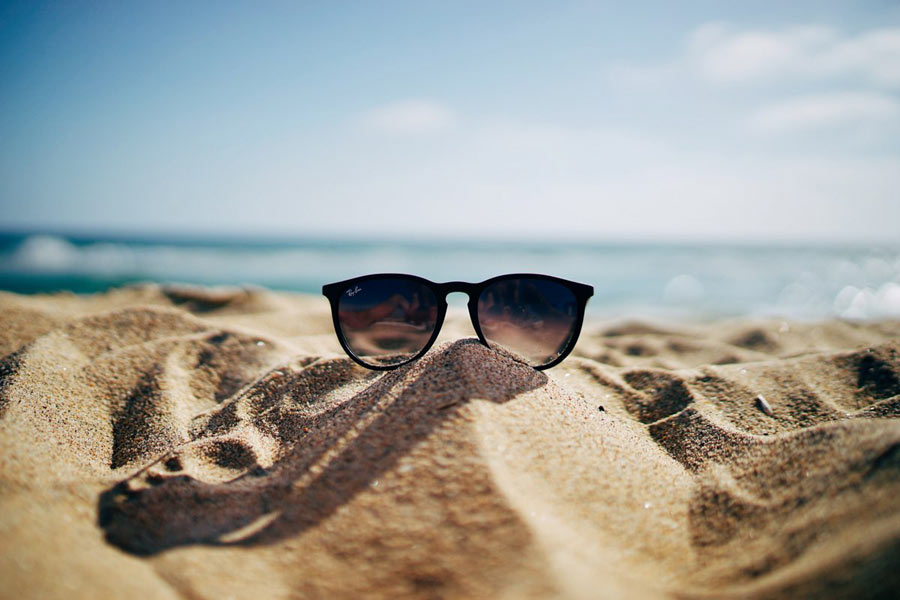 Summer is hot, hot, hot, but that doesn't mean you can't be cool as a cucumber when out for a ride. The warmest season of the year is also the time to break out and have some fun. There is nothing like the feeling of freedom you get rolling on two wheels, warm sun on your face, and a breeze (hopefully) keeping you cool. Your summer cycling gear should reflect the mood of the season, so have some fun with it!
Express Yourself With Your Summer Cycling Dress
OK, so you've probably caught on by now that a lot of bike clothes are made of neon-bright colors. There is a good reason for this, especially for cyclists who do a lot of road riding, and it isn't just a fashion statement. It's all about visibility. When you share the road with cars, it helps to wear loud colors that shout out your presence to motorists.
Mountain biking clothes tend to be more subdued, reflecting the environment mountain bikers play in. It isn't that the gear lacks color; it's just that the tones are often muted. For casual riders, commuters and bikepackers, there are no prevailing trends. No matter what type of cycling you're getting into, feel free to express yourself in the way you dress for your ride.
Be Bold With Print Jerseys
If you look around at the jerseys other cyclists are wearing, you might think that solid colors are your only choices. While many women opt for simplicity through solid colors, you can find jerseys with fun prints, like this Frida Kahlo-inspired floral pattern. Find patterns that speak to your personality. When you look around a bit, you'll find everything from bright florals and colorful insects to abstract patterns and geometric shapes.
Things To Keep in Mind When You Buy a Jersey
When you start looking around for fun jerseys that express your own unique style and sense of fun, there are a few things to keep in mind. Bike jerseys are made specifically for riding, so they're made from breathable, moisture-wicking material. If you're looking at tops that are not designed for cycling, make sure you look for ones that are at least made for sweaty activities! Even if you aren't planning on breaking any speed records or climbing any 18% grade hills, just the fact that you're biking in the summer heat calls for tops that help keep you cool and dry.
Another thing to remember is that your jersey needs to fit loosely enough to allow you to move freely but not so loose that the material bunches up uncomfortably or inhibits movement. When you're shopping in person, make sure you try on that jersey that has you written all over it. Move your arms, hunch over like you're on your bike, and get a feel for how well you move in it. Also, make sure that the back is long enough that it still covers you when you're bent over.
When buying online, it's a little trickier. Read the reviews about how the clothing fits before you press the "buy now" button and be prepared to return it — even if you love it — if it doesn't fit well. If you opt for a regular shirt over a jersey, make sure it is still made from breathable and moisture-wicking material. One of the biggest challenges with a regular shirt is getting one that fits well when you're hunched over your handlebars.
Feel Feminine in a Cycling Skirt
The first women's bikes were made with a top tube that sloped downward. Those were the days when wearing long skirts was obligatory. Back then, bikes had to accommodate the skirt so that women could step through gracefully. But this is the 21st Century, and women can wear skirts just for the fun of it. However, long skirts can still be awkward on a bike. It's a good thing short skirts are an option.
Biking skirts are made for riding! They're breathable and stretchy, and your legs are free to move. Of course, you will probably want to either get the skort-style skirts or wear your bike shorts under them. These skirts are great for any kind of riding when you want to flout your feminine side, but they're extra cool for those times when you want to pause your ride for lunch or a drink with friends.
Things To Keep in Mind When You Buy a Bike Skirt
The most important thing to remember is that it should be comfortable. If you get one that doesn't come with built-in shorts, make sure you get a size that fits well over your bike shorts. If you go with the skort option, look for styles that include the chamois in the shorts. The chamois is the padded piece added in the crotch that makes for a more comfortable ride.
Show Some Color With Your Shorts
By far, the most common color for bike shorts is black, and, hey, at least it goes with everything, right? Black can also be a logical choice for your bottom half. When riding, your seat is closest to your back tire, which means that if you kick up water and dirt, some of it will land on the exposed areas on your backside. Not every ride is messy, though, and while there is absolutely nothing wrong with black shorts, adding some color looks more like summer! You can opt for colorful solids or splashy prints.
Things To Keep in Mind When You Buy Bike Shorts
As with all of your other summer cycling clothes, make sure your shorts fit well enough to allow you to sit in a biking position and move with ease. If the fitted shorts aren't your thing, you have the option to buy shorts that are more similar to board or hiking shorts. You can choose ones that come with or without a chamois insert, but if you go for those that don't have it, you're probably going to want to get a pair of biking underwear. If you've ever ridden on a bike for more than a few minutes, you already know why padding is a good idea.
Do you have to get biking shorts, or can you wear your regular shorts with chamois underwear? Biking shorts are made differently than standard ones. Pull out your most comfortable pair of everyday shorts and have a look at how they're made. Check out the seams in particular, and you'll probably notice that there is one running right through the crotch area.
Now, imagine sitting on a bike seat wearing those shorts — it doesn't sound too appealing, does it? Even with chamois underwear, you're probably going to notice the extra pressure from that seam. If you're just riding a short distance to meet up with some friends, you can probably deal with it, but for longer rides, stick with bottoms made for biking.
Dare To Be Different With Biking Bibs
Bibs look a little like a cross between coveralls and shorts with suspenders, but cooler than either. Women's styles are still a fairly new thing. The first ones were designed more similarly to men's bibs, and they didn't fit a woman's body too well. Now, more companies are designing bibs with the female shape in mind, and more riders are catching on to the benefits of bibs.
Biking shorts invariably have elastic around the waist. The elastic is necessary to hold your britches in place. Unfortunately, it can also make it harder to breathe freely. Buying looser-fitting shorts doesn't work either because then you have to worry about them sliding down on you when you ride. Another issue with the elastic, especially in the summer, is that it causes you to sweat more and can lead to chafing.
The solution? Bibs. Instead of an elastic waistband, they have Lycra straps that pull up over your shoulders. They come in a surprisingly wide variety of styles. Some brands have started including snaps or clips on the straps to make it easier to drop the drawers, a handy feature when you have to use the restroom. Many bibs are designed to be paired with a jersey, so you can have some fun looking for a combo that fits your personality.
Things To Keep in Mind When You Buy Bibs
Though the newest women's bib styles are designed with the female body in mind, it's still important to make sure you get a pair that fit you well. Your torso length, waist length, hip size, and thigh size and length all come into play. With bibs, you need a pair that fits from your shoulders to your thighs. Take time to find ones that work for you and appeal to you. Summer is the time to be carefree. Let your summer cycling close reflect your sense of fun and adventure. It's a great time to break out and explore new styles and new rides. At Like A Bike U.S.A., we're passionate about making biking fun. If you have any questions for us about bikes, cycling, gear, or riding tips, feel free to give us a shout!