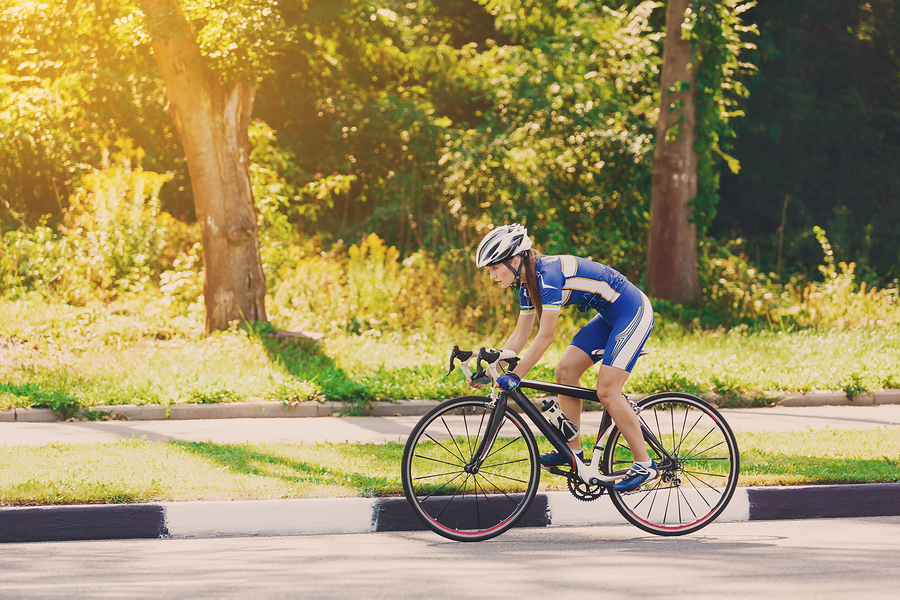 Cycling shorts come in a range of designs and what may be the best short for one person may not be favored by another.
Cycling shorts are usually made from lightweight nylon/spandex and fit tight to the cyclist's legs.
However, there are a few exceptions and other options for the person that prefers the comfort of a loose-fitting piece of clothing.
Whether you select a tight-fitting body-hugging performance short or a loose-fitting flexible casual pair of shorts is entirely down to you and your desired uses.
One thing is for sure though, you want to select something that is comfortable and performs well. 
Owning a pair of cycling shorts can dramatically improve your performance and comfort when cycling either outdoors or spinning inside.
Choosing a high-quality pair of cycling shorts can be difficult with so many options on the market.
Luckily for you in this article, we will go over exactly what to look for in a pair of bike shorts for women. We will provide you with our top 3 favorite bike shorts.
What to Look for in the Best Bike Shorts for Women
Cycling shorts go through a lot in their lifespan.
Due to the active nature of road cycling, touring, or spinning they can wear quite quickly through extended use.
It is important to buy a high-quality item that will hold up well with the day to day strains that cycling will put them through. It is essential that you buy a pair that is durable and hard-wearing.
A good pair of shorts will have an excellent chamois that provides comfortable padding over long-distances.
A chamois that is minimalist in design and features open-cell foam padding will keep you both cool and comfortable.
A well-designed anatomical cut will prevent chaffing when cycling for fitness and endurance.
Owning a pair of shorts that are made from high-quality spandex or a short with a good liner will help enhance breathability and keep you dry no matter how intense the workout.
Top 3 Best Bike Shorts for Women
Club Short Long – Best all-around cycling short for women;
Fixie Short – Most comfortable cycling short for women;
Eden Short – Best summer cycling short for women.
We will now discuss exactly why these three cycling shorts made our top 3 list.
Let's start with the best all-round ladies padded bike shorts – the Club Short Long by Terry.
What are the Best All-Round Ladies Padded Cycling Shorts?
Terry's lightweight, lightly padded Club Short Long excels indoors or out where high heat and humid conditions prevail. 9 inch length and 4 panel flat-seam construction; gentle elastic enclosed in hemline won't ride up and won't irritate the skin; side-zippered key pocket for security; minimalist chamois constructed of soft, fast-wicking fleece. Made in the USA. Mid-rise. (Note: Club Short with 4.5 inch inseam also available.)
The Club Short – Long Cut is our favorite all-rounder short by Terry. It is one of the best bike shorts for women that enjoy many forms of cycling.
This long cut tight-fitting cycling short is a favorite for spinning indoors and long rides outside as well. Its light padding is comfortable and durable, providing the support you need whether cycling outdoors for endurance.
The Club Short – Long are great for a range of uses. The long cut provides a bit of protection from the elements when outside in the cold. It is breathable enough for intense spin classes and hot weather.
They have a panel flat-seam construction providing maximum movement and stretch without chaffing and the gentle elastic that is enclosed in the hemline keeps the shorts in place and prevents them from riding up your waist.
The shorts feature a handy zipped side pocket that is easily accessible and ideal for storing your keys or cash in securely while out cycling.
The chamois is light, soft, and constructed of a fast-wicking fleece that will keep you dry in even the most humid, sticky conditions.
Overall, the Club Short is the perfect all-rounder for the active cyclist that enjoys cycling indoors and outdoors.
What are the Most Comfortable Cycling Shorts?
Made of a beautifully heathered Italian nylon/spandex performance fabric, the Fixie Short is something totally different ¬– a padded, stretchy, loose fit bike short. It sports a wide, elastic free waistband, figure flattering rear panel, loose tapered legs with side zip pocket on hip and 2 open rear patch pockets. The Fixie also comes equipped with Slite Chamois with cooling, antibacterial open cell foam. Flat seam construction throughout; 11 inch inseam.
All three shorts in our best cycling shorts for women article are extremely comfortable. However, one item overtakes the rest in comfort.
Our most comfortable short for women is the Fixie Short by Terry.
This short is made from a 4-way stretch, moisture-wicking Italian nylon/spandex material that moves with the body while sitting loose on the legs.
The loose fit of these shorts makes them brilliant for summer rides. They also look casual when dismounting for a spot of lunch in the local café.
The padding in these bike shorts for women is constructed in a way that is cooling and comfortable.
It is made from an antibacterial, open-cell foam that keeps you cool and dry when the going gets tough.
This short has three pockets for stowing away your keys, phone, and other valuables, one being a zipped hip pocket and two being open patch pockets on the rear.
This short, like the others on our list, is made using breathable spandex with a flat seam construction. This gives you zero chaffing and excellent moisture control.
If you are looking for high-quality loose-fitting cycling shorts that are both breathable and flexible then look no further than the Fixie Short by Terry. It is sure to keep you cool, dry, and comfortable in almost every situation.
What is the Best Summer Bike Short for Women?
If you're looking for a great summer riding short with liner included, it doesn't get better than the Eden. Club Ride knows how to make very detailed stretch woven shorts that are shaped beautifully and seem to mold themselves around your waist. An internal Velcro system allows you to dial the fit; lightweight 4-way stretch woven fabric enhances mobility on the bike; single snap zippered fly; gusseted crotch gives you the added flexibility of wearing without liner and not having any seams through the center; 1 zippered pocket on left leg fits a smartphone; 2 front and 2 rear pockets add utility; removable Damselcham padded liner is intended for rides 2+ hours in duration.
The best summer bike short for women is the Eden Short by Terry.
Its breathable lightweight fabric and loose-fitting design allow free airflow while cycling. This makes riding in hot climates both doable and enjoyable.
The Eden Short by Terry is sure to keep you cool and comfortable on even the hottest of rides.
These shorts are lightweight and offer great comfort in its minimalist padding. They provide you with discreet comfort that you can wear underneath your favorite summer dress or skirt.
This gives you the option to cycle long-distances to your favorite remote restaurant.
We believe the Eden Short by Terry is the best bike short for women cycling in the summer months. This is because of its breathable loose-fitting design and cooling lightweight padding.
This is the perfect short if you love cycling in the summer sun for day-trips in nature.
If you are the passionate cyclist looking for a lightweight, loose-fitting short to wear in the summer for casual cycling then look no further than the Eden Short.
Conclusion
When looking for the best bike shorts for women it is important to select something that has a great anatomical cut, flat seams, and a comfortable chamois.
Make sure they are made from a high-quality breathable fabric and are built to last while serving the purpose you need them for.
Above all make sure you feel comfortable in them.
If you don't feel confident in a pair of skin-tight shorts, then you won't feel comfortable wearing them.
On the other hand, if you don't enjoy wearing loose-fitting clothes then you won't be comfortable in a pair of loose fit cycling shorts.
Overall, think about what is best for you and make sure you find the best cycling shorts for you and your needs.