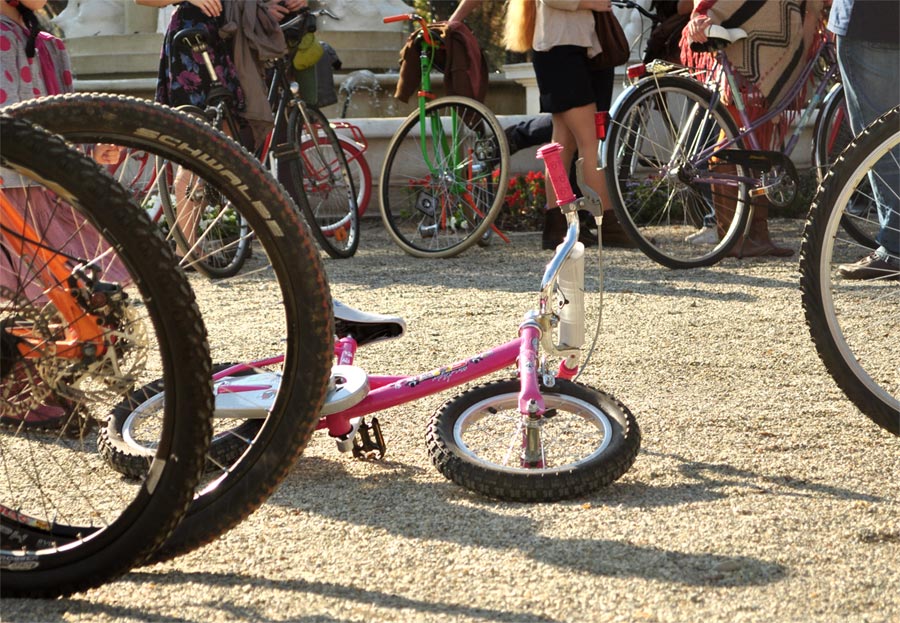 Learning to ride a bike can be a fun and engaging activity for children and parents alike. But it can also be a little intimidating, as many adults remember from their youth. Children may be apprehensive about getting on a bicycle, and even parents may be reluctant to risk a child falling and hurting him or herself.
But biking is both a wonderful personal and group activity, and also a valuable life skill. With that in mind, below are some suggestions for helping a child learn to ride a bicycle.
General Tips
While there are a number of typical steps involved in teaching a child to ride, it is helpful to review a few general pointers prior to starting.
Children learn differently, and may be ready to start riding at different ages. Pay attention to your child's unique needs and interests when determining when to start teaching bike-riding.
Patience is essential: bike-riding can take a long time to master, and children can get discouraged easily. Proceed slowly and stay attentive to your child and his or her reactions throughout the process.
Be safe. Teaching responsible bike safety from the outset will allow your child to develop consistent safety habits as he or she goes forward.
Be sure to have fun. Know when to take breaks (particularly if your child is discouraged), and keep it light. After all, bike riding should be enjoyable!
Getting Set Up
There are a few necessary aspects to setup, prior to learning to ride. You need to be sure your child's bike is correctly adjusted to his or her height, and that he or she has a helmet that fits. (This last point is vitally important: helmets can substantially reduce the risk of a major head injury, making them of paramount importance for young children who may be more prone to falling. Plus, wearing a helmet from the outset helps instill this as a life-long habit. For added safety, you may wish to consider elbow or knee pads.)
As to the bike, there are a couple of other steps you will want to take. Ensure tires are inflated well. Also, lower the seat, and remove training wheels and pedals, so your child can sit comfortably on — and get the feel of — the bike seat.
Starting To Ride a Bike
Once the bike is set up, it's time to let your child try it out! Begin by letting your child sit on the seat, holding the handlebars, and getting accustomed to the feel of being on a bike.
Next, let your child try moving with the bike. Your child can begin by sitting and slowly walking with the bike — and you can stand over for balance and support, as needed. Once he or she has gotten comfortable with these movements, the next step may be to try "gliding" for brief periods, in order to practice balancing on the bike. Again, you can help by providing additional balance overhead, as needed.
Overall, this is a crucial early component of becoming more comfortable on a bike. Balance is essential, and you can expand this process by adding other elements: a simple obstacle course for your child to traverse, or getting on your own bike and having your child follow you by "gliding" in a simple path.
Using Pedals
If your child has grown fairly comfortable balancing, it is time to add pedals to the bike. Start by letting your child get comfortable with his or her feet on the pedals. Face your child and hold the handlebars, allowing your child to place both feet on the pedals and get accustomed to the feel. Ensure your child also gets accustomed to the brakes, whether coaster brakes or hand brakes, to understand what braking feels like.
You can then allow your child to very slowly begin to pedal, while you stabilize and help to steer the bike. Let your child feel what movement and braking on the bike feel like.
Moving Independently
At a certain point, it is time to give your child (a little) space. Let your child practice moving under his or her own power. A great way to do this is to coach your child to keep one foot on the ground, while applying just enough pressure with the other foot to move the pedal downward. Allow your child to move a few feet at a time, using the second foot for balance, as needed.
Once ready, feel free to expand on this approach. There are a few potential ways: you can allow your child to attempt to start the bike on his or her own (if he or she seems very comfortable balancing). Alternatively, you can begin by stabilizing the bike's handlebars, and then letting go as your child begins to move.
Start with easy, straight movements, but gradually incorporate turns, obstacles — and once your child is ready — slight hills.
Using Training Wheels
Some parents opt for using training wheels in the process of learning to ride a bike, while others do not. Training wheels can indeed help children become more comfortable sitting on a bike and pedaling it under their own power, and can sometimes be an aid to children who are nervous about losing their balance on a bike.
However, for some children, training wheels may be a detriment. The primary aid of training wheels is not in balancing, but in experiencing movement under one's own power. For some children, training wheels can potentially delay the process of learning to effectively balance on two wheels.
Have Fun
To learn to ride a bicycle can be challenging and intimidating — but the ultimate rewards are worth it. Bike-riding provides great exercise, a means for family activities, and a responsible and environmentally-friendly way to travel around. Whatever questions you have about bike riding — from types of bicycles, to gear, clothing, and more — BikeLVR has the answers you need. Visit BikeLVR online to find tips, recommendations, and other relevant information about bike riding.