There are many types of bicycles to suit everyone's needs! Some bikes have three wheels and a more stable structure, while others come with an electric motor or suspension system, depending on how you want to use them. For transportation, recreation, or exercise these bikes comes in a wide variety of styles that suit the needs and preferences of each person.
Explore this guide to learn more about each bike type:
Road Bikes
When you think of road bikes, you think of pavement and you're right. Road bikes are designed mostly (but not exclusively) for pavement and they are made for speed. They are characterized by their narrow tires and for most of their subcategories by their "drop bars" handlebars that curve downward. The iconic "drop bars" were first made famous by the Tour de France in 1903 and you find them on the majority of Road Bikes to today.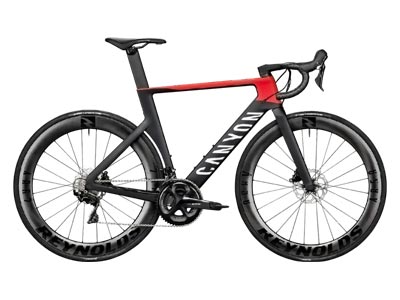 There are a few sub-types for road bikes:
Aero: Intended for racing, and focused on speed over confort. They are the fastest and lightest bikes available.
Cyclocross: Intended for racing only, cyclocross bikes are generally constructed with a stiffer chassis in order to maximize the rider's pedaling power.
Triathlon Bikes: Their geometry is more aggressive, forcing the rider into a more aerodynamic position. The handlebars have extensions further allowing for this laid-out body position. The bike might have other features like aero wheels, integrated brakes, etc. Speed is of the essence in this case.
Endurance: Intended long rides but where comfort is also important and for that these models feature a more upright rider position and wider tires.
Touring: Designed to be comfortable for riding long distances, including plenty of accessories for adding racks and cages that let you gear up for long-distance, self-supported rides
All-Road: A mix between pure road and gravel bikes
Lightweight, fast, good for long distances.
Not a good bike for off-road.
Gravel / Adventure Bikes
Gravel bikes have been popping up more and more in the cycling world, but are just now starting to get the attention they deserve. They look a lot like traditional road bikes with one major difference – they can handle off-road surfaces such as gravel or dirt roads without issue due to clearance for much larger tires that makes riding over these types of terrain comfortable. Gravel bike geometry is also designed for an upright position which provides stability when traveling longer distances on unpaved surfaces.

These go-anywhere machines are one of the most versatile bikes on the market today. Gravel bikes can provide a fun and comfortable riding experience for cyclists who often find themselves on unpaved roads or rougher city bike paths. Gravel bikes run from $10,000+ carbon frame e-bike to $1,100 depending on the components.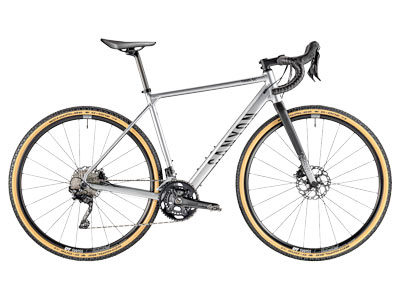 There are a few sub-types of gravel/adventure bikes:
All Road: An all-around, all-surface bike made for a range of uses, from races to all-day adventures
Bikepacking: Have clearance for fat tires, lots of mounts for accessories and, sometimes, suspension-corrected geometry so you can outfit it with a suspension fork.
Gravel Racing: A stripped-down version of an adventure bike for racing with no additional accessory mounts beyond bottle cages.
Gravel bikes typically feature 700c x 50mm tires with fenders and wider tires, allowing the bike to be more stable. Gravel bike brakes are also designed to allow you to stop quickly without skidding out. Gravel bikes will have clearance for wider tires (35-45 mm), which is important for comfort and stability when traveling over rougher surfaces such as dirt trails or gravel country roads.
They are great for anybody wanting to explore both paved and forest service roads.
As they are a hybrid between road and mountain bike, they are not meant for the extreme terrain.
Mountain Bikes
They are rugged bikes with flat handlebars and two-inch or wider tires with knobby tread for traction while riding narrow dirt trails.
Wheels are typically either 27.5-inch diameter or 29-inch. The older 26-inch size wheels are rare these days.
A mountain bike can be used for everything from unpaved roads to steep, goat-path singletrack. As a general rule, the more technical the trails, the more rear suspension you need.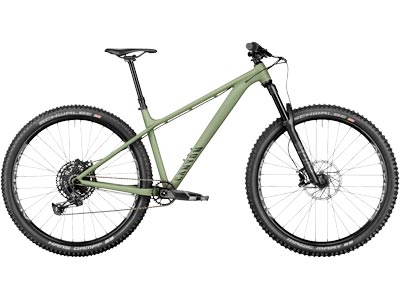 Mountain bike styles include:
Hardtail: This type of bike often has front suspension forks on a rigid frame. They are typically the most affordable type, with high-end versions for racing.
Cross country: Comes with shorter-travel front and rear suspension designed to prioritize low bike weight and efficiency under power, especially on climbs.
Trail: Comes with mid-travel front and rear suspension that balances climbing efficiency and descending abilities, also larger brake rotors for higher efficiency.
Enduro: Comes with front and rear suspension, with between 100-200 mm of travel, powerful brakes and aggressive tire treads, for more traction, better control when descending on demanding terrain.
You can take it everywhere: paved or unpaved roads, no matter how difficult the terrain is.
Hybrid Bikes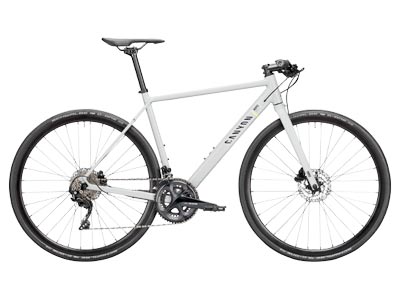 Named like this because they share features of mountain and road bikes. Characterized by an upright rider position, flat handlebar, and a broad-range gearing similar to a mountain bike, and with narrower, fast-rolling tires with light tread like a road bike.
Cruiser Bikes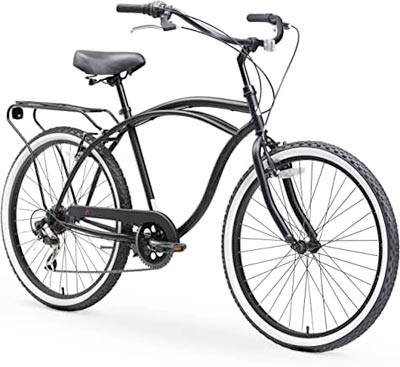 Cruiser bikes with classic swoopy-framed often called beach cruisers, are best for short rides on paved trails or sometimes on sand if equipped with fat tires, characterized by wide, chopper-style handlebars.
Cargo / Utility Bikes
These bikes are intended for carrying children, cargo or running errands. There are different styles including commuter, fixie, folding, and cargo. Utility bikes are great for urban riding and can replace a car to some extent.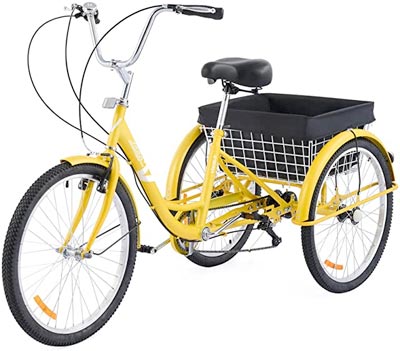 Here are a few sub-types of cargo bikes:
Long-tail: Long-tail bikes feature a stretched-out wheelbase with built-in racks and pannier compatibility for large loads
Mid-tail: Mid-tails attempt to pack close to the same carrying capacity in a shorter wheelbase (often by using smaller-diameter wheels), so that they're more versatile for non-cargo use
Front-load: Front-loaders have a spacious cargo bin ahead of the pilot and between the wheels. The low center of gravity and large capacity are ideal for heavy and bulky loads.
You get exercise, stuff gets done, you get free parking 😉
Cargo bikes are heavier than regular bikes.
City Bikes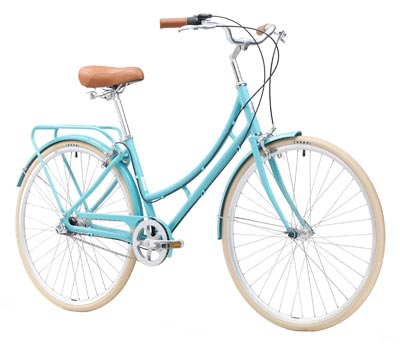 City bikes are designed to be low-maintenance, durable, and affordable.
Efficient and fast-rolling, they are not fancy as they are mainly intended for commuting quickly around town.
City bikes are not meant for long-distance riding.
Low-maintenance, affordable, quick-rolling.
Not great for long-distance riding.
Single-speed Bikes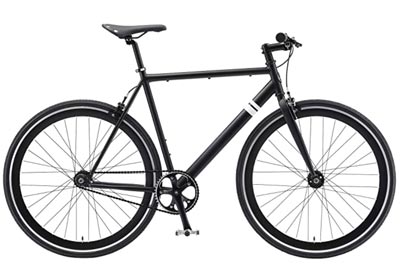 Do not mistake a single speed bike with a fixie (see below). Single-speed bikes are stylish and slick urban bikes, with stripped-down aesthetics. Their main characteristic as the name suggests is that they have one-speed gear only.
There are few variations with this type of bike:
With hand brakes: This is the most common and easier to ride as it is as close as possible to a regular bike with the except of the single speed gear.
With rear brakes only. Featuring an old school built-in brake in the center of the rear wheel, this type of bike is great in its simplicity. With no hand brakes, to reduce speed or to stop you simply have to push the pedal backward. Unlike a Fixie, the pedals on a single speed bike will not rotate while you're rolling unless you push them.
Stylish and slick, low-maintenance, durable.
Not well suited for steep roads as they usually feature high-speed gear.
Fixie Bikes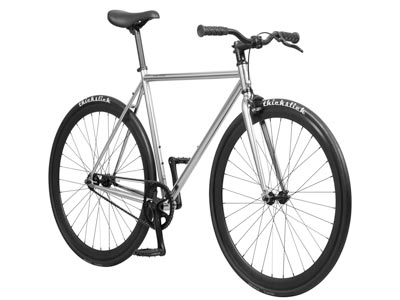 If the bike is moving, the pedals are turning. If you stop pedaling the bike will stop as there is a hard connection between the rear wheel and the pedals. And if you push the pedals backward well, you start moving backward.
Fixie bikes (short for fixed-gear) are a little bit of a special type of urban bike. With no hand brakes and a direct connection between the movement of the rear wheel and the pedals, these bikes require some time to get used to them.
A fixie bike does not need rear brakes, as stopping pedaling is acting exactly like a break. Fixie bikes are fast and crazy fun, believe me, I used to ride one.
There are some versions where you can flip the rear wheel and you can transform your fixie into a normal single-speed bike and back.
Fast, Fun, low-maintenance, durable.
Require time to adjust to it. Not well suited for steep roads as they usually have high-speed gear.
Electric Bikes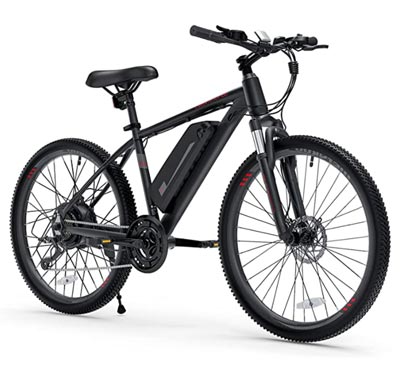 Electrical bikes or e-bikes for short can be of any of the categories presented here.
There are also conversion kits that can be purchased separately and installed on your regular bike to convert it into an e-bike.
Basically, e-bikes are designed with a small, lightweight electric motor to pedal-assist the rider. Providing the same basic cycling experience but with less sweat.
Here are three types of e-bikes:
Type 1 – Pedal assist e-bike: There is no electrical only ride with this kind of bike. You have to pedal in order to engage the electrical motor.
Type 2 – Throttle only e-bike: The e-bike speed is controlled by a throttle and can accelerate without any additional pedaling from the rider. These bikes are more common in the US, as the European Union requires an e-bike to only provide power while the pedals are moving forward. 
Type 3: Pedal Assist 28mph e-bike. Having a more powerful electrical motor (and battery) this is the legally fastest e-bike available here in the US, where you don't need a driver's licence or licence plates to take it for a spin.
Here's more about e-bike classification.
Makes riding much easier and more fun!
Expensive and heavier. Not allowed on some trails.
BMX Bikes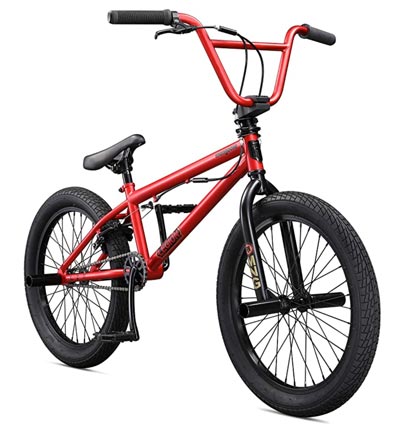 BMX bikes are mostly intended for doing tricks on groomed terrain like skate and bike parks. Because of that, they are rugged, built with reinforced frames, and very resilient.
There are three types of bikes:
BMX: Characterized by it's lightweight frame and parts, it's knobby tires and strong rear brakes, this is a quick-handling rugged bike ideal to start with.
Freestyle: With a super sturdy frame and wheels this bike is ideal for riding at skate parks, performing tricks and stunts.
Dirt jump: With sturdy frame, wheels and rear brakes this is a combination of standard BMX and freestyle bike designed for carving local trails, jumping ramps and more.
Recumbent Bikes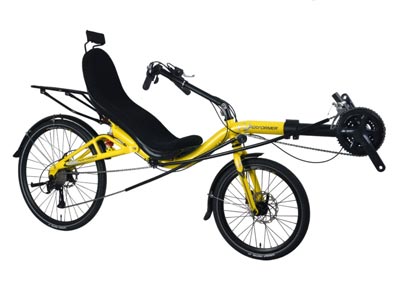 You're still on two wheels, but unlike a traditional bicycle, a recumbent bike puts you in a reclined position that you may find more comfortable for your back and your arms.
Most recumbents are road style. They are ideal for people who for physical reasons can't use a traditional bike.
A good alternative to a traditional bike for people with physical discomfort.
Require some time to adapt to this riding position. Visibility while riding is not so great.
Adult Trikes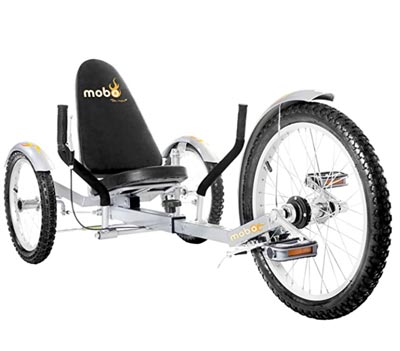 The difference between a Recumbent bike and a Trike as the name suggests is the number of wheels. Two for a recumbent bike, and three for Trike.
Similar to a recumbent bike, trikes also put the rider in a reclined position but with three wheels, Trikes offer more stability on the road for people who need it.
Good alternative to a traditional bike for people with physical discomfort. Great stability.
Visibility while riding is not great.
Tandem Bikes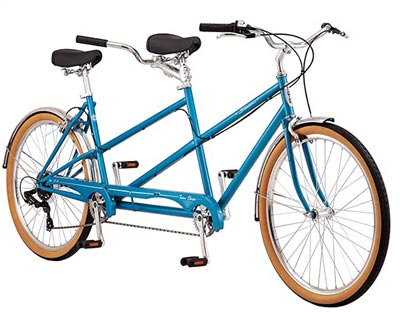 Tandem bikes are made to carry two or more riders. To handle the extra weight and long wheelbase, the frames are built from oversized tubing. Crucial parts like wheels and tires are typically built for strength and durability as well.
Biking in tandem has been proved to be of great help both physically and mentally for people that are not able to ride alone. Here and here are two great stories about the advantages of getting outside and riding for elders.
Great way to introduce your kid to the skills of riding a bike.
Tandem bikes are heavy by construction, also not so agile while riding.
Track Bikes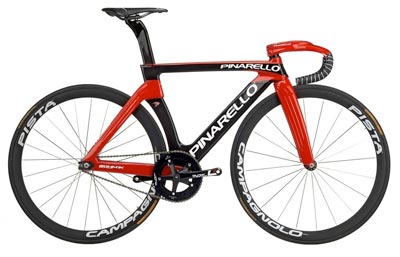 These stripped-down bikes are specially designed to be used on a velodrome. They have narrow tires, a single fixed-gear (similar to a fixie), and no brakes.
Unless you have a velodrome available in your area, this is a bike you would not want to take on the road.
Fat Tire Bikes or Beach Bikes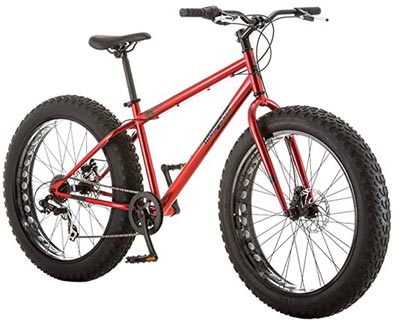 If you plan to bike in the snow or on the sand, a fat bike is your choice. The ultra-wide tires (3.8 to 5 inches wide) on these bikes allow them to roll thru snow or across the sand.
Allows you to ride on snow or sand–places other bikes just can't go.
Heavy, slow rolling on pavement.
Folding Bikes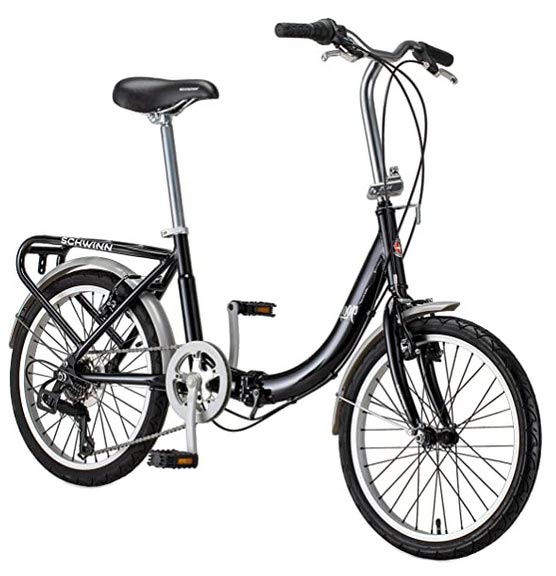 Folding bikes are meant to be easy to transport and easy to store. This makes them perfect if you want to carry it upstairs to an apartment or workspace, take them on the subway, or put them in your trunk.
Easily transportable and storable. There is no need to rent a bike when you arrive at your destination.
Frame geometry can be a bit awkward. Not very good for long rides. Often has smaller wheels.
Hand Bikes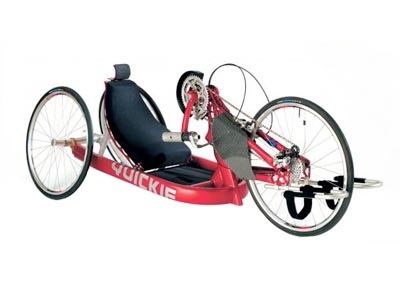 Hand Bikes are similar to recumbent bikes and trikes, except that they are designed so that you have to "pedal" with your arms rather than your legs. These bikes allow people with leg disabilities to enjoy the road.
A good alternative to a traditional bike for folks with knee pain or leg disabilities.
Your visibility while riding is not so great because of your reclined position.