Planning to take your pet or child along for your next ride? Want an easier way to carry cargo for a better cycling experience? If so, you should consider buying a bike trailer.

When selecting a bike trailer, there are many things to consider, such as the weight of the trailer, material, storage or space, and the compatibility of the attachment system. You must also think of what or who you will be carrying more often — cargo, dogs, or your children — to help choose the bike trailer perfect for your needs.
What Is a Bike Trailer?
Bike trailers are meant to carry cargo, luggage, pets, and children. They are a good alternative for transporting several items that backpacks or pannier bags can't accommodate.
Premium bike trailers are made of steel and aluminum. They should also have weatherproofing features that can help keep your cargo safe from the elements.
They may also have suspension to mitigate shaking on rocky or uneven ground. If you will ride off-road with your kids, the suspension offers comfort and safety. Seats are sometimes also cushioned for a more comfortable ride.
Is It Hard To Ride With A Bike Trailer?
An attached trailer is sure to have an impact on your biking experience. Due to the extra length, you'll have to take wide turns, especially when going downhill. The added weight will also require you to spend more energy picking up speed, especially climbing uphill.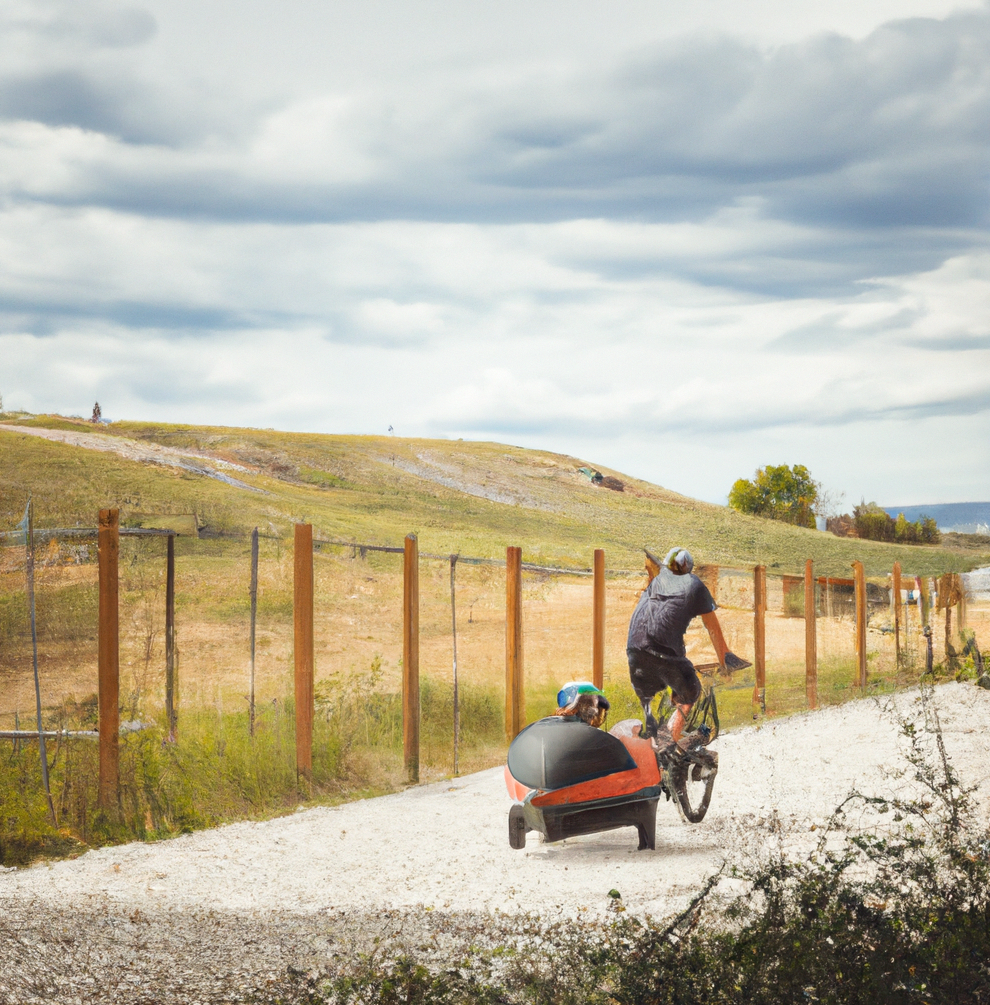 However, as with almost anything, you are bound to get used to it. I've gotten so used to riding with my kids in the trailer that my bike feels surprisingly light when I ride without it!
The Best Bike Trailers For Kids
A bike trailer for kids allows you to continue your cycling adventures even after becoming a parent. It also allows you to introduce your children to the pleasure of riding early on, which will hopefully influence their future choices.

Below, we've shared the best bike trailers for kids to help you make a well-informed purchasing decision.
Burley Bee Bike Trailer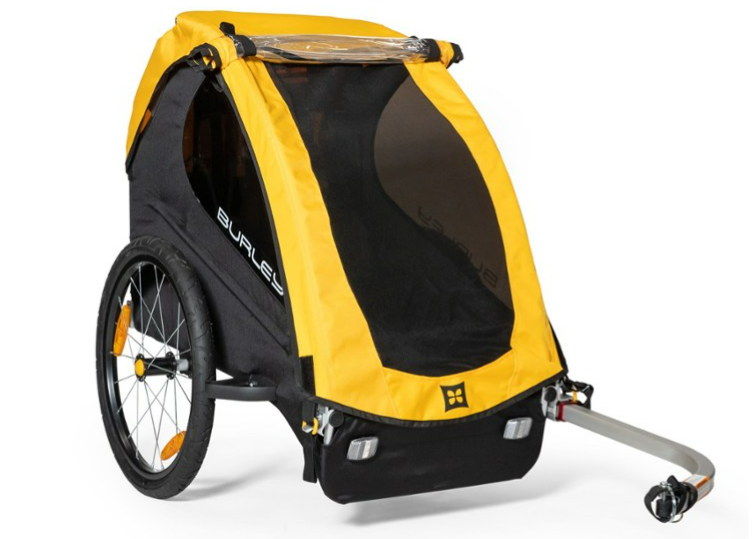 Burley Bee bike trailers have a durable build and impressive safety features. Using the harness system is also a breeze! You can easily fold it when you need to transport your trailer to your car.

Although we love the Burley Bee, we've read reviews where customers complain that the bottom material gets worn out and tattered if dragged on the ground too much. Another thing to consider is that you can't convert it to a stroller.

All in all, we find that the Burley bike trailer offers a smooth and enjoyable ride for you and your kids. Single-capacity Burley Bee trailers are around $300, while double versions are $330.
>> Check out the Burley Bee Trailer at REI >>
Allen Sports Deluxe Bike Trailer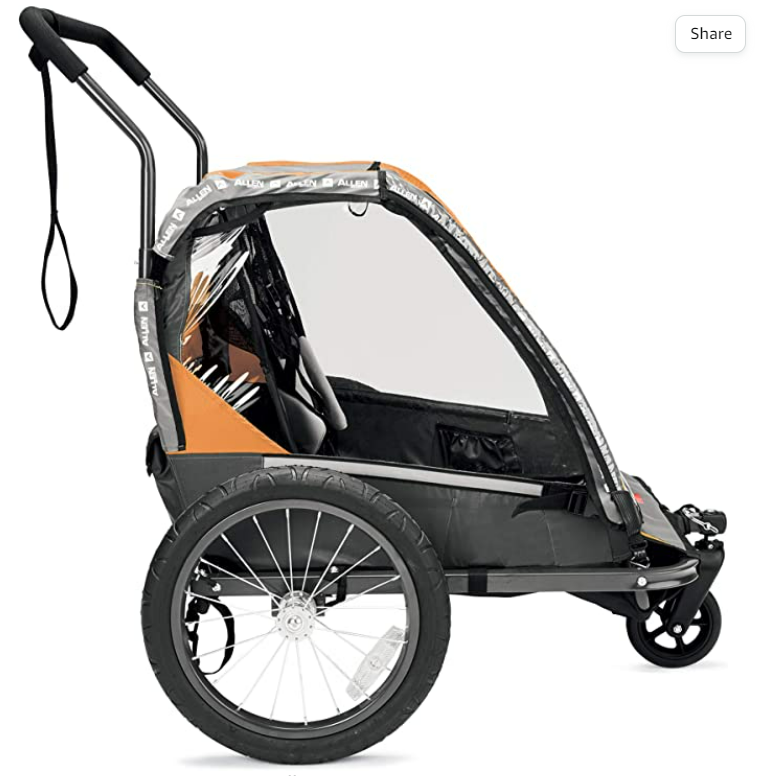 The Allen Sports Deluxe bike trailer offers an easy-to-use harness system and a comfortable padded seat. Its storage space is great, and it pulls really smooth. For its $120 price and quality trailer, it's definitely a steal!

Note that you will have to remove your child from the trailer while switching between stroller and trailer use. In terms of space, it can also be a bit tight for two large toddlers.
Although it feels less high-quality than the Burley Beem, we think this trailer is a steal for its $120 price tag.
>> Check out the Allen Sports Deluxe Trailer on Amazon >>
Thule Chariot Cross Bike Trailer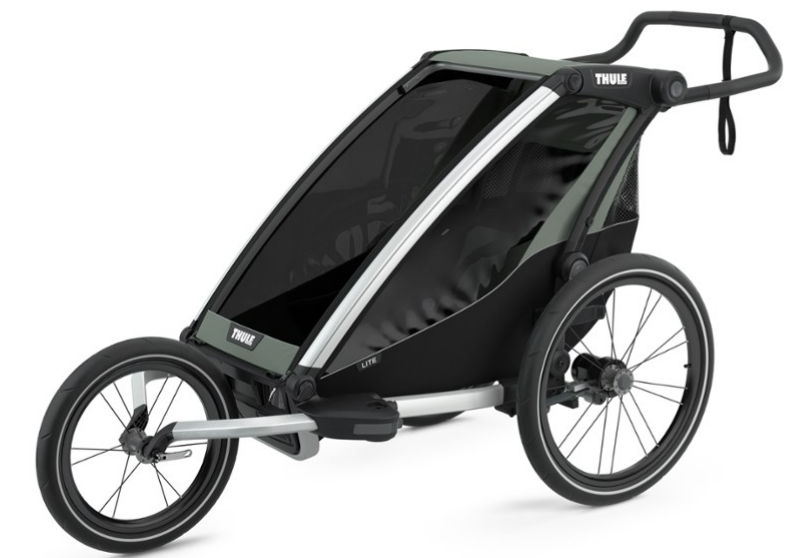 This is the best all-around bike trailer that you can find. It works exceptionally as a trailer, stroller, and jogger. The Thule Chariot Cross offers reclinable seats, adjustable suspension, and an impressive rain cover and sunshade. It is what the majority of our friends with kids use for a bike trailer.
We also found that getting the kids in and out of the trailer was a lot easier than with the other trailers.
Given the quality, comfort, and convenience of the Thule Chariot Cross, you can expect a considerably higher price tag. The single-capacity bike trailer is $1049, while the double version is $1149.
The Thule Chariot trailer may be worth its price if you plan on using it daily for the school run, groceries, or jogging.
>> Check out the Thule Chariot Cross Bike Trailer at REI >>
What To Consider When Buying a Bike Trailer For Children?
Given the wide range of options available on the market, choosing a bike trailer for kids may be overwhelming. The key is to consider important factors that will keep your child safe and comfortable.

Age: Children under the age of 1 cannot ride in a trailer. They're too young to wear a helmet or hold their heads up for extended periods. They're also sensitive to vibrations, making the ride too rough for them. They could end up injured even on smooth trails.
Size: Consider whether you need a single or double bike trailer. The single option is lighter and narrower. The cabin dimensions should also offer enough headspace and shoulder space for taller riders.
Compatibility with your bike: Generally, trailers are compatible with bikes. However, trailers usually attach to the rear axle, so they're good with any bike with a quick-release skewer. They won't work on bikes with a thru-axle. You'll need an adapter if that's what you have on your bike.
The Best Bike Trailers For Dogs & Pets
What better way to bond with your furry friends than biking with them? Below, we've listed some of the best dog bike trailers to help make your search easier.
Rover Waggin' Pet Trailer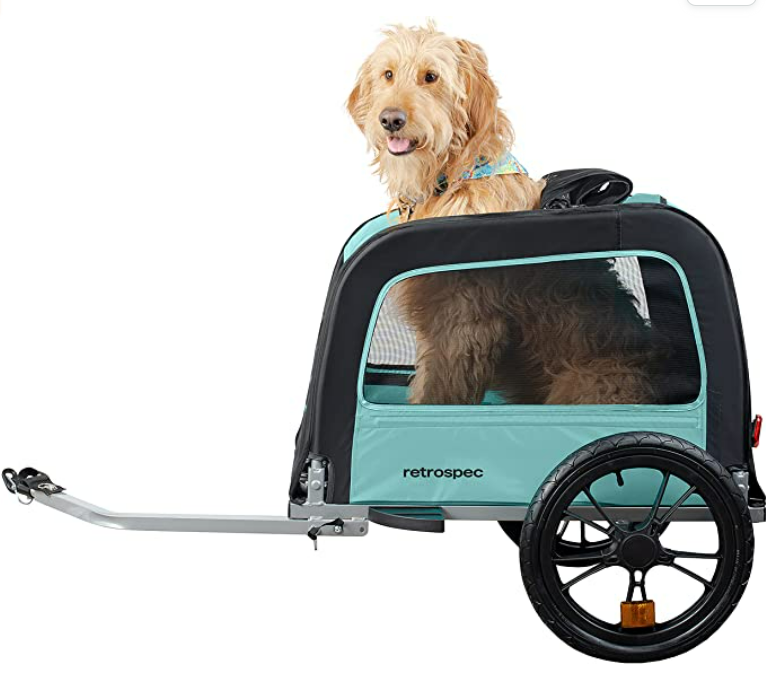 Retrospec's Rover Waggin' Pet Trailer is durable, easy to set up, and can even be folded down for ease of transport. This budget trailer for dogs only costs $159.
On the cons side, we found the leash tether quite long even after adjusting. The lack of a sunroof also allows pets to jump out when riding the trailer with the front open. You'll need a shorter lease if you plan to use the trailer on open-air rides.
Other than that, we thought the price was good and the trailer comfortable for small-medium dogs.
>> Check out the Rover Waggin' Pet Trailer on Amazon >>
Schwinn's Rascal Bike Pet Trailer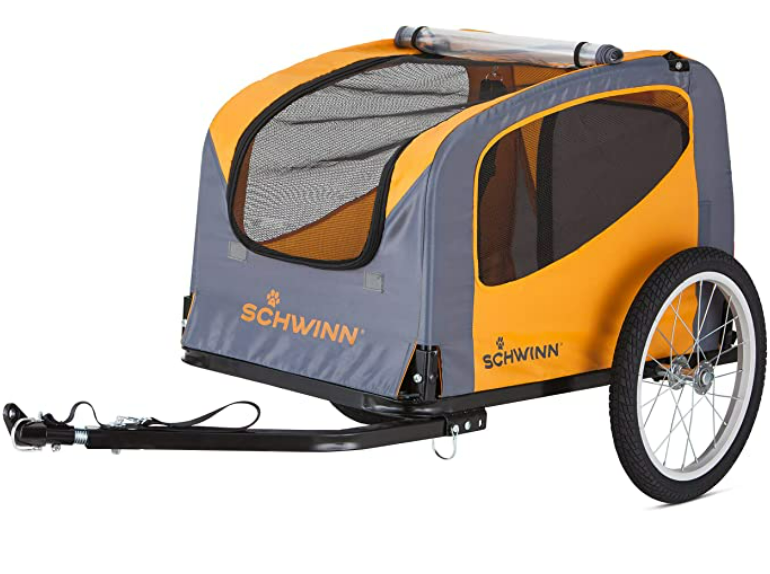 Schwinn's Rascal Bike Pet trailer offers dogs a 360-degree view of the environment. This is thanks to the mesh surrounding all sides of the large pet trailer. The rascals are also free to stick their heads out through the trailer's sunroof opening.
These features are absent in the smaller version of the trailer. Nevertheless, both the large and small versions offer adequate space for several dogs.
Similar to other bike trailers, you must procure a coupler or more leashes to fasten additional riders. You can purchase this bike pet trailer for around $160- $190 on Amazon.
>> Check out the Rascal Bike Pet Trailer on Amazon >>
Doggyride Novel Dog Bike Trailer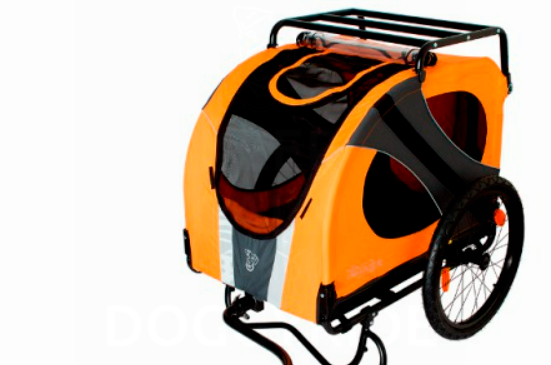 The DoggyRide Novel dog bike trailer has new features like a pivoting mechanism that keeps the trailer stable on every terrain. It has a patented tip-proof center connection for additional safety. It not only checks out all boxes required under the ASTM standards but is also built from the ground up to accommodate dogs.

We love its spacious pockets and padded chin rest. If you want to ensure your trailer is set for any adventure, you can buy separately sold add-ons like a cargo roof, rack, stroller conversion kit, and kickstand.
The base trailer comes in at around $359, and we believe it's totally worth the price if you plan on using it regularly
>> Check out the Doggyride Novel Dog Bike Trailer on Amazon >>
What To Consider When Buying a Bike Trailer For Dogs & Pets?
As a pet parent, you'll want the best for your dogs, including buying them the perfect pet bike trailer. Here are the things to consider when choosing their trailer:

● Size: Confirm the weight limit to ensure the trailer can support your pet or several pets. Some bike trailers also provide height limits based on your pup's shoulder height.
● Compatibility with your bike: Nearly all bikes that have a quick-release axle are compatible with bike trailers. However, if yours has a thru-axle, you should buy a thru-axle adapter to attach the trailer.
● Frame material: Compared to aluminum, steel is harder and cheaper. However, it's heavier, too. If you're taking a small dog with you, a steel frame is fine, but if you want a lighter option, go for aluminum.
The Best Cargo Bike Trailers
Bike trailer cargos are beneficial when visiting grocery stores, taking extended cycling trips, or simply moving bigger items. Here are the best bike trailer cargos that you won't regret buying.
Schwinn Day Tripper Cargo Bike Trailer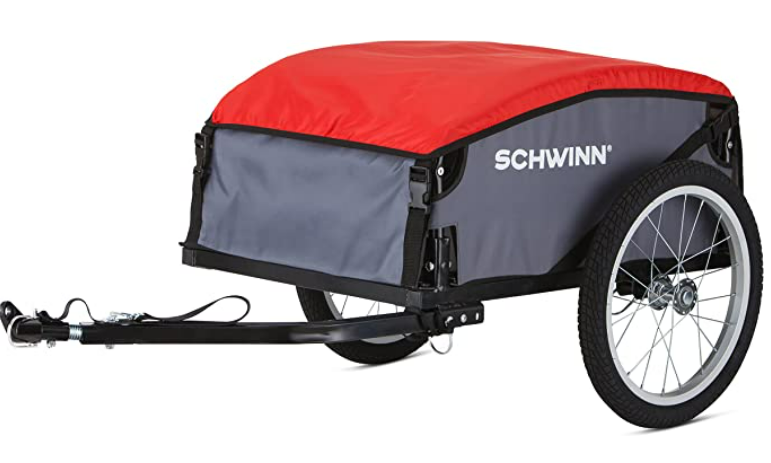 At only around $128, the Schwinn Day Tripper Cargo Bike trailer is a great budget choice for a covered cargo trailer. This bike trailer has all the essential grounds covered with an included universal coupler attachment, a 100-pound load capacity, and a 23-inch storage compartment.
It also comes with a rollable water-resistant cover that protects against unwanted elements such as dust, rain, and ultraviolet rays. The only downside we see is it's not waterproof.

>> Check out the Schwinn Day Tripper Cargo Bike Trailer on Amazon >>
Retrospec Rover Hauler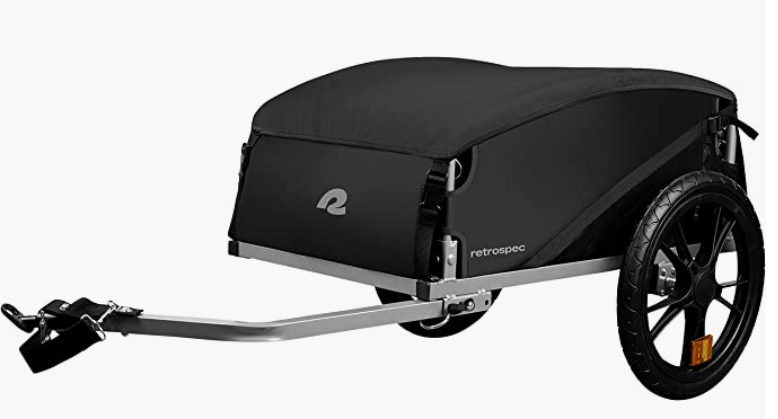 If you're looking for a medium-weight capacity trailer that isn't overpriced, consider the Retrospec Rover Hauler. This trailer has a weight capacity of 80 pounds. However, it is incompatible with thru-axles.
It comes with a weather-resistant cover that protects the cargo from elements, like light rain, as well as D-rings where you can strap and safely fasten cargo. The tailor can easily be stored when not in use due to its collapsible design. All of these features you can get for only $165.
>> Check out the Restrospec Rover Cargo Bike Trailer on Amazon >>
Burley Nomad Cargo Bike Trailer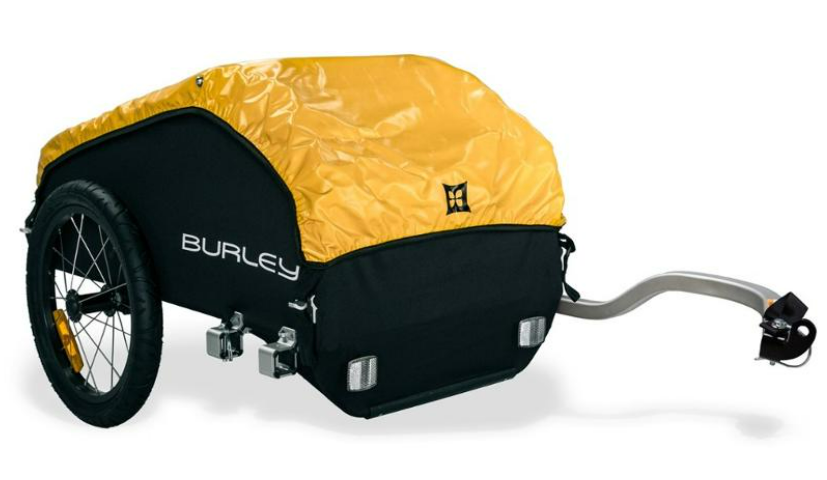 This Burley bike trailer excels in the foldability, durability, and versatility departments. This $350 trailer has a dolly-like design that makes it ideal for carrying light cargo, groceries, luggage, and even small coolers.
It also comes with a kickstand, wheel guards, and push-button wheel release for added convenience and stability. It has a three-tier folding system for ease of storage.

There's no need for tools as the trailer can easily be attached to a bike post. The tow arm can also be conveniently adjusted to accommodate different kinds of bikes or racks. We found it to be, by bar, the most convenient in terms of ease-of-use.
>> Check out the Burley Bike Cargo Trailer at REI >>
What To Consider When Buying a Cargo Bike Trailer?
Cargo bike trailers are convenient when you're running errands, taking daily commutes, or just taking a ride. To find the best cargo bike trailer, consider the following:
● Size: Consider your cargo needs so you can decide on the proper size to use. You won't need a massive bike trailer if you're only carrying small cargo.
● Compatibility with your bike: just like trailers for kids and pets, some cargo trailers don't work on bikes with a thru-axle. Find one that has a thru-axle adapter, if your bike requires it.
● Cover: To get extra protection, especially from the long winter and rainfall in New England, consider getting a cargo bike trailer with a rain cover. You may also need trailers with sunshades depending on your cargo.

● Does it fold?: You'll want a cargo bike trailer that can be easily folded when not in use for easy storage.

Now You're Ready To Buy The Perfect Bike Trailer!
Whether you're an adventurous parent or simply want a great alternative for transporting cargo or shopping, bike trailers are the answer.

By considering crucial factors like size, material, bike compatibility, and safety features, you can choose a great cargo bike trailer, pet bike trailer, or baby bike trailer.
Read our reviews and recommendations and your biking experience with your kids and pets to the next level. Check out our page on bike gear.