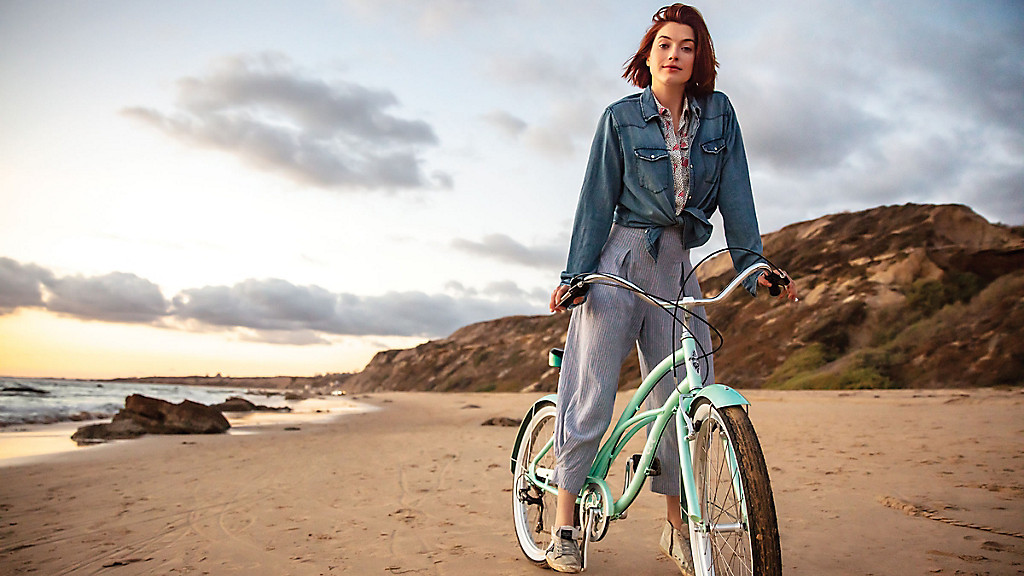 The best cruiser bikes for women are no longer the clunky slow-moving, poor handling bicycles of the past. Modern cruiser bikes are slick, quick, agile, and can take you almost everywhere. A modern cruiser bike can get you anywhere quickly, comfortably, and in style.
Cruiser bikes are gaining in popularity and their traditional styling is certainly coming back into fashion. They are a stylish bicycle that are commonly used for cruising around beach cities, towns, and backcountry coastlines in style. It doesn't matter whether you want to cycle for pleasure, for the commute, or simply as a means of transport. A cruiser bike is a unique way to get from A to B! 
A cruiser bike is quite different from other types of bicycles. It features a completely different frame design, handlebar design, and sitting position. Because these features are so different from the norm, even if you know what makes a good road bike, mountain bike, or fat bike, it is important to relearn what makes for a good cruiser bike.
Enjoy!
What Makes a Good Cruiser Bike for Women?
Cruiser bikes are built primarily with comfort and style in mind. They aren't built for fitness, endurance, touring, or tackling rocky trails. The main determining factors when selecting your first cruiser bike should simply be comfort, functionality, and style. The first thing you want to look out for is a comfortable seat. Unlike most other bicycles out there, a wide comfy seat is a big winner as your riding style will be laid back and relaxed. Although cruiser bikes come in variants for both men and women, you will find a wider seat on cruiser bikes for women to equate for the female physique.
The second thing you should look out for in a good cruiser bike for women is the handlebars. The handlebars of a cruiser bike are very different from most other bicycle types and curve back toward the rider. This "laid-back" stance of the handlebars allows the rider nimble handling while relaxing back into the large squishy seat that sits quite far back over the rear wheel. Wide curved handlebars allow you to relax your shoulders and cruise around with ease. The handlebars should have a simple but comfortable grip that gives you the best control on the steering.
Planning to ride on the beach?
You will find most cruiser bikes are favored by laid-back residents of beach towns and coastal areas. If you are one of these people then you want to consider what the salt in the air can do to your bike. A good cruiser bike for beach use should be made primarily from rust-resistance materials. A cheaper cruiser bike may save you're a few dollars. But, after a few months, that poorly-made steel-framed bike will go from looking brand new to looking like it is ready for scrap!
You should also consider functionality when selecting your cruiser bike. Most cruiser bikes are super low maintenance and pretty indestructible. You will commonly find that cruiser bikes have no apparent braking and no gearing. Most cruiser bikes feature a single-speed drivetrain in a gear that is perfect for most flat cities and beach towns. 
With most single-speed cruisers, you will have no brake levers or cables running down your frame. This looks incredible, but how do you slow down and stop the bike? A coaster brake is the answer and it is beautifully simple and effective. You activate the braking by simply putting pressure on the pedals as if you were to cycle backward. The more, pressure the faster you stop.
Tires are the last thing you want to consider, especially if you live by the beach. If you want to cruise along the beach at sunset or during the summer, then your bike must be equipped to do so. A beach cruiser will have wide tires with a grooved but smooth tread to allow traction on soft sandy surfaces. Having wide tires keeps you stable and comfortable on the road by absorbing shock and holding traction. It also gives you the ability to take your cycling off-road to the beach as well!
What is the Best Cruiser Bike for Women?
Best Urban Single-speed Cruiser Bike for Women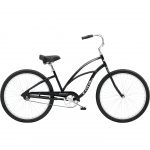 It all started with an idea that we could improve upon an American classic. Today, the Electra Cruiser has more than 25 years of refinement built in to enhance the riding experience with modern styling. The result is a less clunky, more ergonomic ride that features our patented Flat Foot Technology•. The single-speed Cruiser 1 is simplicity at its finest.
The Cruiser 1 Step-thru by Trek is the cheapest cruiser bike in Trek's range. It is based around a traditional American classic design. They took the original design and improved on it with modern materials and construction refinements. This is a slick, stylish cruiser bike and extremely budget-friendly. 
It has an aluminum frame, simple single-speed gearing, and a coaster brake. This cruiser has that classic simple styling and is incredibly easily maintained. If you want a cruiser for a comfortable city commute or long rides to the beach in the summer that won't break the bank, then the Cruiser 1 by Trek is the bike for you!
Best Beach Single-speed Cruiser Bike for Women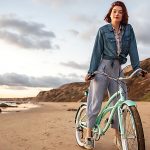 The Cruiser Lux elevates the basic Cruiser to the next level with modern refinements like a lightweight aluminum frame, custom components and, of course, Electra's patented Flat Foot Technology®. It's practical yet eye-catching, making it the perfect statement piece wherever you go. Ride comfortably and smooth with the Cruiser Lux 1.
The Cruiser Lux 1 by Trek elevates and improves Trek's original Cruiser 1 bike (featured above). It has a lightweight frame and custom components. Electra's Flat Foot technology allows you to comfortably place both feet flat on the ground while still being able to fully extend your legs while cycling. This is one of the best cruiser bikes for women that want a practical, eye-catching, and simple statement piece for cruising on the beach and around town. 
It has large wide tires for ultimate grip when cruising on sandy beaches. The bike also features a wide comfortable saddle and curved handlebars for non-strenuous relaxing pleasure rides. If you love the traditional style and want to add a retro feel to your city or beach life, then this is an excellent upgrade on a classic that is functional and practical.
Best Geared Cruiser Bikes for Women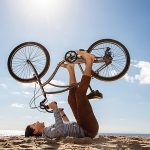 The Electra Cruiser 7D has everything you're looking for in a classic beach cruiser, and a little bit more. Infused with Electra's legendary style and patented Flat Foot Technology®, the 7D offers a solid range of gears to handle any hills you may encounter on your way to the beach, your friend's house or around the neighborhood.
The Cruiser 7D by Trek is the best alternative to the cruiser bike if you need a bit more versatility. The 7D has a solid range of working gears that have enough diversity to handle even the steepest of hills with ease. Of course, this isn't a high-performance tourer. Don't expect to smash through 100km per day! Riding around all day from beach to beach and town to town is comfortably achievable on this cruiser.
With the same traditional design as the last two cruiser bikes on our list, you get the same great style and durability of the aluminum frame, chunky seat, and wide tires but with the added versatility of extra gears!
This is a great looking cruiser. It is just as stylish as the other bikes in Trek's range. However, you do have the addition of cables and a rear derailleur rather than the clean basic frame look of the single-speed variants. If you want a cruiser but don't want to settle for one gear, then this is the bike for you.
How do I Choose a Cruiser Bike for Women?
Selecting a cruiser bike should be fairly simple now you know what to look out for. Just make sure you know exactly what you need to use your bike for. 
Planning on cycling long distances in a place that rises and falls in elevation? Then a geared bike would be best for you. Commuting and riding daily in a flat urban area? Then a simple, functional, and comfortable single-speed is the best option for you.
If you want to ride on the beach and want to add a bit more functionality to your beach lifestyle, then you need an aluminum-framed bike with wide tires. Luckily, all the Trek bikes on our list today feature these two factors. However, ask yourself whether you will be riding long distance, varied terrains, or simple short and flat rides. These factors will determine whether you need gears or would be better with a single-speed bike. 
Both single-speed and geared cruisers have their benefits and drawbacks. Geared bikes allow you to tackle more varied elevations and environments. However, they need more maintenance and more that can potentially fail. Single-speed cruiser bikes are super simple, clean looking, and are extremely low-maintenance but you are restricted to relatively flat areas. 
Overall, consider what you need before deciding on your bike. The biggest differences are in the gearing. You should also make sure you select a bike that suits your environment. Also, make sure that you have a good hydration pack on hand, as the summer days can get draining!
Luckily, all the bikes on our list today are suitable for use by the sea and use in the city. Make sure the bike is rust-resistant with wide tires for beach use or geared up well for hilly use. Happy cruising!