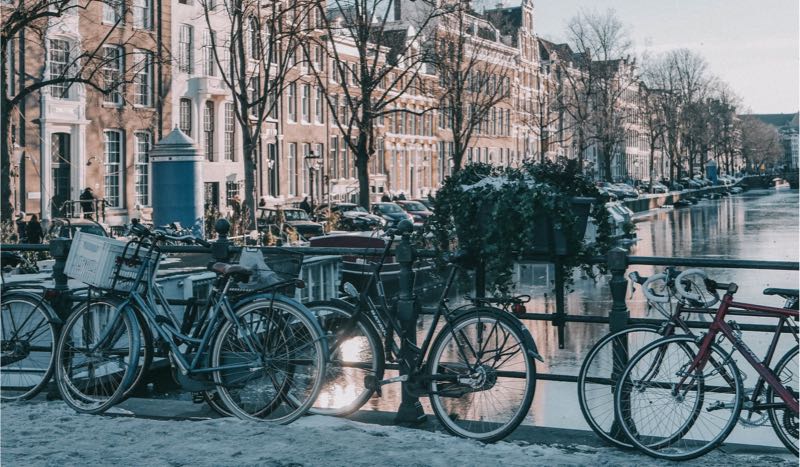 Biking in the winter can be intimidating. Whether you use your bike to commute to work in the city or you love to take a trail ride through the mountains, there are ways to prepare yourself and your bike for winter weather. The morning commute can be just as easy, and bike paths in the winter are often crowd-free and beautifully caked in snow. Get the most out of your ride and explore the outdoors in every season. Before you put your bike into hibernation, consider these tips to get it winter-ready.
Wear the Proper Clothing for Biking in the Winter
Dressing properly for winter cycling can be the deciding factor between a comfortable, pleasant ride and a cold, rough one. Staying warm and dry is always the main goal in the colder months, and you have to consider every part of the body, starting with your core.
Keeping the Core Warm
Layers are the key to warming your core. Even in very cold weather, cycling warms your body quickly. You want to have the option to remove layers if you get too warm and replace them when you get cold.
There are three layers to consider:
A warm, soft inner layer is a great base. Use a sweat-wicking long-sleeved shirt that fits tightly to your body. It will keep your skin dry.
A fleece middle layer is breathable so that you do not sweat too much while also staying warm.
A comfortable cycling jacket should be your outer layer. You need something waterproof and windproof with a high neck and long sleeves. It will keep air out and keep you warm. It also needs to be breathable to keep sweating at a minimum.
For faster access, avoid wearing layers that do not zip. This particularly applies to the fleece layer. You can even find jackets that have zips for the underarms that allow you to release trapped heat. Some also have removable sleeves.
Keeping Your Bottom Half Warm
Two layers are often enough for your bottom half. You need one warm layer, such as bib tights or long johns, on your legs to start. Bib tights are typically better because they have straps that go over the shoulders, keeping the pants from shifting or falling down.
The outer layer for your legs depends on the weather. For snowy or rainy days, you need something waterproof. Much like ski gear, the pants you find might have very low breathability. You may get hot quickly; however, you can pay a bit more for the technology that combines breathability and waterproof capabilities. If you aren't dealing with rain or snow, you only need windproof pants, which are significantly cheaper.
Keeping Your Head Warm and Dry
Keeping your head warm and dry is important for comfort. Bike helmets have holes, and this works great for riding in the summer but isn't good for the winter The simplest solution is a helmet cover. It is an easy fit that is cheap and keeps your head dry.
For warmth, you need a balaclava, gaiter, or skull cap. The balaclava covers your head and neck for maximum warmth. If you prefer to have something only on your neck, a gaiter is a great option. It functions much like a scarf without any extra fabric hanging down, and you can find them in fleece for comfort and warmth. A skull cap can be worn with or without a helmet, and it works to trap heat inside.
Keeping Your Hands and Feet Warm
Keeping your hands and feet warm can be a little more difficult. They are the furthest from your core and get cold faster. Mittens and lobster-style gloves are a great way to keep your fingers pressed together for warmth, but five-fingered gloves are a better option when riding. If you find that gloves are not enough, you can layer them with silk glove liners. They also make removing gloves easier when your hands get sweaty.
Your feet need a strong pair of waterproof boots or something lightweight and made with real leather. Cycling boots are less clunky so that you do not accidentally catch the crankshafts of your bike. Do not forget thermal socks and woolen shoe inserts for colder weather.
Consider Putting Fat Tires on Your Bike
If you do not already have a fat tire bike, consider putting fat tires on your bike for the winter. Fat tires are thicker and have deeper grooves. You can fit them to any style of bike, and they offer many benefits:
They work for any weather conditions. Fat tires are specifically designed to handle every type of terrain. They can handle rain, snow, and sand with ease.
You do not need additional training to use them. Anyone that can ride a bike will pick up riding with fat tires quickly.
They provide a great workout. They can make your bike feeler slightly harder to pedal, primarily because of the extra grooves, but it is great for your legs and abs.
Fat tires are the best way to equip your bike for riding any time of the year. You can even leave them on permanently. They offer a stable, comfortable ride on any type of commute.
Turn Your Outdoor Bike Into a Stationary Bike
If you prefer to avoid the cold altogether, you can bring your bike inside and turn it into a stationary bike using a stand. There are two types of bike stands: a roller bike stand and a trainer bike stand. Once you find a level, non-carpeted spot to place your bike inside, make sure you have plenty of space to position all the parts.
A roller bike stand gives you the feel of riding in forwarding motion without actually going anywhere. It has a frame with three rotating drums. The front drums are connected by tubing or a belt, and the rear roller spins. The space between the front and rear wheels can be adjusted to accommodate the size of your bike.
The trainer bike stand comes in two types: direct-drive trainers and friction trainers. With a direct-drive trainer, the rear wheel is completely removed and the chain is mounted to a cassette. With friction trainers, the bike mounts on the dropouts, and the rear wheel spins on a small roller. Setup is very important for the trainers; they need to be stable for safety. They are also slightly more difficult to ride than the roller option.
Be Mindful of Your Tire Pressure
You can usually find the preferred range of tire pressure on the sidewalls of your tires. Inflating them to the low end of the range improves traction and helps you maintain control. Drastic drops in temperature can cause your tire to lose pressure, and if you are already keeping it low, you could fall out of range without knowing. Get in the habit of checking the pressure before every ride.
You do not want to worry about a flat tire when you are outside in cold, wet weather. Prevent flats by getting puncture-resistant tires or tubes. You can even get tubeless tires or install a tire liner between the tube and the wheel rim.
If you have any questions about cycling or want to find a new bike route for winter rides, the life-long riders at Bike LVR are dedicated to providing resources for fellow cyclists.