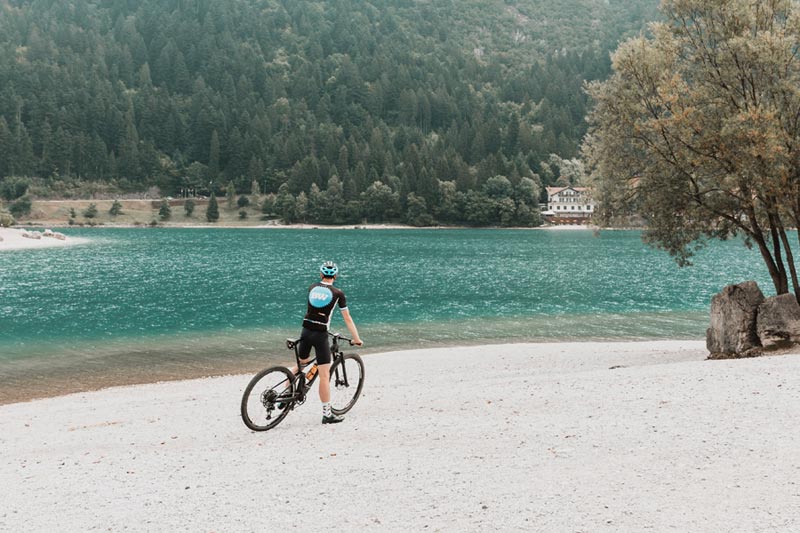 Some people first start with cycling and are unsure of the hype. It can take two or maybe even three different times of taking up the saddle to get the right feel for riding. Since cycling is one of the best and most versatile ways to be physically active, why do people have such a hard time finding their niche for riding? The answer lies in the bike ride. Bikes are sometimes tricky to tweak just the right way to have the most comfortable ride. Learn five easy bike improvements to make your ride amazing right from the beginning.
Increase Your Comfort
Improving your bike ride starts with the bike you choose and then builds from there. For best results, select a bike for the purpose you intend to use it. After identifying the bike type that will meet your needs, be properly fitted and adjusted based on your body type and measurements.
Bike Type
First, decide how you will be using the bike. If you think that you will be regularly using your bike for several very different purposes, consider choosing more than one bike or select a crossover that may meet some of your needs in each category. If you are unsure about your bike's general use but just want to start somewhere, hybrid bikes are suitable for people who already have a basic fitness level. Hybrid bikes are good on the road and for light trails and off-roading. If you know that you have a specific purpose, stick with that type of bike when you go for a fitting.
If you're interested in learning more about the different types of bikes read our article about different types of bicycles.
Measure Reach
Proper reach is vital for maintaining back health and preventing pain or overexertion. To determine whether or not your reach is at the appropriate place, have the specialist fitting you check for the proper angles in your riding posture. If you are overreaching, opt for a shorter stem. If you already have a bike and are not in a position to get a shorter stem at this time, you can slide the saddle forward to aid you in correcting the reach; keep in mind, sliding the saddle is not a long-term solution and can create other issues.
Handlebar Height and Angle
The handlebars you choose will contribute to your reach. Depending on what purpose you are riding for, you may have opted for any number of different handlebars. No matter your selection, make sure that the height does not hinder your reach of the handlebars. Make any minor adjustments to the handlebars for a major bike ride improvement. You can also include spacers to ensure that you fully connect and do not apply undue pressure to your wrists and forearms. If you were to experience an accident, handlebars at improper heights could cause additional serious injuries; be sure to make proper adjustments before your ride.
Saddle Adjustment
Choosing the correct saddle for your ride is a lynchpin of comfort for cycling. However, it is also essential to keep in mind that you must give yourself time to get used to your saddle before swapping it out for what you may initially think is a more comfortable option. Many a beginner cyclist has removed the long-nosed saddle that made their backside a little sore the first ride for a hulking air-cushioned cruiser seat that made pedaling uncomfortable and ultimately lopsided. Give the standard saddle a fair chance, or be sure to try out different saddles in the cycling store or through stationary classes in your local gym before swapping as a knee-jerk bike improvement.
Saddle height and angle are also necessary adjustments that you must consider before hitting the road. Be sure that your saddle is fitted high enough that you can make a full pedal stroke. However, you want to be careful that you are not so far up that you overextend your knees and tendons, causing additional injuries. The angle of your saddle angle may also be causing undue pressure on your pelvic bone. To eliminate the pressure, you can tilt the saddle forward. However, when leaning forward, you can increase the strain on your arms instead. Be careful when making adjustments on your own. Professional fitters will be able to help with both.
Improve Usability
The measure of usability for your bike depends on not just one but several different factors. Consider increasing usability similar to the way you address issues through a multipoint maintenance check. You can always ask yourself, what would make my experience more efficient, effective, or satisfying? Then, create a unique improvement plan to meet your specific goals. For many people, however, the same general improvements will increase usability.
Having the correct tires is a significant way to improve the usability of your bike. Understanding that bike types are for different purposes will also help you understand different tire sizes. If you are building a bike from the ground up, the specialists you are working with will help you choose the best tires for the bike you choose. If you already have a bike, be sure the tires you have complement the bike. For example, if you have a mountain bike, you may find that adding wider tires will ultimately make your trail ride safer and smoother. Increasing and decreasing tire pressure based on the surface you are riding on can also impact the quality of your bike ride.
Plan Maintenance
Like with your vehicle, making sure that you have a regular maintenance plan will extend the life if you cycle too. Not only will your bike be in better shape and perform better, but you will feel the difference in your ride.
Check Tires
Ensure that you check after every ride that your pressure is holding and there are no punctures in your tires. Recheck your levels before you ride the next time, and make any repairs or replacements to avoid inconvenient and potentially dangerous blowouts on the road.
Contact Points
Check major contact points for wear and degradation at least once a year. Mark it on your calendar to do a thorough evaluation of your cleats, grips, saddle, peddles, and handlebars to be sure that everything is to improve your bike ride.
To the Shop
Once a year, usually in the least rideable month, put your bike up for complete maintenance. If you are unsure of what to check for, send it to the shop. You can always request to stay for the inspection to become more familiar with your bike. The tech likely will be checking:
Cables
Brakes
Chains
Bearings
Suspension
Wheels
Body
Get the Look
When your bike is ridable and safe for the road, you can also improve your bike ride by making it your own. As you feel more and more comfortable with your bike, you will find ways to customize it that express your riding personality.
Add Decals
Many cyclists add decals to their bikes to show off sponsorships. If you aren't quite ready for that, you can design your own stickers and have decals printed for your bike too. If you like a particular brand or riding team, you can slap stickers on your frame that speak to your preferences.
Customize Colors
The sage advice that pro cyclists give to one another is never more than three colors at once. Many novice riders throw that advice out the window and adorn their bikes however they see fit. Spray painting isn't the best approach to carbon frames or powder-coated finishes, but many custom shops will complete expert paint jobs precisely to your specifications and in no time. Go with what makes you happy.
Easy Upgrades
Another quick and easy way to upgrade your bike ride is to improve the look of your bike. Customize small components like cranks, pedals, and stems. Just like your frame and handlebars, customized components can be easily ordered or modified as an inexpensive way to add on to your bike a little at a time.
Add Security
Once you have your bike fitted and fixed the way you want it, you will need to add bike improvement that will address the security of your bike.
Efficient Locks
No lock is thief-proof, but many are serious deterrents. U or D locks placed around the low bars or your bike frame are the most difficult to remove. You can also replace your bolts with hex bolts that require a hex key rather than the standard removal that thieves can easily remove.
Deterring Alarms
Once your lock is secured, you can opt to install a small alarm system to help deter thieves from taking your bike. While not much will happen when the alarm goes off other than flashing, and a substantial amount of noise, warnings coupled with hard-to-break locks often create enough of a stir that criminals will leave the scene without your bike in hand.
Learn more about different ways to improve your bike ride and find the answers to any questions you have about different types of bikes at BikeLVR.