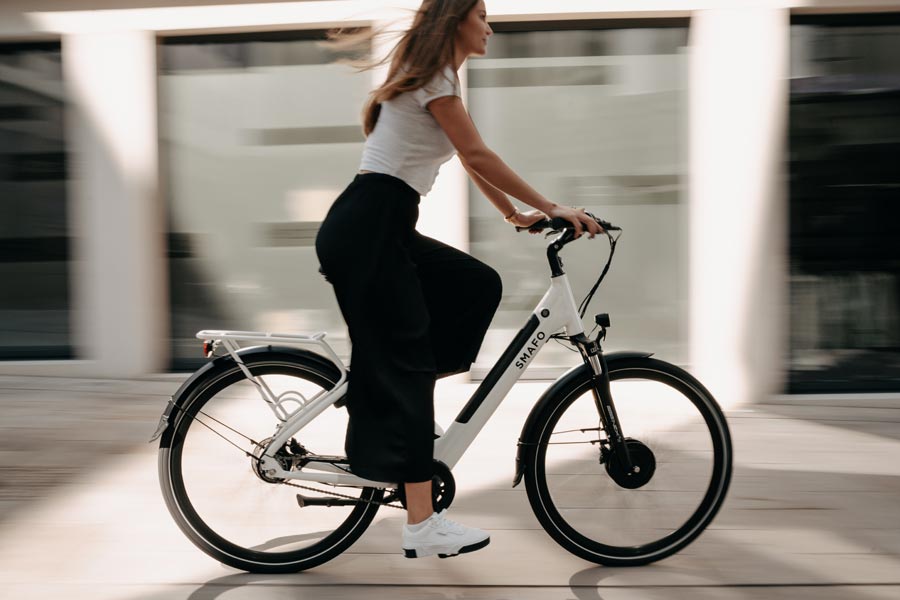 In the past, bike makers focused most of their research and production on men's bikes. Bikes for women had less premium hardware, fewer color choices, and fewer options. Fortunately, the bicycle industry has changed its tune and now makes models for women comparable to men's bikes. Although there are subtle design variations in male and female cycles, some bike manufacturers have given up the gender distinctions and begun offering unisex models. Whether you prefer the feel of a men's or women's bike, choose one that suits your body size and feels comfortable to ride. Before making a purchase, you can examine these sections on the differences between women's and men's bicycles.
Men vs Women Bikes
Until the early 1990s, bikes marketed as women's models were less technologically advanced than men's bikes. As interest in mountain biking among both sexes increased, manufacturers finally developed superior women's bikes. Designers studied the physical differences between men and women and adjusted the frames to ensure a more enjoyable riding experience. Although you may prefer the feel of a unisex or men's model, the women's bikes are typically suited for narrower shoulders, shorter arm reach, and smaller-sized physiques.
Like men, women's height, weight, and body shape vary greatly. The differences in gender-specific models are generalized, and you shouldn't feel obligated to choose a bike based on your sex.
Smaller Frames
Compared to a man's body, a woman typically has a shorter torso and longer legs. For shorter female riders, a men's bike can be cumbersome due to the larger frame. With a smaller frame and shorter reach length, a woman's bike is more comfortable and easier to control. Before bike makers offered more options for women's bikes, petite women often had problems finding an adult bike that fits.
Shorter Crankarms
The crankarms, the levers attached to the pedals, were once the same size for women's and men's bikes. That was a problem for shorter female riders, and now, female models have shorter crank arms for better speed and control. When a crank arm is too large for your size, you exert more force to power the bike and knee pain can become a problem.
Shorter-Reach Brake Levers
Reaching for the brake levers with shorter arms and smaller hands can be problematic on a men's model. Women's bikes are designed with more accessible brake levers that reduce strain for riders with smaller hands.
Narrower Handlebars
Although the characteristic does not apply to every rider, men typically have broader shoulders than women. Wide handlebars can be irritating for more petite women, and women's bikes are designed with narrower handlebars. However, experts recommend trying several handlebar designs before making a decision. For mountain biking, a wider handlebar can benefit men and women and ensure better control and stability.
Female Specific Saddles
A comfortable seat is vital for men and women, and women's saddles are more suited for the female physique. The seats are wider and shorter to adapt to the female anatomy. However, manufacturers understand that riders often switch out the factory seat for an aftermarket saddle, and they put less effort into the component's design. If you like a particular bike but dislike the saddle, you can replace it with a more comfortable model. Professional female cyclists recommend using a narrower men's style seat for competitions and a wider seat for casual rides.
Shorter Stem
The stem of a bike connects the handlebars to the frame, and when you have shorter arms and a shorter torso, a women's model with a shorter stem is easier to control.
Suspension
Suspension isn't a primary factor in selecting a bicycle unless you're shopping for mountain bikes or hybrids. Women's models use lighter suspension than men's bikes, but you can adjust the suspension if it doesn't feel right or take it to a bike shop for professional assistance.
Step-Through Frames
Before bike companies began making design changes to accommodate women, the top tube was the only noticeable change between men's and women's bikes. The tube sloped downward on women's models to make riding with a long dress easier. Although the downward sloping tube is less common on unisex, road, and mountain bikes, bikes designed for casual riding still offer the design in women's models. If you wear skirts or dresses when you ride, the step-through frame is practical.
The Different Types of Road Bicycles
Whether you like the feel of a women's, unisex, or men's bike, you have several types to choose from. The kind of bike for you depends on how you're going to use it. Are you commuting to work or using it for a casual ride around the neighborhood? You'll pay much more for lighter models with high-end components.
Performance
If you're planning on entering races or looking for bikes built for speed, a performance road bike is an ideal choice. Performance bikes are more expensive than other types, and you can expect to pay $1500 to $25,000. The top-tier models are light as a feather and closer to the price of an automobile.
Touring
With longer wheelbases and sturdier frames, touring bikes are designed to carry more gear and supplies for long journeys. Some brands come with racks and fenders already attached, and others come with attachment points for accessories but require separate purchases. You can add lights, water bottles, and attachable bike pumps to prepare for an extended trip.
Endurance
Endurance road bikes are designed for comfort rather than speed. They have wider tires for a more comfortable ride on hard surfaces, and the bike's design positions the rider in a less aerodynamic position than a performance model.
Gravel
Cyclocross bikes (all-terrain racing bikes) inspired the creation of the gravel class of road bikes. Unlike a hybrid or mountain bike, gravel bikes have drop handlebars for optimal aerodynamics and wider tires for riding on gravel and dirt. They're designed for traveling quickly on flat all-terrain trails, but they're not fitted with suspension that can handle rocky paths filled with obstacles.
Hybrid Bikes and Specialty Bikes
If you're not interested in a high-speed road bike or hefty mountain bike, you can try out a hybrid for more casual riding. A hybrid allows you to travel on pavement and off-road surfaces, but it's not designed for racing or extended tours. Hybrid bikes have wide tires and larger frames than performance road bikes, and they're ideal for short commutes and everyday riding.
Specialty bikes like Earth Cruisers or folding bikes are designed for short trips and low-endurance riding. Although they're similar to hybrid bikes, bike experts consider specialty bikes to be any design that doesn't fit into a road, mountain, or hybrid category.
The Different Types of Mountain Bikes
Mountain bikes have rigid frames and rugged suspension to handle off-road trails. You can find a reliable mountain bike for under $1000, but top-of-the-line models can cost close to $30,000. Some models are fitted only with front suspension, but for downhill racing, most professionals use dual-shock models for optimal handling and performance.
Trail
The most common and least expensive mountain design is the trail bike, and it's suited for anyone who enjoys a brief off-road riding experience.
Cross-Country
For a lightweight mountain bike designed for racing, you can try a cross country bike. It's geared for steep climbs, but it performs better on flatter trails with few obstacles.
Fat Tire
When you need a bike that can glide over sand and snow, you can try out a fat-tire bike. The oversized tires give you incredible traction on uneven terrain.
All- Mountain
The ultimate mountain design for highly skilled riders is the all-mountain bike. The all-mountain models can tackle any landscape with beefy suspension, a lightweight but sturdy frame, and high-end disc brakes.
To better understand the type of bikes that are on the market, here is a comprehensive bike guide for you.
Determining the Ideal Fit
Women can ride men's bikes and vice versa. When testing out bikes for the perfect fit, you shouldn't limit your choices to the women's models. The stem, crankarm, and handlebar modifications may not suit your body's shape, but you can replace the components with aftermarket parts to customize the bike. The two primary factors that help you determine the right bicycle are the frame size and wheel size.
Frame Size
For taller riders, a longer frame is more comfortable. If you're 5'1, a frame that measures 44-46 cm is a good fit, but taller riders closer to 6' benefit from a 57cm frame. Although most frame sizes are displayed in centimeters, some women's and men's brands only use extra small, small, medium, and large to designate size.
Wheel Size
Road bike wheels are measured in millimeters and range between 571mm and 621mm. For petite women, the 571mm wheel size is ideal. Mountain and hybrid wheels are sized in inches, and they're available in 26", 27.5", and 29". Taller riders benefit from using 29" wheels.
Advice From Experts
If you're struggling to find a bike that feels comfortable and fits your physique, talk to a technician working at a bike shop. They can use your measurements to find the perfect men's, women's, or unisex model.