Why should I wear a cap while cycling? Long story short, for protection and comfort.
A cap offers protection against different factors like UV rays, cold weather, sweat, rain.
It offers protection against conditions you encounter that could have potentially made your ride uncomfortable otherwise. And uncomfortable equals not as pleasant and enjoyable as it could be.
We all know bad weather or a roasting, flaming sun can't stop a determined, passionate outdoors lover from cycling, but… Why not be prepared?
If you are an avid cyclist that will bike in any conditions then appropriate attire is essential.
With a cycling cap, you can keep your head clean but also keep the inside of your helmet clean and oil and sweat-free, making it last longer in a good condition.
In summer your head will be shielded by a cap, so your face and head will not get sunburned. Your eyes will also be protected from the brightness of the sun, if you have a peaked cap, offering you better vision.
In winter a cycling cap can help to regulate your body temperature and protect your face, head, ears from the cold. You don't want to be freezing on your bike.
Let's review some of the best winter cycling caps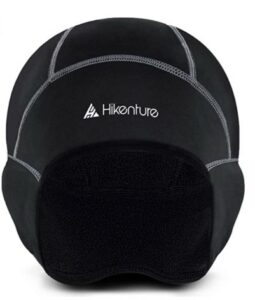 The first one is a Hikenture cap that you can buy for only $12.98, which seems like a reasonable price.
This cap will keep your head and ears warm making riding in cold weather much more comfortable.
The material is stretchy, it fits tight but at the same time is comfortable. There are caps that are too tight and can leave imprints on your forehead, sometimes giving you a headache, but not this one.
The stitching is good, it's expected to be durable over time.
It is not too thick, perfect for wearing it under your helmet, it also folds up really small to fit in your pocket or bike bag if you decide to take it off.
The cap completely covers your ears (the shape intentionally swoops down to do so) but, again it is not too tight even if, for example, you want to wear earbuds. It actually helps keep your earbuds in place and wind noise out and the ear cover does not activate the touch sides of the earbuds.
From what I have researched and from the reviews I read, the only downside would be that it can look a little odd to wear this skull cap just by itself, but that's probably because it was designed to be worn underneath a helmet. But even if you would wear it by itself it would do a good job as you won't have to keep pulling down the sides to continuously cover the ears as it can happen with some skull caps. The only problem with that would be you'll look a little funny. Function over form.
You can choose from black, grey and bright yellow-green. The yellow-green one will make you very visible.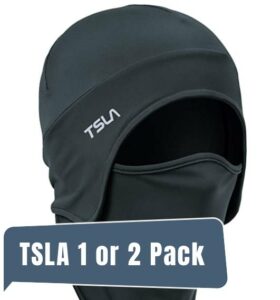 The next cap is a Tsla cap that also has a mask attached to it, currently priced at $15.89.
Sometimes it can be extremely uncomfortable to feel the cold wind on your face when cycling.
This cap also has a mask attached to it, which is breathable and comfortable.
The mask keeps the cold wind from freezing your face.
Material: Mix of polyester and spandex that stretches to match any size without losing shape.
The material is also lightweight, breathable, and moisture-wicking so that it will absorb the sweat and then quickly dry. You don't want to be biking with your head wet from the sweat in winter time so it is especially suited if you plan on being active.
This cap is good as a helmet liner or alone. It's very comfortable, perfect for cold and wet winter rides. It will keep you warm in very cold temperatures.
It can be a bit clumsy at times to wear a separate hat and neck gator that also doesn't maintain its shape when adjusted. This skull cap is essentially a fleece-lined hood, which is more convenient. and doesn't lose its shape when adjusted.
As a negative, somebody complained that it leaves the back of the neck exposed, but the same person suggested that you get a jacket that comes up high enough and you won't be bothered by any wind on the back of your neck.
Another disadvantage may be that it is not that firm on your ears. They can sometimes curl out and up and you may have to pull them back down.
Overall this hat is surprisingly warm and you can use it even when the temperatures dip below 0°F.
If you decide to buy, know that there are different styles and colors so make sure you click on the picture, before you order, so that you can get the one you want. Also better to wash it as advised in the description.
Last but not least, with a current price of $9.89, this cap is a very good deal.
The thermal helmet liner, which is a soft fleece-lined fabric, will keep you warm. It is sweat-wicking and breathable, it wicks a lot of the moisture away while retaining warmth.
It is a great fit and it completely covers the ears. It also works well to cut out wind noise and hold in earbuds.
This cap also has practical eyewear slots that are well-positioned. allowing you to wear eyeglasses comfortably without having your glasses pressing into your temples.
Perfect to wear underneath your bike helmet but you can use it even under your normal lightweight head coverings for really cold weather, then it's easy to roll up while maybe in a coffee shop and just wear your normal, more stylish head covering.
As a complaint, the material of this hat can be too soundproof, making it hard to hear what someone is talking like for example when you have a cycling partner. But this is probably because it was designed to block wind noise.
So again, if you want to make your cycling ride much more enjoyable be prepared for unfavorable conditions.
We hope you enjoyed our article! Make sure you check out our guide on the best mountain bike helmets. Don't forget to wear a helmet over your cap.