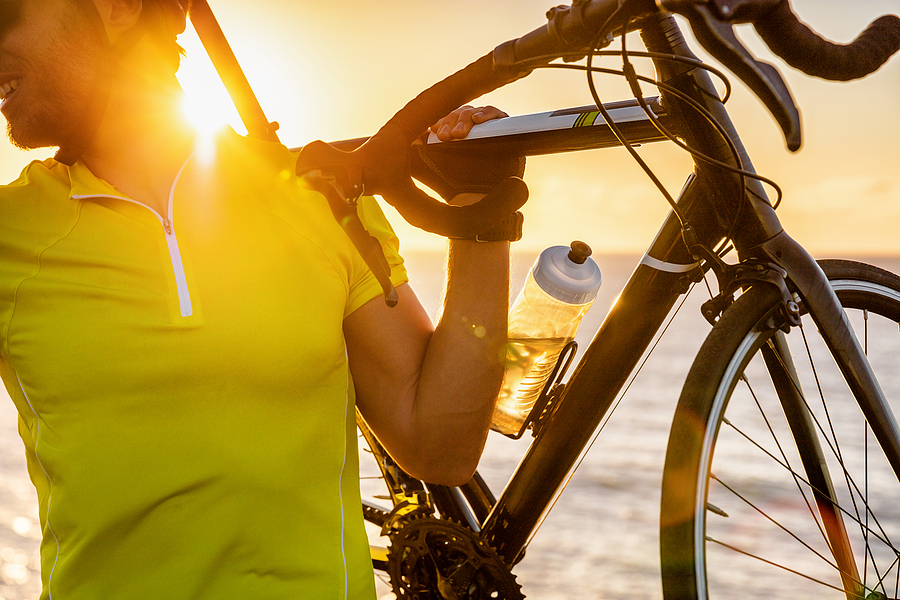 A hydration pack can help you improve your cycling by allowing you to hydrate on the move.
The less time you stop to drink water, the more time you spend cycling.
It is important to hydrate before a ride correctly. Hydrate with a good-quality mineral or electrolyte fluid after your workout to replace lost minerals.
In this article, we will go over exactly how to hydrate and stay hydrated during a long bike ride.
We also have two of the best cycling hydration packs available at this time. We will be reviewing these packs and going over who they are good for and what uses they serve best.
How do you Hydrate Before a Long Bike Ride?
Hydrating before a long-distance bike ride is essential to staying healthy and performing at your best. Along with having the best cycling hydration pack for sipping water on the move, it is essential you hydrate properly before a ride to get you off to a good start. Hydrating well before a ride and during the duration of your cycle will help your body work at its peak performance.
When you are dehydrated you will find it hard to focus and keep your body moving. When you have a lack of fluid in your body you will find cycling difficult and overall. You will feel tired and sluggish throughout your ride. This makes hydrating an essential part of your workout routine. Not hydrating well will reduce your performance, make your workout feel harder, and sacrifice weight loss.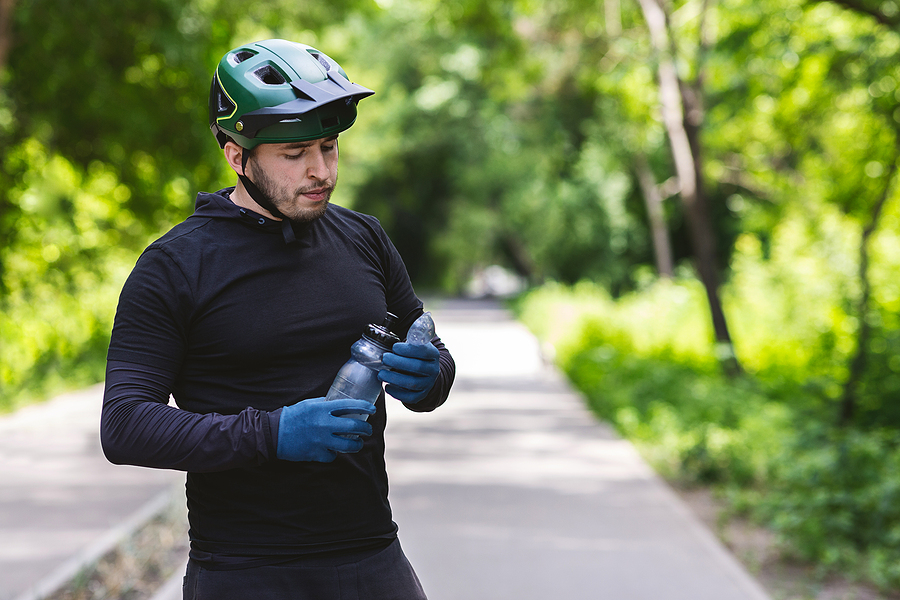 The best way to hydrate before a ride is to drink at least 500ml of water one to two hours before your cycling workout and then take a few sips before you get on the saddle. Doing this will ensure you are hydrated well and prepared for the endurance ride ahead of you, while not over-drinking. If your body is processing large amounts of water while you are working out, you may find you get uncomfortable and develop cramps or need to use the toilet quite soon. 
The Sweet Spot for Drinking Water
Ensuring you don't drink too much straight before a ride is especially true in cold weather. When it is cold your body will restrict the blood supply around the body to help you stay warm and functioning well. If you have drunk a lot of fluid directly before a cycle workout and head out into the cold, it won't be long before you will have to jump off of your bike and find a place to relieve yourself.
Find the sweet-spot for your body and experiment with how much water you drink before a ride. Try drinking between 500ml and one liter between 1 -2 hours before your cycle. Finding what works best for you and your routine will help you get the most out of your cycling workout and find what is most comfortable for your mind and body.
Are Hydration Packs Worth it?
If you are serious about cycling as part of a workout routine and love endurance cycling, then a hydration pack is certainly worth it. On long-distance rides and tours, hydration packs save valuable time and keep your body and mind functioning at 100% for the extended duration of your ride, without having to stop or step off of your bike. Having water on tap beside your mouth allows you to push through your cycle with ultimate effort while quenching that thirst that would usually make you slow down or stop for a sip from your water bottle.
Staying hydrated during your cycle is just as important as hydrating correctly before your cycling workout. Having a cycling hydration pack is excellent for staying hydrated during your workout. However, you should hydrate efficiently to get the most out of your hydration pack and your body. Taking small sips more regularly throughout your ride will prevent you from depleting your water supply too quickly. It also helps prevent you from getting cramps, a stitch, or needing to relieve yourself halfway through your journey. 
Drinking large amounts of water and glugging it down your neck may feel great if you've exerted yourself. However, it is a poor decision to make halfway through your workout.
By all means, drink gallons of water once your done cycling but doing this during your cycle will negatively impact your performance. Taking breaks to consume large amounts of water will also have you stopping regularly throughout your cycle, wasting more time when your feet could be turning those pedals. Having a hydration pack will help you combat this. Being mindful of taking small sips through the mouthpiece will keep you hydrated while on the move without sacrificing performance. 
Which Hydration Pack is the Best?
Selecting the best cycling hydration pack for your needs can be difficult, especially with all the products on the market today. There are three main focuses when selecting your hydration pack. These are weight distribution, water bladder capacity, and storage capabilities.
A good hydration pack will have excellent weight distribution so the additional weight on your back doesn't negatively impact your cycling performance. A cycling hydration pack that sits closer to the waist on your back will lower your center of gravity and widen your range of movement. Having a pack that sits here is comfortable, un-invasive, and doesn't restrict your movement, allowing you to push through your workout just as well as you would without it.
The water bladder capacity of your cycling hydration pack should not be too large but not too small either. 3-liters is the sweet spot for this, as it gives you the capability to fill it to the top for long-distance rides in hot weather where you will need the extra fluid. You don't need to fill the bladder up to the top. If you are only heading out for a morning workout you can just fill it with a liter or two of water to reduce the pack weight. 
Storage capacities in your hydration pack may be a determining factor for you as well. If you are the cycle tourer or long-distance cycling then having some extra storage for energy bars, repair kits, a phone, or camping accessories. Having a decent storage space may be important for some but not for others. A small amount of storage is included in most hydration packs. However, there are options out there that expand on their storage compartments to cater to mountain-bikers, cycle tourers, and long-distance riders.
Best Lightweight Cycling Hydration Pack for Men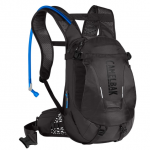 Newly redesigned, the Skyline low-rider pack is the ultimate choice for downhill riders. By shifting even more weight and support to the lumbar region, maximum stability is achieved. It's a small change, but it makes a huge difference: a lower center of gravity gives you more stability on bumpy trails and lets your upper body move more freely. Thoughtful design for gear organization means you can carry your armor, full-face helmet, included tool organizer roll, and plenty more within reach.
The Skyline low-rider pack is built with endurance and long-distance cycling in mind. This is the perfect pack for men that are looking for a hydration pack that they can take on morning workouts, all-day workouts, and tours where they don't need too much extra storage. This pack has a bladder size of 3-liters. It is ideal for all-day water when completely full, or short workouts and half-days when filled with less water. 
This pack sits low on the back and doesn't disrupt the cyclist's movement. It also sits more stable and firmer on the back when the going gets tough on bumpy trails. It has a bike tool organizer for keeping patch kits, a small bicycle pump, and multi-tool stashed away neatly. There are two small cargo pockets in the hip strap to keep energy bars and valuables close to hand. This makes it easy to refuel on food as well as water while on the move. 
The Skyline is a perfect all-round hydration pack solution for almost any application. Whether you are cycling for fitness, touring, heading out on day trips, or mountain biking this pack is sure to keep you hydrated and gives you some great storage for essentials and accessible food.
Best Lightweight Cycling Hydration Pack for Women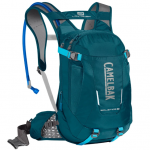 The newly redesigned Solstice™ is a full-featured pack that shifts your load—and more importantly, your water supply—down towards your waist. That small change gives you a lower center of gravity and a wider range of motion, which makes it easier to maneuver as you're barreling downhill.
The Solstice LR10 cycling hydration pack is almost identical to the Skyline LR10. However, it differs for comfortable use by women. It has a women-specific design that ensures maximum comfort by featuring an S-shaped harness that curves around the chest as well as a slightly shorter back panel for an ergonomic fit. The sternum strap is also designed with the female cyclist in mind. It has a wide range of adjustment options that make it comfortable for a variety of chest sizes. 
You can expect all the same great features that the Skyline offers in a gender-specific package. It features a 3-liter bladder and all the same innovative storage features as the skyline. This is the best cycling hydration pack for the female mountain biker, tourer, or fitness cyclist.
What is the Best Hydration Pack for Mountain Biking?
The Skyline and Solstice are excellent all-rounders – as mentioned in the previous section. They are perfect for mountain bikers. They stay firm on the back and can be tightened down to put up with bumps in the trails. Downhill riders and mountain bikers will love these hydration packs for their durability. They even offer a helmet and armor carry which gives you a place to securely carry a full-face helmet, knee, and elbow pads.
If you are the passionate mountain biker or trail rider that is sick of wearing ill-fitting backpacks when flying down the trails, then the Skyline for men or the Solstice for women will be the ultimate companion to your adventures. We all know the hardest part of downhill trail riding is the ascent. There is nothing worse than cycling up a trail and having to stop halfway to get your bottle out of your bag. A good mountain-biking hydration pack ends this struggle!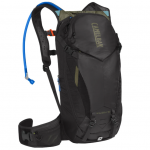 Go big and go brave with the the K.U.D.U.™ Protector 10, the ultimate pack for hydration and protection. The full back CE Level II protector panel helps absorb impact in a crash and 7-liters of cargo space ensures you can bring what you need for a day on the trail. Endlessly adaptable, the protector can be worn with or without the cargo pack and is capable of carrying a full-face helmet and armor.
If you are looking for something with more storage and ultimate protection in the event of a crash, then the CamelBak K.U.D.U Protector 10 is the best cycling hydration pack for you. This pack mounts over the whole back. It provides a CE Level 2 protector panel that helps absorb impact in a crash. It features a 3-liter water bladder along with an additional 7-liters of cargo space. Having this amount of space available means you can bring all the essentials on the trails.