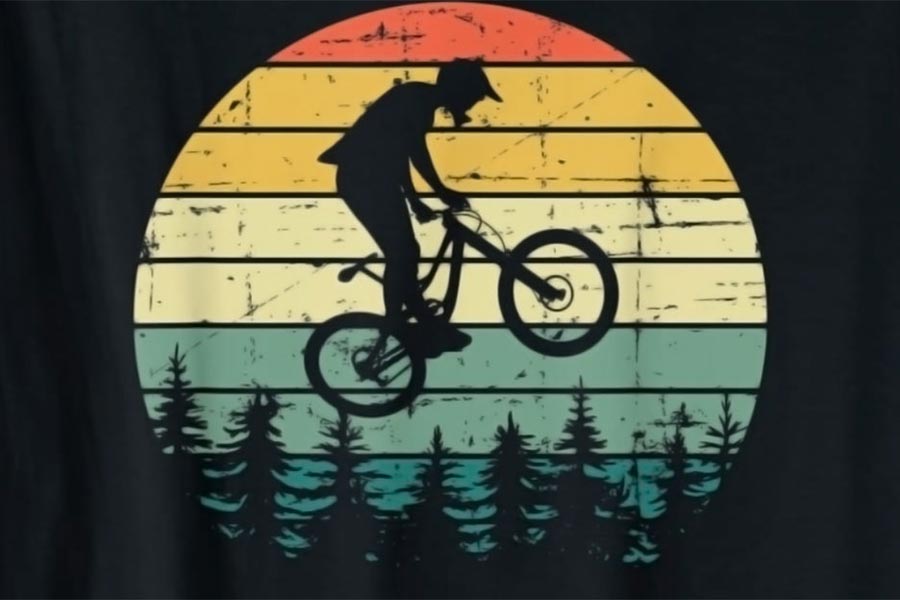 Mountain biking is an adventure that puts you right there in the thick of it; it's you and the trail, the trees, roots, rocks, and dirt (or mud!). It involves a technical skill that requires understanding how your body and your mountain bike move together and how you have to work with the terrain, not against it. You can't do battle with Mother Nature; you have to work with her. That's the beauty of a sport like mountain biking.
Understanding the Inevitability of a Mountain Bike Spill
Unfortunately, learning the skills often means you don't get it right, and you find yourself kissing the dirt when just moments before, you were feeling the thrill of your prowess. No matter how good you get, there is always the risk of misreading the terrain or making the wrong move. After all, part of mountain biking fun is in testing yourself and pushing beyond your perceived limits. You're going to take some spills, even when you think the turf doesn't look bad.
Sometimes, you can laugh off these crashes, picking yourself up off the ground, brushing yourself off, and climbing back on your bike. Other times, you may take a spectacular tumble that lands you in the emergency room. Wearing the right protective gear won't prevent spills, but it can reduce the likelihood you have to visit the ER. A glance at the equipment available, and you'll quickly realize how much there is. If you put it all on, you might look a little more like Iron (Wo)Man than Wonder Woman. So, how much gear do you really need for protection?
Determining What Protective Gear Is Right for You
There is no right answer to the question of how much gear you need to keep you from the ER. The truth is that every person is different, and you have to determine what you feel is the suitable kit for you. You should base your answer on a combination of skill level, the types of riding you do, and your comfort level on a mountain bike.
As you gain more experience with the sport, you'll inevitably grow in confidence as well. Often riders shed some of their original armor as they gain skills and confidence, but there are no hard rules about how or when this happens. You can be a beginner and still feel confident on the bike, or you can have solid skills and feel exposed without your armor. There is no doubt that confidence affects how likely you are to crash. Take some time to examine where your comfort and skill levels are before you start shopping for gear.
Knowing the Dangers of the Ride
Any time you climb on a bike, you are taking a risk. The same can be said for just getting out of bed in the morning! That doesn't mean you just stay in bed all day, though. When you start mountain biking, it's essential that you know what dangers exist, not to scare yourself silly but to understand what you're getting yourself into so that the risks you take are calculated rather than unnecessary. Even Rachel Atherton takes care to wear a full-face mask every time she hits the trail and shoots off like a rocket over rocks, ruts, and ridges.
The more technical the trail, the more you need to prepare, and the more protective gear you need. Downhill racers (like Atherton) require the highest levels of protection. If you're riding on singletrack, there are inherently more dangers than riding multipurpose trails through open woodlands. Likewise, if you enjoy riding in all kinds of conditions (getting muddy is fun!), then you have more to consider than someone who prefers to ride on dry trails. The point is to become familiar with what you could face on the courses you like to ride and tailor your kit accordingly.
Finding the Right Gear for Your Mountain Bike Ride
After taking the time to consider the factors that determine your risks, it's time to start looking for your gear. Here's a rundown of what's available and why you might need it.
MTB Clothing
One look at mountain bike riders tells you that most of them dress a little differently from road bikers. Their look appears more casual because most don't wear form-fitting bike pants and tops. That doesn't mean that they're just throwing on any old clothes out of their closets that feel comfortable, and you shouldn't do that either.
MTB clothing is designed for the trail. Like all cycling clothes, it's stretchy, allowing the rider to move freely. The differences in design reflect the differences between MTB and road riding.
Jerseys: MTB tops tend to fit a little looser than road biking jerseys, but they're still made of the same materials that are moisture-wicking and breathable. You may see some riders opting for shirts instead of jerseys, which is fine as long as they perform similarly. Mountain bikers also tend to wear long sleeves for protection from branches and brush.
Shorts: You don't often see the standard bike shorts on mountain bikers. Instead, they wear looser-fitting bottoms that look more like hiking shorts, except they are still stretchy. MTB shorts also have flat seams to prevent chafing and pressure points. They have an integrated chamois, which may be narrower than what you see on regular bike shorts because of the more upright position of mountain biking. Another difference is that mountain biking shorts are often longer and thicker, providing a greater degree of protection.
Gloves: The gloves you see on mountain bikers differ from what other cyclists wear. Full-finger coverage is essential when riding on trails with more opportunities to bloody your knuckles. It may get hot, but the discomfort is probably worth it. Many mountain bikers also opt for gloves that don't have padding. This is a personal choice. Mountain bike handlebars have padded grips; however, if you plan to be on your bike for long periods or the terrain is rough, you may want the additional shock absorbency of padded gloves.
The biggest thing to keep in mind with your clothing is that you should still stick to gear designed for cycling. The features you find specifically in mountain biking clothes offer additional protection when the terrain and environment provide more opportunities for getting up close and personal with nature.
MTB Helmets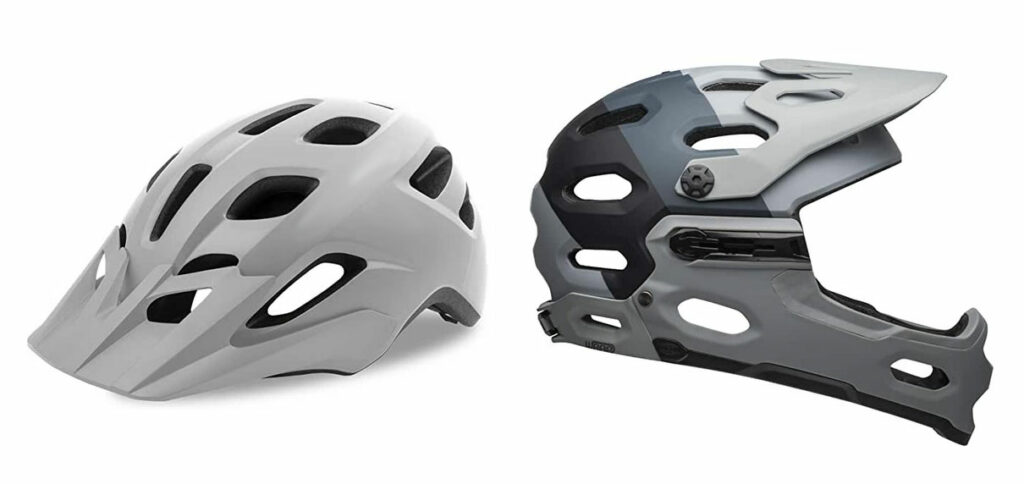 Helmets are necessary when you're on a mountain bike, but the type of helmet you need depends on what kind of mountain biking you do and how much protection you feel comfortable with. It stands to reason that the higher the risk, the better coverage your helmet should have. As a basic guideline, different protection levels can be broken down into different types of riding:
Cross country: This type of riding doesn't differ too much from road riding. It is less technical and more about speed. You can wear a helmet similar to what you'd wear road riding. Make sure it fits well and has ample ventilation.
Trails: Mountain bike trails typically have more rugged terrain than what you encounter on cross-country rides, so you'll need to up your protection level. Look for helmets that have more coverage on the sides and back.
Enduro and all-mountain: With this type of riding, you're talking about highly technical trails with many steep downhill runs. Full-face coverage may be a good option. At the very least, go for a helmet that has a detachable chin strap, and make sure you snap it on when heading for a descent.
Downhill: Downhill rides call for maximum protection. You need full-face coverage if you plan on this type of riding. These helmets look more like what you see on motocross riders than road cyclists, but that degree of protection is necessary. Goggles are also a good plan.
Regardless of what type of riding you explore and experiment with, never be afraid to err on the side of caution. Your noggin is worth as much protection as you want to throw on it, so rock your helmet with confidence.
MTB Body Armor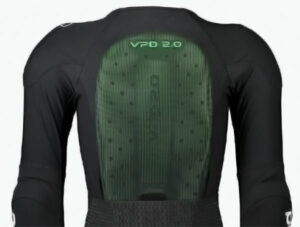 Another thing you see on mountain bikers that you won't find on road cyclists is body armor. This extra gear keeps fragile body parts protected. Elbow pads, knee pads, and shin guards are all possibilities. All of these are available with different levels of padding and in varying lengths. You can choose soft padding or rigid shells.
One thing to be aware of, if you opt for the rigid versions, your movement will be more restricted, which can present a degree of danger in and of itself. It's something to consider when deciding on how much protection is best for you. Safety is an important consideration for mountain bikers, regardless of skill or riding preferences. All it takes is one good spill to ruin your day, and no one really wants to pay the cost of a visit to the emergency room. Instead, you can save the cash you would have spent on ER bills for some new mountain biking gear. You're welcome. Like A Bike USA. is as passionate about safety as we are about fun. If you have any mountain biking questions, feel free to give us a shout!