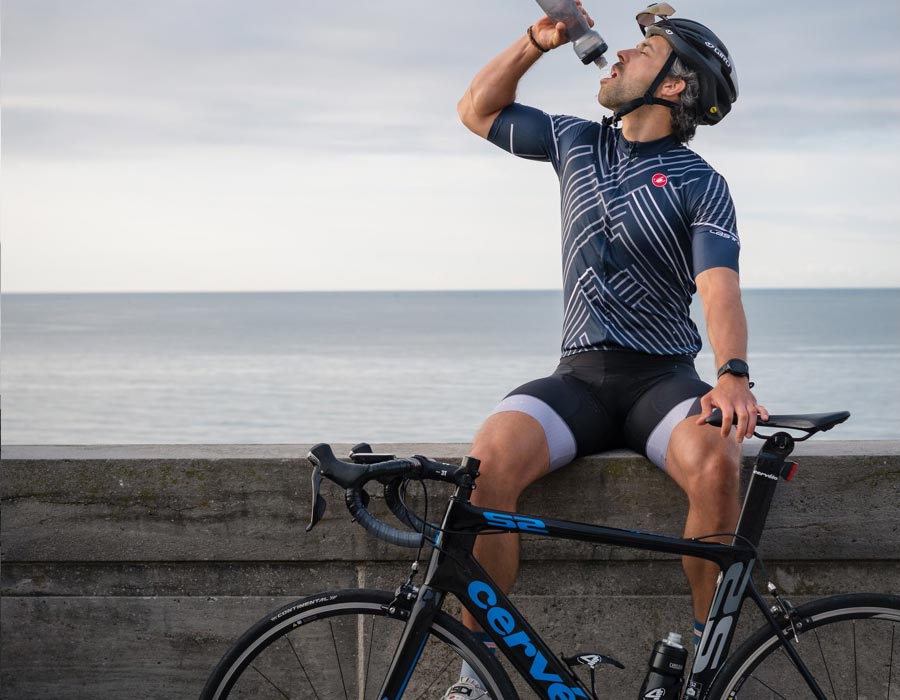 New England bike rides have will encounter a diverse climate that can range from hot and humid summers to cold fall foliage rides. When road cycling, it's important to wear appropriate gear that will keep you comfortable, safe, and well-prepared for the ever changing conditions. We're going to quickly cover the most important elements of riding gear and how to have the most fun regardless of your level of riding.
Base layer: A moisture-wicking base layer is essential for both hot and cold conditions. In warmer weather, a lightweight, breathable material like polyester or synthetic blend will help wick sweat away from your body. In colder morning rides, we love a light weight zippered fleece layer to keep you warm and dry.
Jersey: A lightweight, visible, moisture-wicking cycling jersey is ideal for warmer weather. Choose one with a full or half-length zipper for added ventilation. In cooler conditions, opt for a long-sleeved thermal jersey to help retain warmth.
Shorts: Padded cycling shorts or bibs will provide comfort during long rides. Bibs can offer additional support and help keep your shorts in place.
Jacket: A lightweight, packable windproof and water-resistant jacket is essential for unpredictable New England weather. In colder conditions, opt for a thermal, insulated jacket or layer with your favorite fleece.
Gloves: Full-finger gloves for cooler weather, and short-finger gloves for warmer conditions. Consider windproof and waterproof gloves for cold and wet rides.
Socks: Moisture-wicking cycling socks made from materials like merino wool or synthetic fibers will help keep your feet dry and comfortable. In colder weather, consider thermal socks or even shoe covers for added insulation.
Shoes: Cycling-specific shoes with a stiff sole will provide efficient power transfer to the pedals if you have peddles that accept them. Choose between road cycling shoes with cleats or more casual options like mountain bike shoes, depending on your preference and the planed ride. Are you stopping for a stroll in town? Ditch the cleated shoe and take your trail shoes or sneakers.
Helmet: A well-ventilated, properly fitting helmet is crucial for safety. Riding early to late? It's easy to add reflective tape or better yet a light.
Eyewear: Sunglasses will protect your eyes from debris, wind, and harmful UV rays.
Accessories: Consider carrying additional gear like under seat parts bag, leg warmers, a cap, or a neck gaiter, depending on the season and weather conditions. These items can easily be removed or added as needed during your ride.
Remember, the key to staying comfortable while road cycling in New England is to dress in layers, so you can easily adapt to the changing weather conditions. Always check the forecast before you head out and be prepared for sudden shifts in temperature or precipitation.
New vs. Used Bike
The benefit of buying a new bike is having the peace of mind that your are its first and only rider. You'll know its history and therefore can have faith in its performance without wondering if it's ever been left outside for too long or has been in an accident for example. As with any other retail scenario, new bikes will carry a high price tag . But if you can afford it, there is an unlimited amount of options for mid to high end bikes.
I prefer a used bike as my road bike is my second bike. Start your search through your local classifieds; Facebook marketplace, Ebay, or local bike store. Buying used bikes can be challenging online as you will need patience and time to research and hunt. The main difficulty in buying used bikes for new riders is understanding the true condition of the bike. Start by looking for indicators as to how the bike has been maintained. Bikes need love and care. A neglected bike is a recipe for weekends fixing things vs enjoying the nice weather. I will only consider bikes that I can inspect in person but your mileage will vary depending where you live.
It is important to know what questions to ask to best understand what you're buying. Before you start looking, here are some tips to consider before your hunt begins:
As a general rule, function over fashion is key

You might have found a bike that looks great, maybe your favourite colour for example. But if it doesn't ride well, you're going to spend more trying to fix it.

Most seller's are honest about what they are selling. The more questions you ask the better as they can reveal the bike's history:

Where did you buy the bike; did you buy it new?
Where has the bike been stored?
When was the bike last serviced?

Look up the brand and model online before reaching out so you know what the bike is worth. Bicycle Bluebook is your best friend here as it will tell you the exact dated MSRP and what you ought to be paying for the bike.

It should be noted that right now with bike shortages, a lot of bikes are selling for well over what they would be worth under normal circumstances.
For the initiated and self-motivated, buying a used bike can be hugely rewarding often paying less than what you would for a brand new bike.
Understanding Bike Parts and Components
As previously mentioned, most of the improvements in road bikes has been within the context of materials rather than geometry like in other biking avenues (for example, in mountain biking, bike lengths or wheel base is getting longer to provide a better centre of gravity on rough terrain).
Carbon fiber frames have been the most significant departure from the old school steel or aluminum bike your parents have. These frames are generally constructed all as one piece as opposed to individual metal parts welded together. This makes modern bike frames lighter, more durable, and often more aerodynamic. While they carry a higher price tag than historically conventional frame constructions, carbon fiber is considered to be the industry standard and prices are decreasing as it has become commonplace.
Gears, Brakes and Shifters
Following the idea of function over fashion, the next most important consideration are the components that make up the bike itself. In terms of ride quality, gears, brakes, and shifters are exceptionally critical. For experienced riders, perhaps even more so than the bike frame itself. The reason is that these parts determine how the bike will ride over the course of your adventure. For example, the derailleurs both front and back will allow you to shift gears smoothly as you adjust to inclines and declines on the road. Lower-end derailleurs will shift slower and often perform with less acuity than their high-end counterparts. Just like with bike frames, there are many brands to choose from or look at. With a quick search online, you can find a given brand's full line of derailleurs to help you understand what is considered to be a low, mid, and high-end derailleur.
Wheelset
Another major consideration for road cycling is your wheelset – while this generally refers to the rims, this can also include the type of tires installed around the rims. As we have harsh New England winters and some roads are often less than desirable for biking. While here in New Hampshire adequate bike lanes are rare the road conditions themselves can throw potholes, cracks, and rough asphalt your way. With this in mind, finding the right wheelset is critical.
While you can ride anything within the 22mm to 30mm range, most riders will opt for wider tires (25mm and up). These will absorb bumps and provide a velvety feel over thinner options. Thinner road tires are faster but less forgiving while wider road tires are slower but provide a cushioning effect. Both are acceptable, but you will want to consider how long you intend to ride for and what your goals are before choosing the right tires.
Piecing it All Together
Now that you've found your perfect ride, what's next? If you're just getting started, we know that this sport can quickly get expensive. Assuming you have the budget, items you'll need to make your ride more enjoyable might include the following:
Helmet and bike hat
Water bottles and cages
Bell for signalling to riders, pedestrians and motor vehicles
Bar or saddle bag; with tire repairing tools
Bike computer to show your distance ridden, speed and cadence
Front and rear lights for early morning or evening riding
None of these are absolute must haves (with the exception of a helmet), although you will find that having these will allow you to ride longer, faster and harder over time.
The best way to go about building out your kit is to find what items and gear are absolutely necessary for your style of riding and over time, begin collecting pieces that will perform well and stand the test of time.