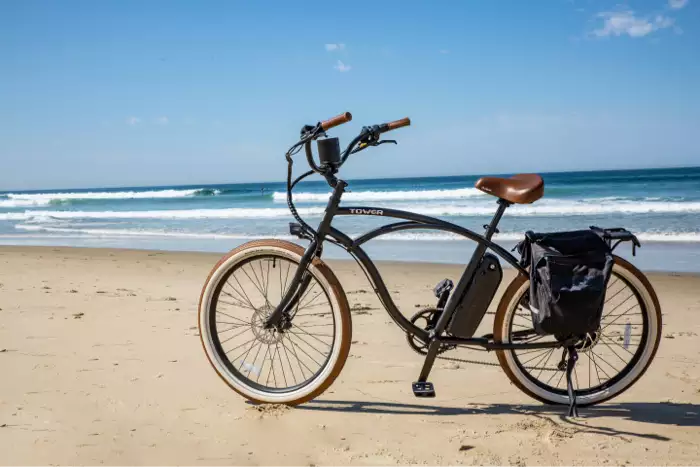 There's nothing like bike riding on your favorite beach. However, if you're looking to make the experience even better, try it on a beach cruiser bike.
Beach cruiser bikes can give you a comfortable and safe riding experience on the sand that no other types of bicycles can. This alone should have you heading to your nearest bike store in search of a well-made beach cruiser bike.
But what exactly does a "well-made" beach cruiser bike entail? We'll walk you through everything you need to look for in your bike.
A Long, Full Top-Mounted Fender
The bike fender is a sheet of metal or synthetic material that covers the wheel of your bicycle. You'll often find the fender atop the wheel of a bicycle. Usually, bicycles will have a fender for each wheel.
When you're looking for a beach cruiser bike, you'll want one with long fenders. By "long," we mean long enough to cover at least a third of the wheel's circumference.
Why? Well, think about it: when you're cruising on the beach, sand will be flying as the wheels turn. If you crank up the speed, you might get some sand blasted right in your face.
With fenders long enough to block the sand, your ride becomes more comfortable, not to mention safer.
A Sturdy Bike Frame That Won't Break Your Back
The bike frame is the main part of your bike, so this is one part you'll have to give a lot of thought to. When choosing a bike frame, the most important consideration is the material. Bike frames come in all sorts of materials, with the most common being steel and carbon.
Both steel and carbon make for a durable beach cruiser bike frame, so feel free to buy a beach cruiser bike with a frame made with these materials. However, if you're looking for added portability, there's an even better option: titanium.
Titanium has the durability of steel but the lightness of aluminum. For this reason, a beach cruiser bike with a titanium frame won't bend or break but will easily rest atop a bike rack. Plus, when you have to lift your bike, you won't risk straining your back due to the weight.
Adjustable Handlebars for a Comfortable Reach
Some beach cruiser bikes do not have adjustable handlebars. Depending on your height and reach, this can be a problem. If you're too short, the bars may be too high when you ride. If you're too tall, you'll be riding your beach cruiser bike like you're in the Tour de France.
Hence, when shopping for your beach cruiser bike, choose one with adjustable handlebars.
To adjust your handlebars for maximum comfort, just raise or lower the bars to a level where your arms rest on the handles without you having to lean or slouch forward and you feel no tension on your shoulders or upper back.
A Seat that Makes for an Enjoyable ride
When you're riding on the beach, you'll experience vibrations since the sand creates an uneven surface. While many will argue that this is part of the whole beach-riding experience, why not make the experience more comfortable with the right bike seat?
When you're choosing a seat, you'll want one that provides a level of cushion that's in the Goldilocks zone. You don't want a seat that's too rigid, nor would you want one that's too soft; both will do very little to protect your tush from the sandy ground's push.
There are many comfortable seats or bike saddles on the market; we even have a list of them here. However, as a rule of thumb, gel leisure-type saddles are the way to go. You can ask the staff at the bike shop what they'd recommend when you're picking up your beach cruiser bike.
Safety Features that Keep the Paramedics at Bay
You also need to consider safety — both for yourself and for those around you on the beach. Off the shelf, all bikes come with brakes; all you need to check is whether or not they work. You can determine the effectiveness of the brake by testing the beach cruiser bike before you purchase it. Most bike stores will allow this, so when you do take one out for a spin, try the brakes and make sure that if your heavier rider they stop the bike on the dot. Disc brakes
Another safety feature you may want to have is a light source. Handlebar-mounted bike lights come in handy when you're riding at night. While you're at it, have some reflectors in the rear just in case you have to get on the road or sidewalk.
Extra Accessories for Customizing Your Cruise
Sometimes, you need some extra features on your beach cruiser bike. When it comes to additional features and attachments, this comes right down to preference and usage.
If you'll use your beach cruiser bike to run errands, choose one that has a basket and rear rack. This way, you'll have a place to store small items like grocery bags. You can also have a saddle-mounted rack to keep items dry.
If you're in an area that does not have many public bike racks, you may be forced to leave your bike lying on the sand. However, your bike might sustain scratches from sand or gravel, and let's be honest — the bike will get dirty, and nobody wants that. If this is the case, make sure you get one with a sturdy kickstand.
Final Word: Take Your Beach Cruiser Bike for a Spin Before You Buy It
To ensure that a beach cruiser bike ticks all the boxes, take it for a test ride. While riding, pay attention to the comfort of the seat, ride position, and keep an eye out for bike weight as it can add up on those hills.
By considering all of the above when looking for a beach cruiser bike, you'll find one that's perfect for your picturesque cruise along the shore.