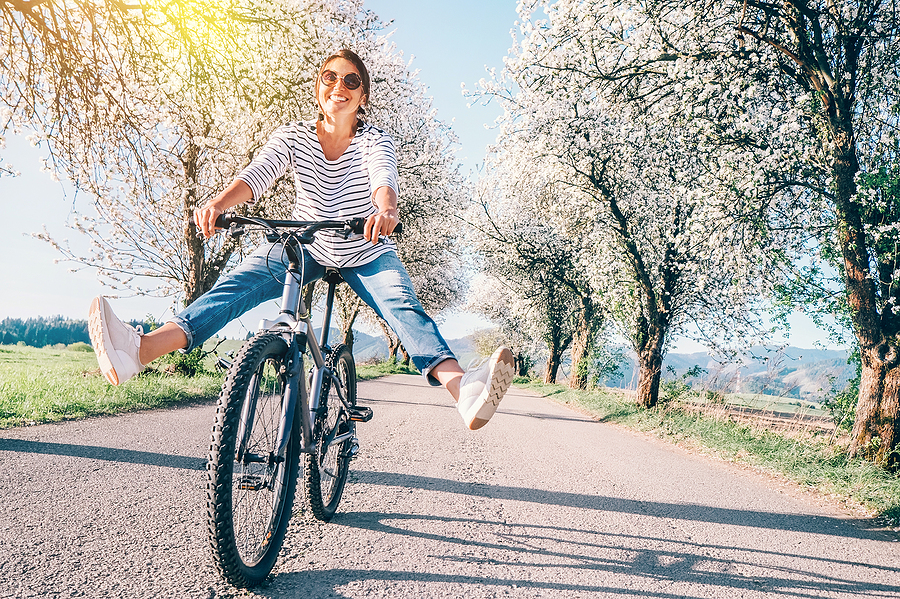 You may be thinking "cycling socks, really?" Hear us out, cycling socks are nothing like the other 30 pairs that are sitting in your sock draw. Cycling socks are loaded with tech and full of comfort and performance benefits that ultimately make your cycling more enjoyable and enable you to push harder. In this article, we will be looking at the best cycling socks for women and how they affect your cycling.
Cycling socks are built to be extremely close-fitting providing a "compressive fit" that ensures the sock stays in place during the duration of your cycle and promotes blood flow during exercise. They will have a seamless design and similar to your trust cycling shorts, they have an anatomical cut. This ensures that you don't get any pressure points from micro-vibrations on the road or trail.
These three main features are what make cycling socks perfect for long periods in the saddle more comfortable and more enjoyable. There are a few other factors that make cycling socks ideal for endurance and distance cycling though. We will be discussing those within this article as well as recommending three of our favorite cycling socks for women.
What are Cycling Socks Made of?
Cycling socks are primarily made from a combination of merino wool and nylon. This combination is usually included at a rough ratio of 50:50 giving the socks a compressive fit and a tight-knit fiber structure. Having a high-quality natural and synthetic fiber combination means they are tightly woven. This allows the sock to conform much better to the shape of the foot compared to your typical cotton, polyester casual sock.
Having this material combination also helps wick moisture more effectively and minimizes sweat and dirt from the road or trail from penetrating the fibers. The combination of high-quality merino wool and nylon also helps prevent bacteria build-up. This prevents your socks from generating a horrific odor. This means you can wear the same socks day after day on long-distance, lightweight cycle-packing, or touring adventures.
As far as padding is concerned, you shouldn't find any in a pair of cycling socks. Cycling socks differ in this way from running socks because pushing your pedals doesn't need the same shock absorption as running for speed or distance. Overall, thinner, compressive fit socks are much better for cycling than padded running socks, insulated wool socks, and your standard office sock.
Should I Wear Compression Socks While Cycling?
While wearing a compression sock isn't going to increase your performance directly, it will increase your comfort while in the saddle, reduce aches and pains, reduce swelling from over-exertion, and reduce recovery times. All the best cycling socks for women and men feature a compressive fit. This helps promote blood flow and hold the socks on the feet properly during high-intensity cycling.
Wearing a compression sock during your cycling workout also reduces lactic acid build-up in the muscles. Lactic acid builds up during intense workouts. Having compression on the muscles during and after a workout allows your body to flush it out.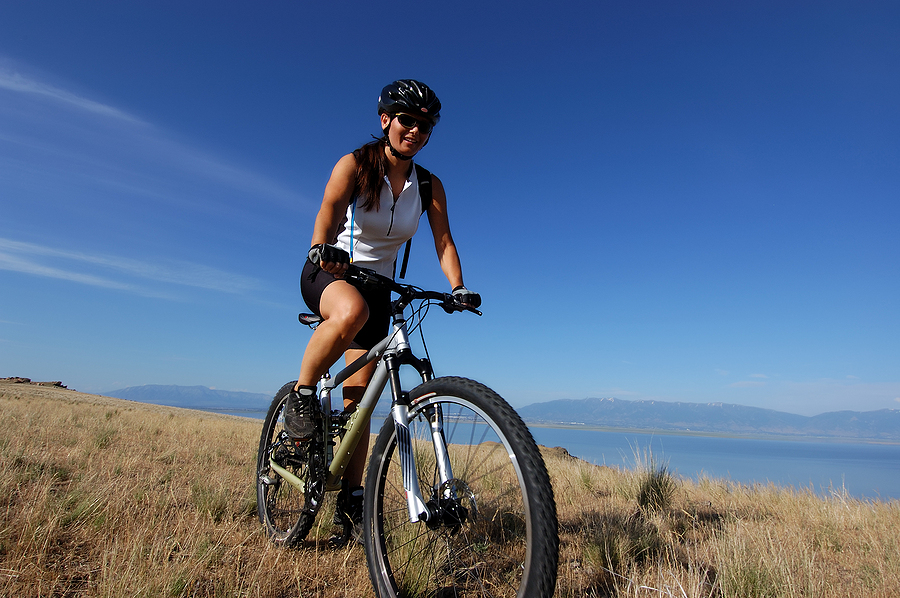 The biggest benefit of wearing compression socks for cycling is ankle and leg support. Having a tight-fitting cycling sock that has an anatomical cut and seamless design provides lightweight support on the ankle and foot. This helps to reduce strains and sprains by "hugging" vital muscles and tendons. If you look for a cycling sock that extends up the leg you will also benefit from calf compression. Wearing these during and after a workout will both aid support and recovery.
Do Cycling Socks Make a Difference?
Overall, cycling socks make a huge difference to your comfort and support when you are in the saddle. The lightweight design and wicking qualities will keep your feet cool and dry during intense workouts. The material will help keep your feet almost odor-free, even during long-distance cycle tours. Their compression qualities will reduce the chance of sprains and strains while aiding recovery and will also help reduce lactic acid build-up.
Cycling socks will not make a direct difference to your performance on the bike however they will keep you more comfortable, reduce strain-related injuries, and help with moisture wicking. This may help you increase your performance and push further and harder than before.
Although cycling socks do not directly enhance your performance, they will aid in making your cycle routine more comfortable and enjoyable. In turn, they could help you push harder and further than ever before.
What Are the Best Socks for Cycling?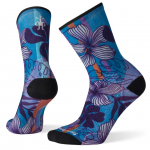 The crew height of these biking socks adds a bit of protection to your legs from debris, while a 4 Degree elite fit wraps your feet in performance-enhancing comfort. A Virtually Seamless toe provides extra comfort, while ZQ-Certified Merino wool works to help keep your feet cool and temperature regulated—as well as itch- and stink-free—while you're grinding it out.
The PhD Cycle Ultra-Light Crew Socks are made for long-distance cycling both on and off-road. The crew height of these cycling socks offers compression and support for your muscles. The cut of this sock also provides some protection on your lower leg from the dirt.
A seamless toe provides superior comfort and protection from micro-vibrations. The ZQ-certified merino wool helps to keep your feet cool and dry during intense cycling and long times in the saddle. These socks provide minimal padding for a direct feel to the pedals and a performance-oriented compression fit with a flex-zone ankle joint allows maximum movability.
Material Percentage: 44% Merino Wool, 52% Nylon, 3% Elastane, 1% Polyester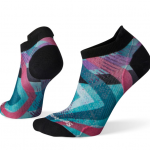 Made with our revolutionary 360-degree printing process, these women's biking socks feature a bright, vibrant design. Ultra-soft, responsibly-sourced Merino wool will help your feet stay comfy, thanks to its natural temperature regulating and sweat management abilities. Plus, our 4 Degree elite fit and Virtually Seamless toe provide you with a dialed, comfortable fit. So, no matter if you're heading out for a mellow ride with friends, or are ready to tear up some dirt on your lunch break, our printed wool cycling socks are ready to take a ride with you.
The PhD Cycle Ultra-Light Micro Socks are a low cut pair of cycling socks. These are ideal for wearing on summer rides in conjunction with your favorite shorts or leggings. They don't have a high cut crew like the previous pair, but they still offer many great features.
The socks are made from a lightweight combination of merino wool and nylon that is incredibly breathable but tightly woven. They keep your feet cool and dry with their excellent moisture-wicking qualities. Most importantly, they don't hold on to bacteria which means less odor after long intense rides.
These socks also provide a tight compressive fit that prevents them from slipping down into your cycling shoe like a pair of normal trainer liners.
They have a seamless toe with a shred shield to prevent excessive wear from the toes. The socks also feature built-in mesh ventilation zones to aid breathability and keep your feet cool in the summer. They are the best cycling socks for women that want a lightweight, slim-fitting liner sock for summer use or to wear with longer trousers.
Material Percentage: 44% Merino Wool, 52% Nylon, 3% Elastane, 1% Polyester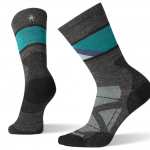 For the vertically inclined, the Women's PhD Pro Approach Crew combines carefully designed comforts with rugged purpose. Made with insights from iconic alpinist Conrad Anker, these socks feature specified cushioning to help protect feet from footwear friction, our 4 Degree elite fit with flex zone, and body-mapped mesh to help make even the most ambitious approaches more manageable.
The PhD Pro Approach Crew Socks are a pair of cycling socks for women that seek ultimate comfort and durability. They are rugged and enduring. This is perfect for the person that loves taking their bicycle off-road or on long-distance rides over many days. Ideal for mountain biking and touring in mountainous regions, these socks provide breathability, comfort, and support through their compressive fit and anatomical seamless design.
These socks offer some minor cushioning on the ball and heel of the foot. This helps with impact protection on rough trails or when climbing steep gradients. The high crew cut of these socks offer protection from dirt and debris on off-road trails. They provide support on your calves to prevent strains and pains during and after your cycle. These are the best cycling socks for women that love mountain biking or touring in hilly, mountainous areas.