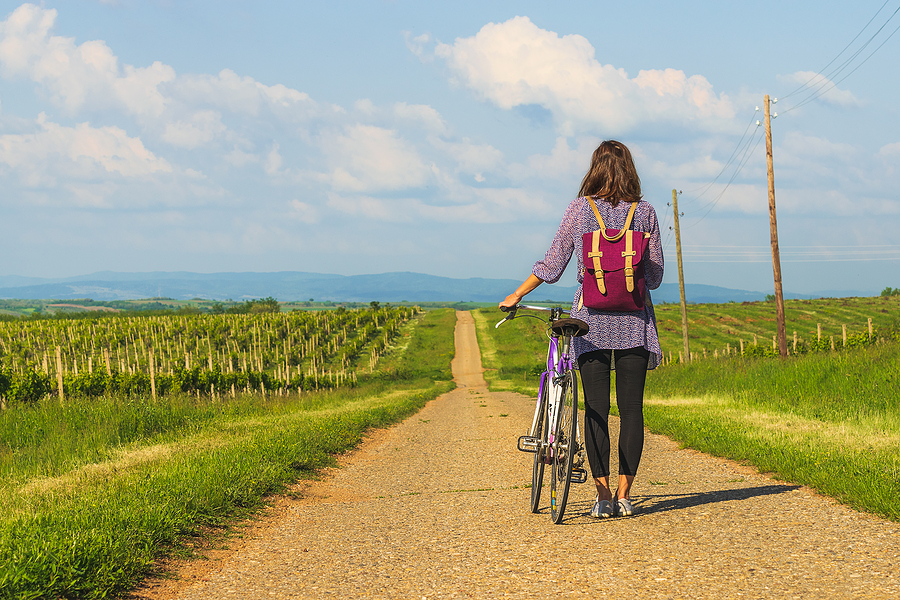 Selecting the right clothes for cycling can be a struggle if you don't know what to look for. In this article we will explore top cycling clothes mistakes and what should you not wear when cycling.
Putting on your casual day-to-day clothes for cycling will quickly become a burden and restrict you from progressing physically.
Wearing cycling-specific clothing will increase your performance when on your bike while keeping you comfortable. 
It doesn't matter whether you are the keen road cyclist, mountain biker, commuter cyclist, or cycle tourer, your clothes are just as important as the saddle and bike you sit on.
So, what should you not wear when your cycling and why is throwing on a simple track-suit detrimental to your cycling?
For one, a pair of tracksuit bottoms do not have sufficient padding for comfort and stability on the saddle. They do not have an anatomical cut suited for long periods in the saddle.
Track pants, jeans, and skirts that aren't designed for cycling will restrict your movement, cling to moisture, and above all, make cycling hell if you are serious about speed, distance, or endurance.
What Should You Not Wear When Cycling – Biggest Mistakes
Wearing a normal pair of pants
Wearing a normal pair of pants gives you zero flexibility, zero breathability, zero moisture-wicking properties, and zero saddle comfort. Keep your casual pants for casual purposes, they will only hold you back in your cycling.
Wearing a standard t-shirt for cycling
You may have plenty of normal T-shirts in your wardrobe but none of these are fit for cycling. They don't have an anatomical cut, they aren't breathable, and they hold on to moisture which makes them awful for intense cycling.
Not owning a decent pair of gloves
You may think "why do I need a pair of gloves? It is not cold outside". Well, cycling gloves are different and although they will keep your hands warm in the winter, they are designed to protect your hands from blisters, the sun, and aid grip on your handlebars. Sure, you don't need cycling gloves, but you will be grateful for them on longer rides.
Not packing waterproofs
The sun is blazing, your bike is ready, and you are prepared to cycle all day. What is the point in packing waterproofs? You can plan your cycling well and head out on sunny days, but the weather can always surprise you. Having a lightweight waterproof outer-layer stowed away in your frame, saddlebag, or jersey pocket may just save you from an unexpected change in weather.
Wearing underwear with your cycling shorts
Cycling shorts with a chamois and moisture-wicking properties are designed to be worn without underwear. If you wear underwear with your cycling shorts their moisture-wicking properties and support features become pointless.
How Should I Dress for Cycling?
The number one item that should be in your wardrobe for cycling should be a good pair of cycling shorts.
A good pair of cycling shorts such as the Peloton TDF Short feature excellent moisture control to keep you dry when the going gets tough.
Kit up your TDF jersey with a flash of coordinating print on the left leg band. The Peloton TDF Short is also a best-in-class value in a woman's bike short – fully featured for under $100. This powerhouse has it all going on: sculpted six panels with flattering curved side seam; elastic-free 2 inch waistband; flat seam construction; 2 inch laser-cut, elastic-free comfort leg bands; Fleet Air Chamois for ventilated comfort; 8.5 inch inseam (also available in 18 inch capri length). Made in the USA.
They should have an anatomical cut that flexes to movement well and eliminates chaffing with intelligent seam placement. They should also feature a padded chamois to keep you comfortable for long periods on the saddle.
The second most important thing in your wardrobe should be a fully breathable cycling top.
A good cycling top such as the Soleil Flow Short Sleeve Top features full breathability and moisture-wicking qualities that keep you cool and dry during hot, sweaty rides.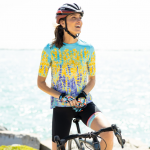 A looser fit through waist and hip and two beautiful limited editions for Summer. Designed to hit just above the elbow, the sleeves are also nicely tapered, providing for just the right amount of comfort and coverage. Made of a proprietary UPF 50+ fabric that's extremely lightweight, moisture wicking and comfortably wearable in hot temperatures. Simple crew neckline for good coverage; elastic-free arms and hemline; 3 open rear pockets. Relaxed fit.
A good cycling top or jersey is much less wind resistant than a standard top. This allows you to cut through the wind better and push further and harder easily.
The third most important item of clothing in your wardrobe should be a high-quality waterproof outer-layer.
Owning a decent waterproof such as the Stride Rain Jacket and stowing it away in a frame or saddle bag may just save you from that unexpected summer shower.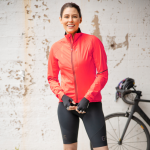 Get the absolute best value in a women's cycling-specific rain jacket with Craft's Stride. It starts of course with the fabric: lightweight, wind and waterproof with weather-mapped, taped seams, excellent ventilation and a high degree of stretchiness. Abundant features that are wonderful for cycling: packs into its own zippered back pocket or is easily stowable in a jersey pocket; ergonomic design for a perfect riding position fit; inside storm flap with zipper garage; pre-shaped sleeves and shoulders; 360 degree reflective print for visibility; overlapping ventilation openings at armpits and back.
The Stride from Terryfolds away into its own back pocket, making it easy to keep in a jersey pocket or small bag.
What Should You Wear on a Casual Bike Ride?
Having a decent outfit for causal cycling will make relaxed rides more comfortable and enjoyable.
If you want to wear your favorite outfit but still want the comfort of that a cycling outfit brings, then owning a tight-fitting pair of shorts that will fit under your casual clothes will work fine.
Going further, you can find casual cycling tops that look stylish and provide all the breathability and flexibility you need while on the bike. 
Having some casual wear in your wardrobe for short rides with your family is important.
You don't need to go all out for your casual wear. However, having a comfortable pair of shorts that fit well under a dress or pair of causal pants will provide you comfort discreetly.
As for cycling tops, there are plenty of fully breathable tops out there that are stylish and causal.
The Nautical Bicycle Top is the perfect choice for the casual rider that wants to put in the leg work when meeting friends at the café or bar for a drink or two.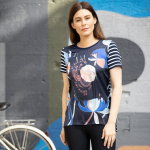 The motto that fuels us: go where you like, like where you go. The longer length, blocked Nautical Bike Top makes it easy to feel good no matter what. Relaxed Fit.
Owning a casual cycling top will give you the opportunity to ride comfortably and in style to your favorite restaurant.
Are Cycling Clothes Necessary?
If you are serious about cycling, then clothes are absolutely necessary. If you care about cycling for fitness or enjoyment, then owning even a simple cycling outfit (top and shorts) will benefit you and your cycling ten-fold. You will find your performance increasing due to more stability and flexibility in your clothing.
Owning a decent cycling outfit will help wick away sweat from your body. This will also keep you cool and supported during the duration of your cycle. A decent pair of shorts with a chamois will provide support and comfort on the saddle. A decent cycling top will give you full-body movement and breathability when the cycling gets tough.
Overall, cycling clothes aren't necessary if you jump on your bicycle to go to the shops once per week. They are if you are serious about cycling and want to progress in your hobby.
If you are ready for your cycling adventure, make sure you also check out: