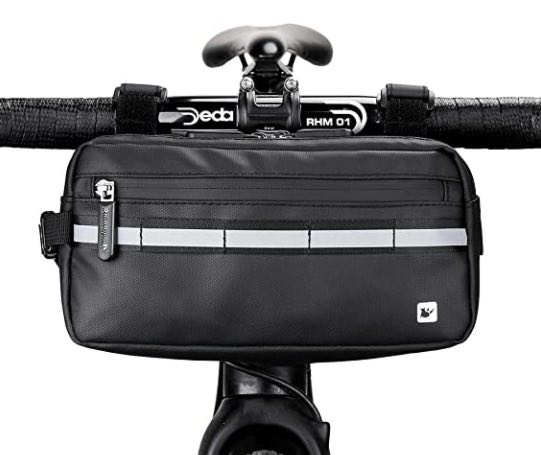 A handlebar bag is as essential for a daily bike rider as a wallet or a purse is for everyone. Small bags come in various shapes and sizes and can fit on nearly all bicycle types with ease. When you're looking for accessories for your bike, start by prioritizing your needs and wants to find the perfect bag for you.
Why Do You Need a Handlebar Bag?
The convenience of these bags is what makes them so popular in the riding community. If you're a seasoned rider, you know the importance of accessibility. If you are new to the world of bicycling or still searching for the perfect bicycle style to meet all your needs, you'll learn the value of minimizing what you carry and find that a handlebar bag is a perfect accessory to help you do just that.
Longer journeys, such as cross country competitive cycling, require bigger bags for obvious reasons. However, if you're looking for something that you can use for short day rides, whether you are commuting or taking a leisurely cruise, a small bag attached to your bike can carry what you need without weighing you down like a backpack or getting in your way like a purse or waist bag might.
Which Bag Should You Get?
This list of five small handlebar bags provides a selection from the best bike accessory companies. Each one offers a feature that the others do not, so there is something to meet the needs of every rider.
1. Kulie Clutch Bag
A Kulie bag is designed to fit your handlebar tightly by using two-point straps that help avoid shifting as you ride. The style is simplistic and intended for easy access, allowing you to use the bag as you ride. It's perfect for storing your essentials, such as cash, cards, keys, and a phone, and it's made with durable, waterproof fabric to keep everything safe and dry in all weather conditions. The Kulie Clutch is a great starter bag for riders who do not venture far from home. It's also affordable.
Pros
The clutch is very lightweight and is most efficient for faster, shorter rides.
In addition to the waterproof fabric, the sides are made with hard panels to keep everything inside safe and maintain the shape and integrity of the bag.
It can be used on any bike style.
Its two-point attachment uses strong Velcro for a better hold.
Cons
There are very few cons to this bag. Because of its shape and size, the amount of items it can contain is limited, holding little beyond your phone, keys, and wallet. It also only comes in only one color, black, and there is little to be learned from the reviews.
2. Rapha Bar Bag
The Rapha Bar Bag has rave reviews and for good reason. Because of its versatility, this bag can be used for short or long rides, and it's designed to go with you on foot as well. With a two-liter capacity and interior mesh pockets, you can carry all the major essentials plus a bit more and stay organized. The designers even thought to make the interior a bright pink color to make everything easier to find; this is especially handy if you're reaching for something while riding. There's also a quick-access pocket perfect for items such as lip balm or gum. 
Pros
Waterproof material makes it usable in all weather conditions.
Reflective material in the front aids with bike visibility.
It can be carried as a shoulder bag.
Two-point straps allow for secure handlebar placement, and it has an additional strap so that it can be used as a frame pack.
It comes in three colors.
Cons
Like all the bags on this list, there are hardly any cons. Some reviewers complained that the material is easily marked, making the bag appear dirty quickly, but that is to be expected from darker weather-resistant material. If this is a concern for you, you can choose one of the lighter color options.
3. Road Runner Burrito Bag
If you aren't familiar with the concept of the burrito bag, it looks like it sounds, with the name inspired by the cylindrical shape. The Road Runner Burrito Bag is a staple in the company's line of bike bags, remaining a top seller for 10 years. Its success is likely attributed to its simplistic style. You'll find it has all the features you look for in a small handlebar bag for everyday use. At 8 inches long and 3.5 inches wide, it is small enough to fit on virtually any size bike. It mounts to both the handlebar and stem using head tube strap locking Velcro for maximum security and easy installation. If you like to scroll through reviews before making a purchase, you'll be pleased to see that customers have reported 100% satisfaction with this bag, as evidenced by the perfect five-star average review.
Pros
The bag is 100% vegan and produced cruelty-free.
Both the material, 1000D Cordura, and the zipper tape, YKK, are water-resistant, keeping everything safe and dry inside.
It has zipper pull tabs to provide easier access.
It's available in six colors.
Cons
At only a 1.3 liter capacity, this is one of the smallest bags on this list. The design, with the zipper and zipper tabs, doesn't lend itself to use while riding, but it is arguably a safe option for that reason.
4. Warners Wheels Canvas Handlebar Bag
If you value style above all else, the Warners Wheels Canvas Handlebar Bag meets that need. However, don't be mistaken: The designers did not sacrifice function for aesthetics. Warners Wheels, a brand known for affordable bike accessories, designed this bag to be "practical and stylish." If you have a vintage-style bike and are looking for a bag to both provide storage and complement the overall look, this bag was meant for you. Commuting and leisure riders will get the most from a stylish pack, which is compatible with everything from children's bikes to electric scooters. 
Pros
It is the most affordable bag on this list.
All materials, including the canvas and zippers, are water-resistant, and the outside has been waxed for additional protection.
It contains a lead hole for a phone charger and headphone access.
This bag has a slightly larger capacity, allowing you to carry bigger items, such as a small pump or even a tablet.
Straps can be adjusted to mount on the handlebar or the bike frame.
Cons
Like the Road Runner Burrito Bag, this bag is not designed for easy access while riding. It also only comes in one color and has a black interior lining, which can make it a bit more difficult to find items. The reviews are few, making this a slightly more risky purchase. However, if you peruse the company website, you'll find that other Warners Wheels products score high in customer satisfaction overall.
5. Apidura Racing Handlebar Mini Pack
The Apidura Racing Handlebar Mini Pack is the most diverse bag on this list. It functions efficiently for everything from daily commuter use to long-distance road cycling. Apidura is a brand with many unique features. For example, all the bags in the Racing series, including this one, are designed using a one-of-a-kind fabric called Hexalon. Hexalon is highly durable; it's water and tear-resistant. If you find the price of the Mini Pack slightly off-putting, remember that it's relatively indestructible and designed to last. 
Pros
This pack is easily accessible with a single Velcro lid closure that can be opened and closed with one hand.
The attachment straps can be adjusted to accommodate other handlebar accessories.
Its box-like shape and ultralight material allow for optimal usage of space.
The interior has a mesh pocket for organization.
The front is designed with two highly reflective graphics for safety.
It's made with a bespoke fabric that's highly durable.
Cons
It's hard to come up with a con for this bag. However, you'll discover that it is limited in style options. It only comes in black with yellow and silver graphics on the front. However, keep in mind that the graphics provide optimal visibility for riding in both the day and the night.
Looking for More Accessories?
The cycling industry has thought of a way to make everything from storage to hydration more convenient. Accessorizing is fun and a great way to add value to your riding experience as long as you have all the right gear. Understanding the proper fabric to wear in any given season or finding the perfect frame bag for a long journey can make all the difference.
If you're overwhelmed by the amount of information on the internet and just want the details on a wide range of accessories along with tips and tricks for optimizing your cycling experience from riders just like you, check out these honest reviews from BikeLVR about all the most popular cycling gear. You'll find articles on everything from bicycle mirrors to comfortable bike seats for every situation and cycling clothing for every season!