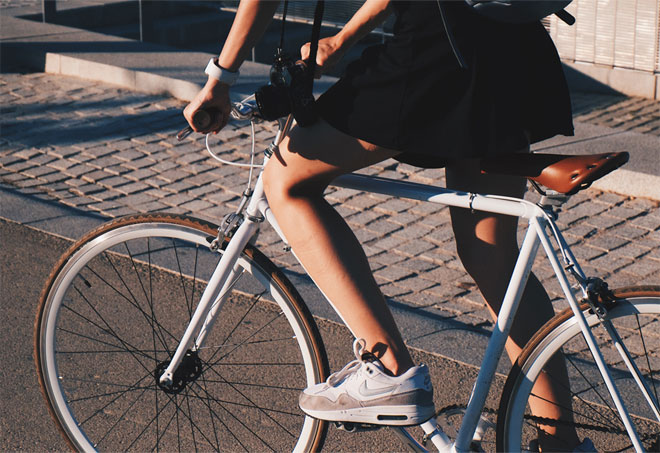 Whether I'm planning a long-distance cycling trip or I like to ride a few miles after work sometimes, I need a comfortable bike seat for women. If my seat isn't high-quality or if it doesn't fit properly, it's hard to pedal without aches in my backside, legs, and lower back. If you're like me, read on to learn about the most comfortable bike seats for women and how you can choose one that works for your biking preferences.
Most Comfortable Bike Seats for Women
Your bike comes with a seat, but if it's not optimized for your body or if you bought a cheap bike, it may not be enough to see you through a long ride. Here are some of the top brands and styles for female cyclists. Most of them have return policies, so you can try a few until you find your favorite comfortable bike seat.
Specialized's Seats
If you're a racer or a serious biker, consider investing in the Specialized Power Mimic Expert Saddle. It is filled with memory foam that enhances your comfort while still allowing you to rotate.
The S-Works Power Saddle is another bike seat from Specialized, but it does not include memory foam. It's a better fit if you like to lean forward as you pedal and if you don't stand up as much. The seat is much lighter than other saddles, making it easier to transport, but you may find it uncomfortable if you're new to riding.
If you like to change positions as you pedal, the Oura Expert Gel Saddle made by Specialized is the seat for you. It's perfect for leaning forward when the going gets tough, although the same design function makes it harder to go downhill. Choose between seats that are 143 millimeters, 155 millimeters, and 168 millimeters wide.
Fizik's Seats
Another good seat for bikers who like to move is Fizik's Luce. This seat has a thin nose and a generous back, giving you plenty of room to sit without getting in the way of your pedaling. The rear's sides move as you pedal, supporting you even if you twist or slide forward. It's available in 144- and 155-millimeter sizes.
For mountain biking, consider the Luna, another bike from Fizik. The interior carbon rails keep your saddle firm as you ride, but the exterior has plenty of padding to keep your body supported. Choose between 145- and 155-millimeter widths.
Selle's Seats
Selle's Italia SLR Lady Flow Women's Saddle is a good bike seat for cyclers who like to lean forward and prefer a wide seat. The back does not have much padding, making it more lightweight but also difficult for people who ride while sitting up. The relief cut out is much bigger than other women's models, reducing your chances of uncomfortable crotch compression. It also comes with a 30-day satisfaction guarantee, so it's a good one to test out.
If you like Selle's seats but want more support, the Italia Lady Gel Flow Women's Saddle is a great option. It's perfect for riding upright because the rear is curved and full of gel, and it even has a layer that absorbs jolts if you're riding on rough terrain.
The SMP Dynamic from Selle is sloped so that the nose does not prevent you from leaning forward, but the back still cushions your sit bones. If you have wide sit bones and you love to race, the SMP is a great investment for your next competition.
Terry's Seats
Terry's Butterfly seat doesn't take itself too seriously, with lots of patterns to pick from. This one-size-fits-all seat is good if you're just getting serious about cycling because the back is wide enough for most sizes and the cut-out is large. It's 155 millimeters wide and 262 millimeters long.
To take the quality up a notch, try the Butterfly Ti Gel from Terry. This seat has the same measurements and amenities as the regular Butterfly, but it has carbon rails on the inside, making it sturdier and firmer.
If you have a narrow pelvis or you just don't like overly padded seats, consider Terry's FLX saddle. It's shorter and narrower than Terry's other seats, measuring 260 millimeters long and 142 millimeters wide. Covered in leather, this sturdy seat has manganese rails inside and is perfect for long-distance road travel or races.
ISM's Seats
If you have a history of problems with women's seats, try the ISM PN 1.1 Saddle. Branded as a unisex saddle, this flat seat is ideal for riders who like to lean forward. Because there is no nose, you can sit as close to the edge as you want without having hard carbon rails dig into your soft tissues.
The ISM PR 1.0 is a good saddle for recreational riding for experienced cyclists, and it works with electric bikes as well as manual ones. Compared to other ISM models, the PR 1.0 has more padding, so it's optimal if you like ISM's designs but have trouble with soft tissue pressure.
Ergon's Seats
The Ergon SMR3 Carbon Pro Saddle is a sleek seat that is almost completely flat. Even though it's thin, it's extremely durable, and it has a special anti-friction protective layer. There are three sizes based on your weight and sit bone measurement.
If you like Ergon's seats but you want a little more cushioning, try the ST Gel Saddle. The gel pads are only in your sit bone area, so they don't get in your way when you're rotating.
Diamondback's Seats
If most bike seats don't provide enough width for you, the Pillow Top Bicycle Saddle from Diamondback is your solution. This seat's cut-out extends for the entire seat, including the rear, for maximum pressure relief. The steel supports are covered with memory foam, nylon, and leather, so this saddle provides plenty of stability without sacrificing your comfort. It's 254 millimeters wide and 229 millimeters long.
Another good Diamondback saddle for plus-size riders is the Adult Plush Plus Comfort Bike Seat. This black seat has durable plastic supports and plenty of foam to give you even more cushioning as you ride.
Bikeroo's Saddles
Bikeroo's women's saddle has plenty of padding and is optimized for comfort. The nose is wide so that it keeps you in place as you pedal, and it's compatible with all different bike frames. The saddle also includes an adapter to make installing it on unusual frame styles easier.
Bikeroo also sells an extra-wide cruiser saddle that is perfect for casual rides. It includes a suspension system to keep your sit bones comfortable on bumpy terrain, and it comes with the tools you need for installation. This seat does not include a relief cut-out and it weighs over three pounds, so it's best for lazy weekends and vacation rides instead of races.
Understanding the Different Styles
When you start looking for a good bike saddle, you'll probably notice that there are many different saddles. Almost all saddles have wider backs than fronts, but some have noses that are split in two and some that are in one piece. Some have lots of padding, while others are basically flat. These differences can be baffling if you're new to the world of cycling, so here's your guide to the most common styles.
Comfort Saddles
Saddles that have lots of padding are usually comfort saddles. They're intended to keep you comfortable during long rides, but they're better for casual use than racing. They often have shock-absorbing gel technology in case your ride takes you off paved paths.
Racing Saddles
If you're a serious cyclist, a racing saddle allows you to move as much as you want without worrying about chafing. Sometimes the nose is optimized to handle the bulk of your weight when you lean over, and sometimes racing saddles do not include noses so that your soft tissues don't get compressed. These saddles are usually extremely light to avoid adding weight to your ride, and they generally have carbon or titanium rails.
Cruiser Saddles
If you've ever rented a bike while vacationing at the beach, you've probably ridden on a cruiser saddle. Also called banana saddles, cruiser saddles have padding on the nose and rear and are designed for upright riding. They're not great for racing or long-distance riding, but if you're biking to work over flat surfaces, cruiser saddles are very comfortable.
Gel Saddles
Gel saddles do not have any fabric pads. Instead, gel pads provide all the shock absorption and cushioning you need without causing chafing or groin pain. The pads are form-fitting, so your gel saddle gets more comfortable the longer you ride it, and they allow you to easily pedal upright. These saddles are not great for racing because they are heavier than fabric or foam ones, but they're ideal for casual rides.
Mountain Bike Saddles
Many women's bike saddles include shock absorption layers in case you're biking on a trail. If you're going full-on mountain bike riding, though, you need a special saddle to handle the rocks and steep downhill grades. Most mountain bike saddles are narrow so that you can change your position quickly, and the seat is hard so that the changing terrain doesn't hurt your backside or back. If you're new to cycling, you may find this kind of seat uncomfortable, but it's a lifesaver for experienced cyclists.
Suspension Saddles
Suspension saddles are variations on mountain bike saddles that use springs to keep your seat separate from your bike's frame. The suspension system helps you avoid lots of jolting when you go over rocky trails, and the seat is still narrow so that you can rotate easily. Some hybrid bike manufacturers also encourage suspension saddles in case their motors vibrate.
All-Leather Saddles
Women's saddles made entirely of leather take a long time to get used to, but once you break them in, they conform to your riding style and body shape. They cost a lot more money than other saddles, but they last for a long time. Because they're made of leather, they're not suitable for use in the rain. Still, leather saddles tend to be wide, making them ideal for female cyclists.
Noseless Saddles
Seats that appear to have two noses with a space in the middle are generally considered men's bike seats because they prevent genital constriction. Some women like them because the cleft in the middle also works as a relief cut-out and because they're light enough for racing.
What's Different About Women's Bike Seats?
More Support
Research suggests that while male cyclists only have one center of pressure close to the nose, women have three: one near the nose and two near the rear. This difference is because women have wider pelvises and hips, which allows them to give birth more easily. Without a wider seat, women have a harder time getting enough support for all three centers of pressure.
When you're choosing a bike seat, it's important that you choose one that distributes pressure properly so that you don't cut off blood flow to your genitals. Over a long time, reduced blood flow can lead to numbness and other health concerns, all of which make it uncomfortable to keep riding.
Shorter Size
Because women tend to be shorter than men, their bike seats are usually shorter, too. If you're short, a long bike seat's nose is more likely to get in your way when you lean forward or stand up to get up a big hill. If you need a longer seat but you also need the padding and hip support of a women's seat, try some unisex models.
Relief Cut-Outs
Both men and women have soft, sensitive tissues that press against their seats as they ride. Women's saddles usually address this problem by including relief cut-outs near the vaginal area. If you're picking a women's seat for the first time, make sure that the cut-out fits your crotch properly, especially if your exterior genitals are pronounced, and that it doesn't reduce your sit bones' support.
Picking the Right Size Bike Saddle
Once you know some of the top brands and the features that make women's bike seats comfortable, you need to find the one that's right for you. Your first step is to figure out what size you need.
Saddle Size
Ideally, your saddle is slightly wider than your sit bones' width so that your backside is fully supported as you ride. You can receive a professional measurement at your local bike store because most cycling experts have tools for measuring this distance. If you don't have time or if you're uncomfortable having your sit bones measured, you can do it yourself by purchasing a gel pad measurement kit.
You can also use a piece of foil to measure your sit bones. Put a new piece of foil on a carpeted surface, and then sit down as you would on a bike seat. Your entire backside is imprinted in the foil, but there should be two indentations that are deeper than the rest. These dents mark where your sit bones are, and you can use a ruler or tape measure to figure out the distance between them.
Generally, your seat should be at least 10 millimeters wider than your sit bones, but some riders prefer narrower or wider seats. Talk to a cycling professional if you're uncomfortable with the recommended size.
Saddle Height
When you install your saddle onto your bike, if it's too high, it is easier to fall off your bike and you are likely to overstretch your muscles. If the seat is too low, your back and legs get cramped, and your private parts and sit bones are squished. Installing your saddle at the right height doesn't just make you more comfortable; it also keeps you healthy.
Some cyclists don't understand what a saddle height measurement is, and so they put their seats at the wrong height even after a professional measuring appointment. The distance from the middle of your seat to the middle of your bike's lowest bracket is your saddle height.
To find your ideal saddle height, get onto your bike and put your feet into the pedals until one is extended to its farthest position. If your leg straightens out all the way to reach this point but is not straining, you have the right height. If your knees are mostly bent, you need to raise the saddle and try again. If you have to extend your hips or ankles to reach the pedals, you need to lower the seat.
Before you go on a major bike ride, take your bike on a spin through town. For best results, ask a friend to come with you and point out any unusual cycling behaviors. If your knees start to hurt or if you shift a lot as your ride progresses, you probably need to adjust your saddle height again.
Making a Seat More Comfortable
If you've purchased a new bike seat and it's still not perfect for you, you don't have to resign yourself to painful cycling trips. You also don't necessarily need to buy another new saddle. First, try one of these ways to improve your comfort whether you ride upright or forward.
Purchase a Thin Padding Cover
Most bike stores sell padding covers that you can slide over your saddle's existing gel or foam layers. Choose a thin cover so that you don't obscure the relief cut-out and so that you can still take advantage of your saddle's design. You can buy a couple of brands at once and test them out until you find the one that offers the best support without causing cramps. Don't forget that you may need to adjust your saddle height once you add anything that increases your seat's size.
Adjust the Handlebars
If your seat is at the proper height and angle but you're still getting saddle sores, try adjusting the handlebars' position. If you have to lean too far to slide into racing mode or if you don't have enough room for your arms, you exert more pressure onto your saddle, making it easier for your sit bones to get cramped. As with all adjustments, try out your handlebars' new position on a short ride before committing to a long-distance trip.
Wear the Right Gear
Wearing the wrong clothes for cycling makes it harder for your backside to take the pressure. If your shorts are loose, there is too much room for your skin and saddle to rub against each other, causing friction and chafing. Soreness from chafing is especially problematic if you're riding in the rain or if you're really sweaty. Also, sometimes your clothes don't provide enough support or cushioning, especially if you use a firm saddle.
Choose tight biking shorts made of fabric such as lycra so that there's no room for chafing. Some brands also offer padded cycling shorts, which give your bum an extra layer of protection and make it easier to ride for long distances.
Think About Your Menstrual Products
You can't control when you get your period, and sometimes a hard bike ride is the best way to distract yourself from your cramps or headaches. If you don't choose your menstrual products carefully, though, it's easy for your saddle to become incredibly uncomfortable. If you wear a pad, you need to wear underwear, which most bike shorts aren't intended to work with. Pads also tend to lose their adhesiveness when you're sweaty, making them easier to bunch up against your seat uncomfortably.
Riding with a tampon relieves the need for underwear and pads, and as long as you place the string carefully, it shouldn't change your position on the saddle. A menstrual cup not only performs the same task but also removes the possibility of your string getting caught in an uncomfortable position against the saddle. No matter which kind of menstrual product you choose, make sure to bring backups in your fanny pack in case you leak.
Stand Up
If your seat is only uncomfortable when you're going uphill, try standing up when you get to the next big incline. When you attempt big hills while sitting, it's easy for your backside to hit the seat as you pedal harder, and sometimes your genitals get pinched as you move. When you stand up, your bottom doesn't come into contact with the seat at all, and it gets a break from the seat's pressure. As an added bonus, this technique strengthens your quads and makes it easier for you to tackle hills in the future.
Rethink Your Technique
Sometimes, painful riding reflects a problem in your technique instead of a problem with your seat. While technique issues start manifesting as back or bottom pain, they can develop into serious health issues if you don't address them. Join a cycling group or make an appointment with a cycling coach to learn whether your biking habits are healthy.
Change Your Sitting Position
Many racers like to lean forward as they race, so they purchase seats with lots of support towards the nose. If you're an upright racer and you experience pain in your sit bones or crotch, it may be because you're unconsciously mimicking these racers. As you ride, pay attention to when the pain starts; do you only experience saddle pain when you sit near the front of the bike? If so, adjust your position so that you're sitting further back and allowing the wider, cushioned rear to support your backside as you pedal.
Long-Term Benefits of a Comfortable Bike Seat for Women
Choosing the right bike seat and making sure it's properly installed may seem like a hassle when you're impatient to get on the road. However, you receive many long-term benefits when you invest your money, time, and energy into the most comfortable women's bike seat.
You Can Go for Longer Rides
When your seat fits properly, you can go for longer rides than you thought possible, especially if you're in good shape. Without the burning need to relieve your backside's pressure, you can complete the race you've been eyeing for several years or spend your entire day off cruising through your neighborhood.
You Spend Less Time in the Doctor's Office
A properly fitted seat keeps your reproductive health in good condition. Too much pressure on the soft tissue around your genitals results in numbness and nerve issues, which can increase your chances of sexual dysfunction. Choose the right seat first so that you don't need to waste hours in your gynecologist's waiting room.
Riding with the right bike seat also prevents health issues such as knee damage, muscle strain, and back problems. Instead of visiting a physical therapist to restore your knees' mobility or seeing a chiropractor for your intense muscle aches, prioritize your seat's comfort.
Your Legs Get Stronger
When your saddle is optimized to your weight and height, you can use your muscles to their maximum capacity. Without being strained or cramped, your muscles have more room to perform, allowing you to get a better workout and strengthen each of your leg muscles. This also makes it easier for you to ride for longer distances without getting sore or fatigued.
You're More Likely to Enjoy the Ride
Even if you primarily ride your bike to lose weight or keep your heart pumping freely, cycling should be something you enjoy. If you're uncomfortable when you ride, though, you'll start to dread each time you put on your helmet and slide into position. Turn biking into a workout that you love with a seat that cushions your sit bones instead of restricting their movement.
What If You Don't Like Women's Bike Seats?
Ultimately, the decision about what kind of bike seat is best for you is in your hands. If you feel more comfortable on a men's bike seat or if you don't like having a cut-out, feel free to choose bike seats intended for any gender. Remember, the genders assigned to different bike seats reflect the anatomy they're intended for, not the riders' gender identities. If you do choose a men's or unisex seat, though, make sure that it gives your hips and pelvis plenty of support and that you don't experience numbness when you're done riding.
Final Considerations
When you're torn between several different women's bike seats and you're not sure which will be the most comfortable, think about the price. If one bike is pricier than the other, does it include a warranty, satisfaction guarantee, or free shipping? Does it have better reviews or a longer period of usefulness? Expensive seats are usually an investment in your health and comfort, but sometimes you only have room in your budget for a cheaper seat.
Also, make sure that the saddle you're ordering is compatible with your bike. Some saddles have wider connective pipes than your frame is equipped for, especially if you're ordering a mountain bike seat or suspension saddle. Unless you want to buy a new bike, call your saddle's manufacturer to find out about fitment and installation details before you add it to your shopping cart.
Finally, think about whether you intend to maintain your current weight for a while. Your sit bone measurement doesn't change when your weight does, but if you lose or gain a lot of weight, you may need a different seat size. Also, if you get pregnant or have hip surgery, a seat with a wider rear and more cushioning is probably in order. Having a comfortable women's bike seat starts by ordering the right model, but it doesn't end there. Whether you're riding for two miles or twenty, you have to dress for cycling success, find the right size, and experiment with different styles until you find the perfect combination.