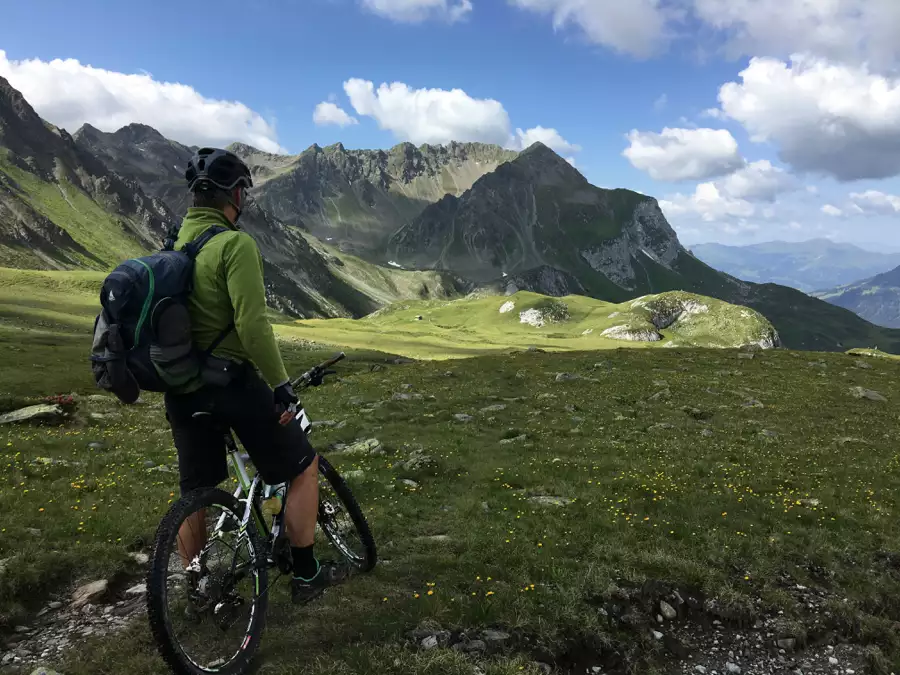 What do you wear for mountain biking in the summer? What if you're new to mountain biking and don't know what to wear to stay cool?
There are a few key things to remember that will help you stay comfortable and safe while Mt bike riding.
In warmer temps, you'll want to wear lighter colors to help reflect the sun's heat. You'll also want to dress in layers to regulate your body temperature as needed. And, of course, always wear a helmet!
Here are a few other things to keep in mind when choosing what to wear for mountain biking in the summer:
Bike Helmet
Your bike helmet is the most important piece of safety equipment you'll wear while mountain biking. Make sure yours fits properly and that you're comfortable wearing it.
Mountain biking can be a sweaty activity, so look for a helmet with good ventilation to help keep you cool. If you ride in low-light conditions or at night, look for a helmet with reflective details to help make you more visible to drivers. You can also use a hat or headband underneath to keep sweat out of your eyes when attacking a hill ride.
Bike Shoes
Mountain biking shoes are designed to provide good traction and support while you're pedaling. They also usually have stiffer soles than regular sneakers, which help transfer power to the pedals more efficiently.
Most mountain biking shoes have recessed cleats that are compatible with clipless pedals. Clipless pedals allow you to secure your shoes into the pedals for added security and efficiency while pedaling.
Bike Socks
Of course, you'll need a good pair of socks to go along with your shoes. Look for socks that are comfortable and moisture-wicking. Moisture-wicking fabrics help keep your feet dry by pulling sweat away from your skin. This can be especially important in the summer when you're likely to perspire more.
You can use regular socks with mountain biking shoes that have recessed cleats. However, if you'll be using clipless pedals, you may want to invest in a pair of cycling-specific socks. These socks are designed to work well with clipless pedals and usually have reinforced toes and heels for added durability.
Bike Shorts
Bike shorts are a must for any mountain biker, regardless of experience level or time of year. Bike shorts are designed to provide padding in the places you need it most, like your sit bones, and they also help to wick away sweat.
For summer riding, look for bike shorts that are made from lightweight, breathable fabrics. You may also want to consider shorts with built-in UV protection.
Types of Cycling Shorts
In addition to traditional bike shorts, there are a few other types of cycling shorts that can be worn for mountain biking. These include:
Bib Shorts
Bib shorts are a type of cycling short that has suspenders, or bibs, that help keep the shorts in place. Bib shorts can be a good option for mountain biking because they provide extra coverage and can help prevent chafing.
Skorts
They are newer to North America, but in Europe, they are very popular. They look like a skirt on the outside with shorts built in underneath. The benefit is that they keep you cool and don't ride up when you're pedaling.
Mountain Bike Shorts
Mountain bike shorts are a good option for riders who want a little more coverage than traditional bike shorts. They usually have a baggier fit and may come with features like pockets and zippers. Mountain bike shorts are typically made from durable materials that can withstand abrasion in case you happen to fall.
Bike Jersey
Biking is hard work, so make sure to wear a breathable top. Avoid cotton T-shirts and other materials that won't wick moisture away from your body. Here you'll find some more info on the why.
One option is to wear a bike jersey. A bike jersey is a specific type of shirt that is designed to wick away sweat and keep you cool while you're riding. Bike jerseys are often made from synthetic materials like polyester, which help to pull moisture away from your skin. They also usually have a looser fit than other types of shirts, which helps to keep you from getting too hot.
Happy Summer Mt. Bike Riding List
Here's the checklist of what to wear for your summer ride:
Cooling Helmet
Comfortable mountain biking shoes
Bike socks
Bike shorts
Breathable Bike jersey
Remember, you can always layer up or down depending on the conditions — and there's no one way to looking good while you're doing it! Just make sure that whatever you choose to wear, you're comfortable.