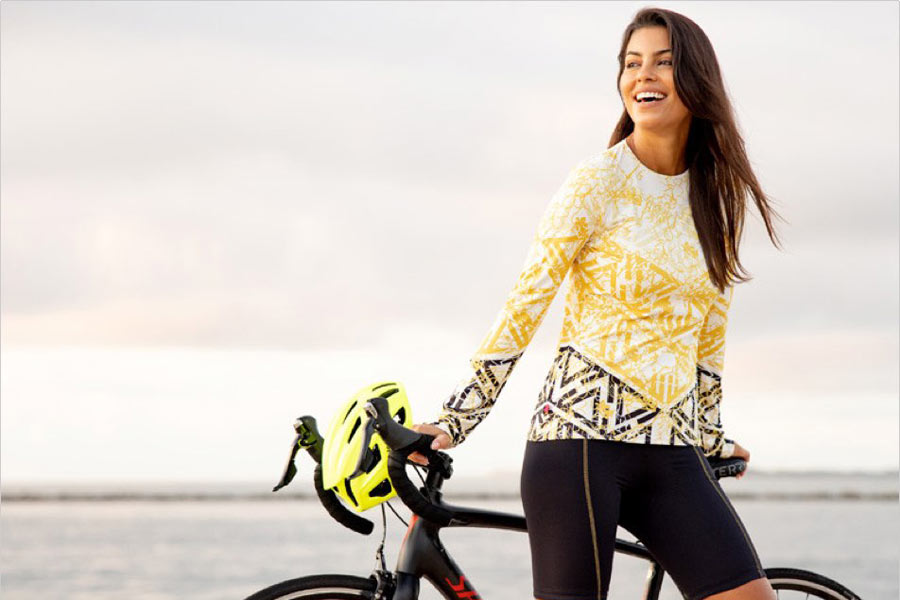 Whether you're sporting shorts and a tee as you ride on the boardwalk or a professional getup with a helmet and hand gloves, biking is all about the experience, and a big part of that experience is what you wear.
You know how important it is to wear clothing that's comfortable and safe, and that's why it might be time to invest in a summer cycling jersey. A cycling jersey is a perfect outfit for summer for so many reasons. Check out the following six to see why it should be your next investment for a cute and comfortable summer spent cycling.
Enjoy Premium Sweat Resistance
Nothing is worse than sweaty pits when you're trying to enjoy a bike ride on a beautiful day. Sweat isn't just uncomfortable — it can also stain your clothing with salt and leave the fabric permanently discolored. Unfortunately, sweat is often just a fact of cycling, and perhaps you've just given up on ever wearing your "good clothes" while on your bike. The cheaply made synthetic fibers that many clothes are made from certainly don't help the situation at all.
There's another option that can help you manage sweat while still looking cute! A cycling jersey is specially designed to offer sweat resistance so that it is not susceptible to stains, and you don't constantly feel drenched. Many jerseys feature moisture-wicking fabric that absorbs sweat away from your skin and dries quickly so you feel comfortable and dry. Moisture-wicking achieves its effect through specially formulated and layered fabrics that absorb sweat immediately and allow it to evaporate into the surrounding air as soon as it hits the material. Jerseys that incorporate this technology are incredibly comfortable and ideal for long summer biking sessions. A sweat-resistant jersey beats a damp, musty t-shirt any day.
Take Advantage of UV Resistance, Too
Sweat isn't the only thing that a summer cycling jersey can resist. A good jersey will also offer UV protection. Minimizing your exposure to harmful UV rays is imperative whether you're spending an hour in the sun or all day. Any amount of exposure can put you at risk of damage to your skin and even the development of skin cancer. There are several different technologies that UV protective jerseys use in order to shield wearers against UV rays.
The most important feature of UV-resistant jerseys is the density of the fabric's weave. The more densely a fabric is woven, the less opportunity there is for UV rays to penetrate, forming an effective barrier between the rays and your skin. You can test how densely woven the fabric of a UV protective jersey is by holding it up to a light and seeing if any light shines through. If it is translucent, it is not protective enough to be effective.
There are other features that can make a jersey UV resistant, too. Sometimes reflective minerals such as titanium or zinc are woven into the fabric of the material, increasing its ability to reflect UV rays. Bright or dark colors are also effective and absorbing UV rays and preventing them from reaching the wearer's skin. Lastly, special chemical coatings are sometimes utilized to mimic the effects of sunscreen and produce a chemical reaction that deflects UV rays away.
Defend Yourself Against Abrasion
What's even more uncomfortable than the heat of the sun beating into your skin? Chafing and abrasion. This problem is just as common as it is inconvenient, and it plagues bikers of all skill levels alike. What can you do to prevent abrasion from ruining your ride? You guessed it — the right cycling jersey will take care of the problem. The wrong clothing will be made of rough or low-quality materials that chafe over time, but a jersey is designed to be comfortable enough for daily wear. Most cycling jerseys are constructed with high-quality synthetic materials such as the following:
Nylon
Polyester
Spandex
Microfibers
These materials are specially designed to be sleek and comfortable so that they never create friction against your skin or compress your skin in a way causes chafing. These materials are also great for the aforementioned task of moisture-wicking. Though some synthetic materials do exacerbate sweat, those that are used in a cycling jersey are designed to minimize moisture effectively.
Stay Comfortable Even on Long Rides
More than anything, you're looking for a comfortable fit. If it were socially acceptable to go for a bike ride in your pajamas, you might do it…but it's not, and you need another solution that's comfortable and cool. A summer cycling jersey fits the bill and provides the superior comfort and performance you need. What makes a jersey so incredibly comfortable? There are a few key features that make it a standout.
The aforementioned fabric is, of course, one of the biggest factors in making a jersey so comfortable. You can appreciate the technical benefits of a specially designed synthetic material while also enjoying how comfortable it is. Fabrics made from nylon or spandex are particularly stretchy, which allows for a fitted yet comfortable feel — the best of both worlds when you're riding a bike.
Material isn't the only characteristic that makes a summer cycling jersey a home run for comfort. Jerseys that are specifically made for women are designed to create a fit that's accommodating yet fitted to your form. The result is a fit that's comfortably snug without restricting your movement. Additional details such as side panels and piping along the bust offer a supportive feel that makes a jersey comfortable enough to wear all day long.
Create Great Optics by Looking Cool
You care about comfort and performance, obviously, but let's be real — you also care about looking cool. Whether or not you're willing to admit it, you want a cycling getup that's stylish, and that's not always a guarantee with special cycling attire. Some clothes are certainly more clunky than trendy, and finding the right style can be a challenge. When you find the right cycling jersey, though, there's no doubt — you'll look cooler than you've ever looked in your life.
Creating great optics is part of the fun of cycling fashion. One look at the available jerseys will reveal a whole world of designs, styles, fits, and patterns. Whether you err on the side of minimalism or tend to seek out the loudest colors, you'll find a look that fits your vibe perfectly to transform you into the trendy cyclist of your dreams. It's not a matter of if you'll find the perfect jersey — it's a matter of when.
Some of the most popular styles feature details such as decorative zippers, pockets, piping, and other cool additions. Cycling jerseys offer the absolute best of both fashion and function, and it's an adventure to find the one that's right for your riding style and fashion sense. Remember to look for features such as UV protection and moisture-wicking in addition to a cool look.
Adjust the Exposure of a Jersey
Last but not least, one of the greatest benefits of a cycling jersey is the ability to adjust the level of exposure it provides. When you're wearing a cotton t-shirt or a sundress, you can't exactly rip it open when you get too hot. Conversely, you'll have a hard time applying a sweater mid-ride if you happen to catch a chill. Cycling jerseys have a solution to this problem that ensures you'll be comfortable no matter how your body temperature may fluctuate.
The adjustable exposure of a cycling jersey typically comes in the form of strategically placed zippers that a rider can unzip in order to allow more airflow through the garment. Many cycling jerseys also feature a collar that can be loosened when unzipped or kept comfortably snug when zipped. Some jerseys, alternately, feature flaps that are secured with Velcro.
Adjust the exposure of your jersey according to your comfort. This versatility ensures that you won't overheat or find yourself shivering when you're in the middle of a ride. Conditions can change unexpectedly, and exercise can cause your body to fluctuate suddenly in temperature, so this feature is an invaluable resource. Few other garments offer this unique ability to adjust airflow with a quick zip!
Find the Perfect Summer Cycling Jersey
Riding a bike is one of the greatest joys in life…but with the wrong clothes, it can be a downright uncomfortable experience. Whether you're an amateur hobbyist or hardcore professional, investing in a cycling jersey is an investment in your safety and comfort. Instead of settling for discomfort, do your research and find a summer cycling jersey that's suited to your needs. The right one will be moisture-wicking, UV resistant, comfortable, and — most importantly — very cool looking. Armed with these criteria, you'll be able to find the cycling jersey of your dreams and hit the roads in both style and comfort. Stop settling for clothes that aren't designed for biking, and find the right biking attire for your adventures.