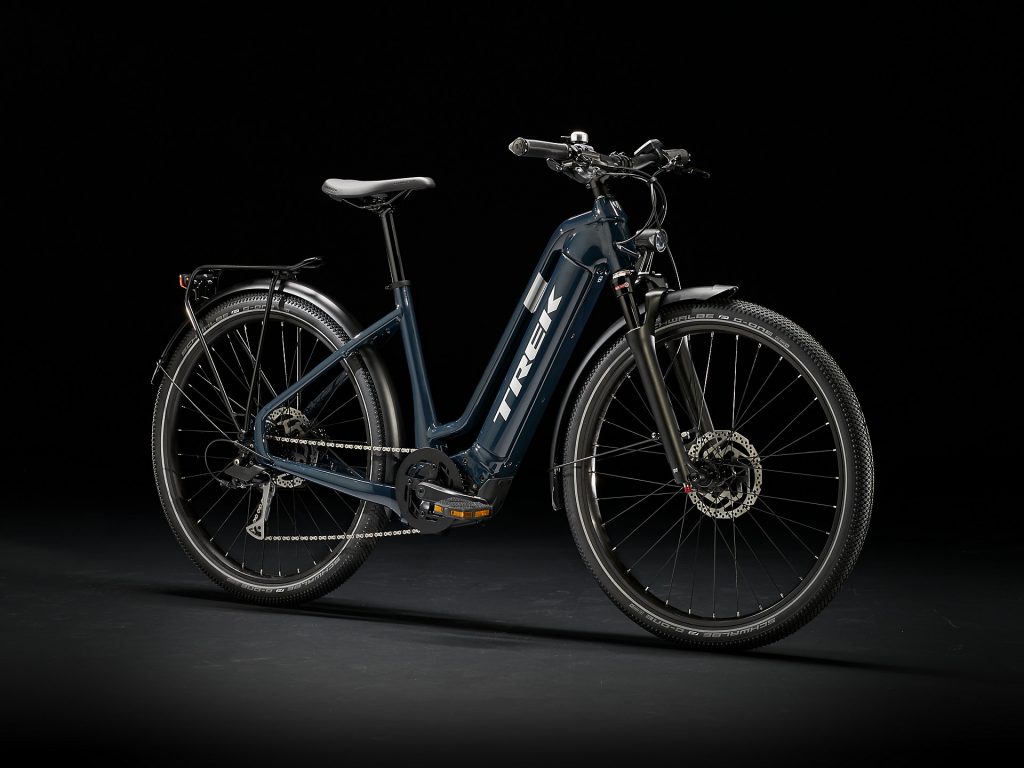 The best hybrid bikes for women can be used as an all-rounder for both on and off-road use.
A hybrid bike usually features some form of shock absorption such as a set of suspension forks. It can also feature a shock-absorbing seat post.
Having such a versatile bike is good for someone that wants to commute or use their bike in town. Maybe you want to get out into the countryside to explore on the weekends.
Hybrid bikes for women come in different shapes and sizes but the most popular form is the Stepthrough frame design.
If you are looking for a bike that can function well as a commuter and a pleasure bike that can be taken off-road occasionally, then this is the best bike to own. 
Although the definition of a hybrid bike simply means suitable for on-road and off-road use, the revolution in electrical technology has brought power to the wheels of some of these bikes.
The ability to give power assist to every pedal stroke or allow a boost when cycling up demanding hills give the hybrid bike even more versatility and enables the user to go further than ever before without breaking too much of a sweat. 
In this article, we will discuss the benefits of a hybrid bike and look at how the advancement of electrical power in hybrid bikes can benefit you as a user.
We will also provide you with three of our favorite hybrid bikes from Trek and review the benefits of both the traditional bicycles and their electric-powered counterparts.
What is a Hybrid Bike Good for?
Hybrid bikes are ideal for anyone that wants versatility and usability.
The hybrid bike allows you to travel both on and off-road in comfort which allows you to cycle varied terrains regularly.
If you want to commute to work in the morning on the road and then cycle back through the forest or fields, this becomes not only possible but comfortable and enjoyable as well.
An electric hybrid bike has many other additional benefits.
Not only can you travel over different terrains with ease and comfort you can also use the power assist or throttle controls to propel you along when your legs are tired, or you don't want to exert yourself.
A great example of a situation where a hybrid bike comes into its own is for the commuter.
Let's say you work in an office in the center of town during the day and you wear a formal suit, you may want to cycle into work but don't want to risk getting sweaty in your professional attire.
An electric bike allows you to travel to work without exerting yourself and ruining your suit, then after work you are able to get some exercise by deactivating the electrical assistance and using it as a traditional bike.
Added to this, an electric hybrid bike gives you the opportunity to get out in the countryside after work to enjoy the outdoors, workout, and unwind from the day to day stress of office life.
How Do I Choose a Hybrid Bike?
Choosing a hybrid bike can be difficult.
Every style of bike is adapting and moving fast into the future as advancements in manufacturing techniques improve their quality and durability.
So how do you make sure you select a modern bike that is at the forefront of current manufacturing processes?
Choosing a bike from Trek's 2020 range will ensure that your bike features all the best materials.
Trek offer high quality, reliable bikes that perform brilliantly and last a lifetime.
To prove the confidence they have in their bikes they offer a 2-year guarantee on all parts.
They also prove you with a lifetime warranty on the frame of the bike. This gives you peace of mind upon purchase.
You have a couple of options when it comes to choosing the best hybrid bike for women.
The first is the standard multi-terrain bicycle and the second is the more modern electric hybrid bike.
If you are an office worker that wants to cycle into work without getting your suit ruined, then an electric bike is a great option for you.
Think about the distance of your commute. Ensure the bike you are looking at has enough range to get you to and from work.
Perhaps you are a person that has a short commute or simply wants a bicycle that is versatile enough to cycle to the shops on the road and then take the off-road route through the woods on the way back.
If this is the case, then a traditional hybrid bike without electrical power is the best option for you.
Although it won't have the added benefit of powered cycling, they are extremely reliable.
What is the Best Women's Hybrid Bike?
As we mentioned earlier there are two options to choose from when selecting your hybrid bike: an electric and standard bike.
Below we have selected the best options in both categories.
Both of these bikes are from Trek and come with a lifetime guarantee.
So, what are the best hybrid bikes for women?
Electric Hybrid Bikes for Women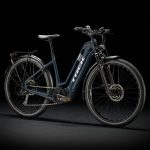 Allant+ 7 Lowstep is an award-winning performance e-bike built for riders and commuters who want a stylish, durable e-bike with the added road-smoothing benefits of a suspension fork. A powerful Bosch drive system, quality parts, and a wealth of thoughtful design details make this electric bike a smart solution for getting around town every day.
Our best electric hybrid bike for women is the Trek Allant+ 7 Lowstep. This bike is the top of the range in women's hybrid bikes. It has award-winning performance and is built with commuters in mind.
This bike is durable, versatile, and built with high-quality, dependable parts.
It uses a powerful Bosch performance drive system (the CX 250W). This gets you from A to B in no time with speeds of up to 20mph.
It comes with lights for full visibility day and night, a 9 speed Shimano drivetrain, and hydraulic disc brakes for all-weather stopping power.
The Trek Allant+ has a 500Wh battery that can sustain 20mph for over 20 miles when turning the pedals at 15rpm (revolutions per minute).
This range can be greatly increased if rpm is increased and average speed is lowered.
When the bike is put in eco mode, pedaled at 50rpm with an average speed of 15mph you can easily get a 70-mile range!
Standard Hybrid Bikes for Women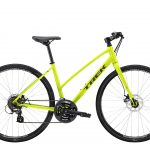 FX 1 Disc Stagger is a hybrid bike with a classic stepthrough frame design that's easier to mount and dismount and modern disc brakes that give you extra stopping power in all weather conditions. It's perfect for anyone looking to get out more, ride as a family, do a bit of exercise, or commute to work on a versatile bike backed by a lifetime warranty.
Our best standard hybrid bike for women is the FX 1 Stagger by Trek.
This bike features a classic Stepthrough frame that makes it easier to get on and off the bike.
It has full disk brakes for ultimate stopping power in all-weather and a 21 speed Shimano drivetrain making it easy to find the right gear no matter what the terrain.
This is the perfect bike for anyone that is looking for an urban bike for commuting, city travel, and trips into the countryside.
If you want a lightweight, versatile bike to take on the commute then this is the one for you.
This great package offers Trek's lifetime warranty and is sensibly priced for the budget-conscious cyclist.
What is the Best Hybrid Bike for the Money?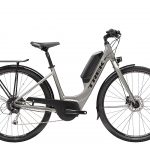 Verve+ 2 Lowstep is an electric hybrid bike that will help you get out and ride more. Your daily cruises, commutes, and workouts will all get a boost from the reliable Bosch pedal-assist system that sustains speeds of up to 20 mph. Plus, this e-bike is equipped with parts that put your comfort and safety first, like a road-smoothing suspension seatpost, wide, stable tires, and front and rear lights.
The best Hybrid bike for the money is the Trek Verve+ 2 Lowstep.
This electric hybrid bike is versatile and lightweight and like the others, features a Step-through frame.
It is ideal for the commuter cyclist, or daily trips into town.
This is a great bike to ride in urban environments. Thanks to its trail-flattening suspension seat post and wide gravel tires it is comfortable to ride off-road.
The Verve+ Lowstep has a powerful pedal-assist system that can get you from A to B at up to 20mph.
The Bosch active line motor, Purion controller, and 400Wh battery will carry the average rider at 15mph in eco mode at a 70-mile range.
This range will increase or decrease depending on the weight of the rider.