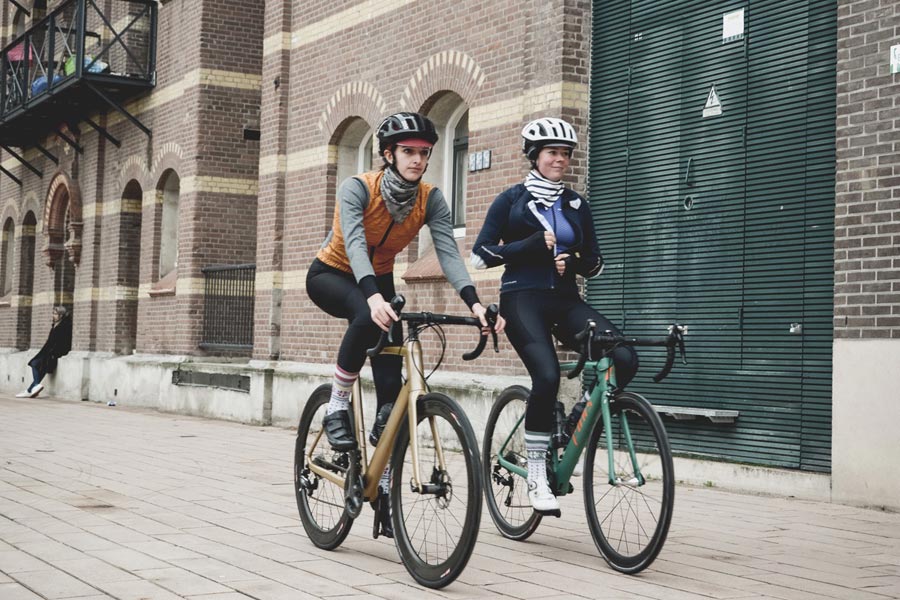 If you're new to the world of biking, you may feel some uncertainty about what you should wear as you embark on this new adventure. Do you need anything special? Is a helmet really necessary? No matter what kind of riding you plan to do, the right outfit can make you safer and more comfortable. This article covers the essentials about how to choose what to wear for biking.
Clothing Kit Essentials
As you ride more there is no doubt that you'll adapt, alter and add to your clothing kit over time. However, there are several essential items you need to put together for a bike outfit when you start out. Your kit ensures you've got the right gear from head to toe.
Cover Your Head
There isn't a federal law requiring bicycle riders to wear a helmet. This leaves it up to cities and states to make the rules. The laws vary widely, but the best thing you can do is wear a helmet whenever you head out on your bike. Protecting your noggin is just a good idea. Cycling helmet is one of the most critical pieces of equipment you can invest in.
The best helmet is a comfortable helmet that you wear regularly. If it doesn't fit the way it should, it might not do its intended job very well. Beyond a good fit, you can choose from among numerous styles to find one that suits you, your budget, and the riding you plan to do.
Slip Into Something Practical
You'll need clothes that are comfortable but also practical for sitting in the saddle, whether you're commuting across town or pedaling over the Alps on an European biking adventure. For most types of riding, you should wear bright colors and reflective elements to ensure other cyclists, pedestrians and drivers can see you. Here's a tip for making any activewear stand out more: Add strips of reflective tape made for clothing to your sleeves and the front and back sides of your top.
Your bike outfit should include the following items:
Liner underwear or shorts: When you sit in the saddle for any length of time, you might feel a little tender in your seat. Liner underwear or shorts can help ease the pressure, but not everyone is a fan. These garments have chamois padding. Some have more padding; some have less. If you opt to put an extra layer between you and your bike seat, you can check out different levels of thickness to determine what you're comfortable with.
Shorts or pants: Your shorts or pants need to be comfortable for riding. If you go with a liner, you can choose any pair of shorts, leggings, or pants that fit the bill. Otherwise, if you want that extra padding, look for bottoms with a built-in chamois. When wearing shorts, go for a longer pair to prevent rubbing at the trim. Stretchy fabric is also a good thing; it makes moving so much easier. Many bike shorts have an elastic trim at the bottom of the legs to help keep them from riding up as you pedal.
Cycling jersey or athletic top: For your upper half, breathability and moisture-wicking material is the key. You don't need to start with jerseys that are made specifically for cycling but they can help as they're constructed of material that is form fitting and dries fast. Most Jerseys are fitted, making them aerodynamic, so your shirt won't flap around in the wind when you're cranking out the miles into a head wind on the road. Bike jerseys tend to have pockets for stashing snacks, hats, and other small items that you need to reach as you ride. A regular, well-fitted synthetic athletic top can work just as well for comfort, breathability, and moisture-wicking properties if you aren't concerned about aerodynamics and snack storage.
Cycling jacket: A jacket isn't only necessary for cooler weather. It also provides ample coverage when you get caught in the rain. If you choose to include a jacket in your clothing kit, look for one that provides wind protection as well as being waterproof. After these two primary considerations, there are other features to look at too. How warm do you need your jacket to be? Are you riding in the woods or through a windy ravine? Just remember that you'll be moving, so you don't want to get one that is too warm for your activity level. Balance between breathable and protecting you from the season at hand is what a good jacket archives.
Cycling socks: "They have such a thing?" you ask. Yes, they do! You don't necessarily need socks specifically labeled as biking socks, but you should cover your feet with the right kind of material. Cotton socks aren't the best idea unless you plan on just a light, easy and short ride. Otherwise, you'll feel the pain of sweaty feet. If the weather is warm, the moisture will lead to blisters. If it's cold outside, it'll make your feet even colder. Go for breathable synthetics — such as polyester — or Merino wool. Bike socks do offer a few benefits for those of you who plan to get into some serious riding, such as a snugger fit that makes it easier to slip into cycling shoes.
Put Your Shoes On
If you're just beginning your cycling journey, chances are your bike has the basic platform pedals on it. Theoretically, you can wear any shoe with this kind of pedal, but certain features make a shoe better for biking. Look for a stiff sole, which gives you more pedal power. Cycling shoes are stiffer than sneakers or hiking footwear, but you can decide what works best for you.
If you have clipless pedals, cycling shoes become a necessity. The shoe and the pedal function together to give you the greatest degree of power and control in your pedaling. Not all clipless pedals are alike, so you'll need to find footwear that is compatible with the ones on your bike.
Get a Grip
While gloves are an optional component of your outfit, they offer several benefits. If your hands tend to get sweaty, biking gloves give you a better grip. Even if your bike has rubberized handlebar grips, gloves can reduce slippage. They also add a little extra cushion for your hands with padding in the palms that absorb trail and road vibrations.
Wear Your Shades
Shades do more than protect your eyes from UV rays on a sunny day. You'll want eye protection no matter what type of weather you're riding in to shield your eyes from wind, insects, and rocks. Cycling glasses come with varying degrees of shading, so your eyesight does not have to be compromised on cloudy days. Shades that are good for biking have lenses that wrap around the sides of your face. This way, you get better coverage.
Commuting Considerations
If you're using your bike for casual, pleasure rides around town or commuting to work, you may be able to get away with a more casual clothing kit. For work commuters, if you plan to ride in any weather, you'll need clothing that suits every weather condition. Waterproof cycling pants, jackets, gloves, and shoe covers may all be worth the investment for you.
Road Cycling Considerations
When road biking is your thing, you'll want more aerodynamic clothes. This includes your helmet. The decreased wind resistance doesn't just improve your speed, but it'll also reduce wind noise and provide you with a more comfortable ride. You don't need to be racing in the Tour de France to appreciate the benefits of well-fitted and stretchable clothing.
Mountain Biking Considerations
When mountain biking, you need the freedom to move while also protecting yourself from whatever the trail hurls in your direction. Look for clothing made from durable fabrics that can withstand run-ins with bushes, branches, and mud. On technical courses, you are more likely to take a serious spill, so the more protection you'll need. Rugged gloves, eye protection,  additional padding in the form of elbow and knee pads are a good idea when you hit technical trails.
Bike Touring Considerations
Touring on a bike is a great way to explore an area and get out into nature. As with commuting, you'll need to make sure you're prepared for whatever Mother Nature has in store for you during your trip. It's always a good idea to be prepared for rain, even if the forecast calls for sunny skies. You'll often be spending long days in the saddle. Make sure your clothing is comfortable enough for a cool morning start to the heat of the afternoon sun. Quick drying materials are critical and extra padding can make day 3-4 much more enjoyable.
Final Thoughts
You don't have to invest in a lot of expensive new clothes when you're first getting started biking. In fact it is best to wait until you have 5-10 short rides under your belt. Depending on the type of riding you're getting into, start with items you already have, reducing what you need to buy at the start. Then focus on safety — in the weather and environmental conditions you expect to bike in — and comfort.