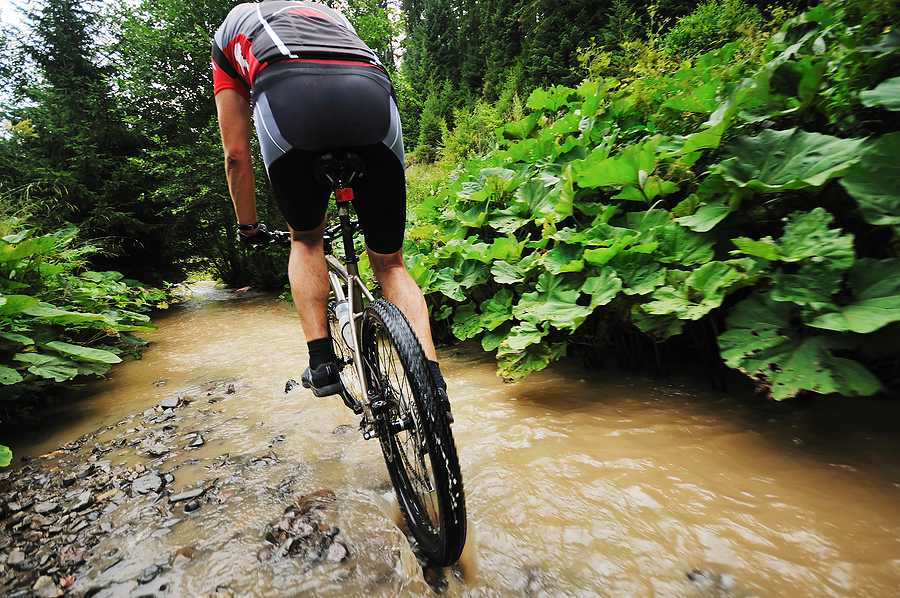 Mountain bike shoes may have not been a massive concern to you before but if you have been cycling off-road for a while in your normal sneakers, you may want to consider a specially designed pair of shoes for your hobby. Mountain bike shoes are meant to feel as comfortable as your favorite sneakers, but they should offer more control and comfort when on the trails shredding downhill, through forests, and mountains. 
Unlike road cycling shoes, mountain bike shoes have a softer more flexible sole and they don't have a way to hook into the pedals as you don't want to be hooked to the bike if you make a wrong move on some difficult trails. The best mountain bike shoes should offer excellent ankle support but still be flexible enough to give you fantastic control on the bike when you need it. These shoes should be stylish, durable, and extremely hard-wearing as no doubt you will eat dirt at some stage if you start pushing yourself hard on the trails. The last thing you want is a split in your shoes after a crash or a slip, so durability and quality are essential.
Finding a good pair of shoes for mountain biking can be difficult if you don't know what to look for and there are plenty of options to choose from out there, but how do you decide what is best for you and do you really need them? Luckily for you, we will be answering these questions and guiding you on how to select the best shoes for you. We will also be reviewing our top three bike shoes that are built to last for years of fast-paced downhill rides, steep mountain descents, and enduring climbs.
Are mountain bike shoes worth it?
If you love mountain biking and downhill trail riding, then mountain bike shoes are certainly worth it. If you love smashing down the mountainside at high speed, then you will love a good pair of mountain biking shoes. They provide the rider with great support and grip. Therefore, you can do more with your bike and feel safer on the trails and while you're airborne.
Mountain bike shoes won't improve your skills. They will help you to perform better and more comfortably for longer. This will allow you more time to practice your skills on the bike. Ultimately, a good pair of cycling shoes will help you to take your mountain biking to the next level.
Even off the bike, they are fantastic footwear. If you are having a few beers or dinner after an intense ride you won't look out of place in a restaurant or country bar.
Do I need special shoes for mountain cycling?
You do not necessarily need a pair of mountain bike shoes. However, if you are serious about mountain biking and you have a passion for the sport, then investing in a good pair will be well worth it. They will help keep you safe with protection and they allow you long-lasting grip. The ergonomic lacing system helps keep the shoes strapped to your feet firmly. 
They help keep you comfortable and supported for longer with high-friction pro-comfort linings and flexible midsoles. These features help you stay comfortable on the trails for longer. So, overall, yes mountain bike shoes are necessary if you are serious about the hobby that you love. However, they are not necessary if you only take to the trails once or twice a month.
Do I really need cycling shoes?
Whether you are the touring cyclist that smashes 100km per day in the saddle, the road cyclist that cycles daily for exercise, or the mountain biker that loves the rush of shredding trails at speed, a pair of cycling shoes are essential.
As we said in the last section, you don't need mountain bike shoes if you are a casual rider. However, if you are serious about mountain biking and get out cycling in the wilderness regularly, then they are definitely important.
Mountain Bike Shoes from EMS
In this section, we will be looking at three of the best mountain bike shoes from EMS. All of these shoes are made from high-quality materials. They offer the user durability and versatility for an extremely sensible price. 
FIVE TEN Women's Freerider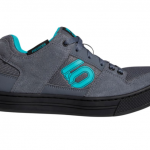 These versatile All-Mountain biking shoes feature a cushioned BMX and skate style for maximum comfort. The high-grip Stealth rubber outsole with Classic Dotty tread provides excellent traction on flat pedals.
The Five Ten Freerider Mountain Bike Shoe is a pair of casual-looking mountain biking shoes. They are designed for comfort and durability on the trails. They feature a cushioned sole and upper body that keeps you supported, comfortable, and fully protected. The high-grip rubber outsole has a classic dotty tread. It is designed specifically for the flat wide pedals that you often find on mountain bikes. 
The high grip features and their ergonomic lace-up closure makes them perfect for holding tight to the pedals of your mountain bike when you are descending at speed or climbing steep inclines. These are the perfect mountain bike shoe for women that want a casual shoe.
FIVE TEN Men's Freerider Pro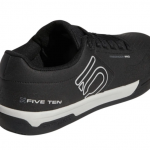 All-day comfort on and off the mountain. These flat pedal biking shoes provide grip and durability for all-mountain and enduro riding. An impact-resistant toe box complements the medium-stiff build for a responsive ride. The signature sticky rubber and purpose-built tread pattern keep your feet firmly planted on your pedals. The shoes have a casual look for times off the bike.
The Five Ten Freerider Pro Mountain Bike Shoe is a cycling shoe for men that love hitting the trails regularly. They are created for use on flat pedals, so they feature a high-grip sole for ultimate traction. They have an impact-resistant toe box and a stiff sole with a padded body. This protects your feet and ankles from damage during tough rides. The purpose-built tread pattern gives you the ultimate stick on the pedals. This keeps you firmly planted on your bike. 
This is the best mountain bike shoe for comfort, protection, and performance. This professional mountain bike shoe is sure to keep you on your bike no matter how tough the ride gets.
FIVE TEN Women's Freerider Pro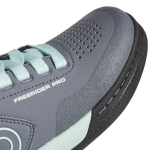 The women's Freerider Pro builds on the original Freerider shoe utility with added impact resistance in the toe box and a quick-drying synthetic upper for all conditions wear. Built on a women's-specific last, it features a versatile non-marking Stealth Phantom rubber sole for pedal-gripping control and traditional lacing that lends a casual feel for smooth transitions from trail to town.
The Five Ten Freerider Pro Mountain Bike Shoe is a professional cycling shoe for the woman that wants to take their mountain biking career to the next level. It features all of the same aspects with some improvements on material, design, and impact qualities. It has an added impact-resistant toe box as well as a quick-drying synthetic upper body for year-round, low-wear use. 
These mountain bike shoes feature a Stealth Phantom rubber sole. This gives you the best possible control and response on your bike. This is the best mountain bike shoe for the woman that wants to upgrade from the original free rider.