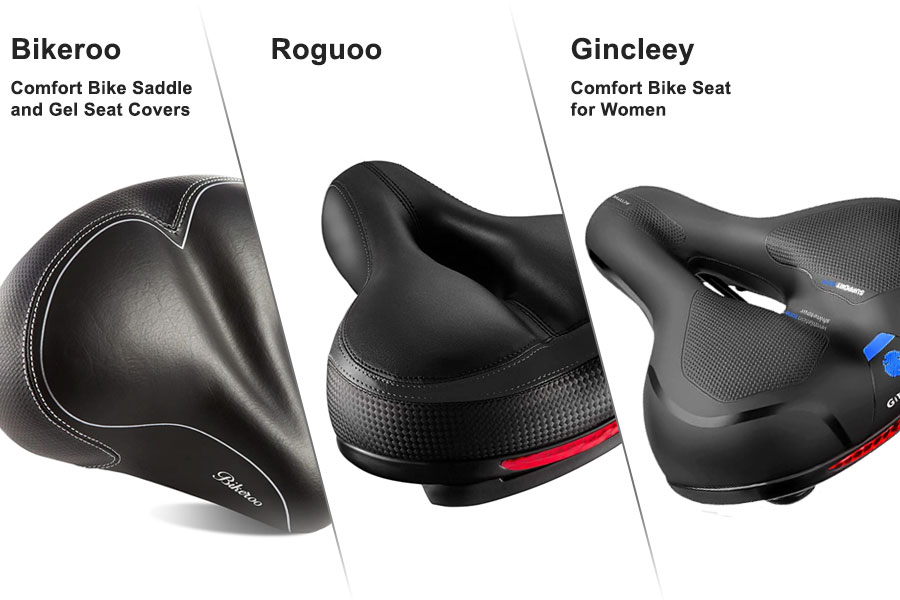 Every bike rider has a different motivation. Some do it for fitness, some do it for the outdoor scenery, and others view it as a social activity. No matter what your motivation may be, though, you'll agree that you want your ride to be as comfortable as possible, and a huge part of your comfort level is the kind of cruiser bike seat you select.

A comfortable bike seat can transform your experience, allow you to bike for longer distances, and relieve pressure on your tailbone. What is the most comfortable beach cruiser seat, then? There are so many options on the market, it can be overwhelming, but the following nine options are top of the line.
When you're shopping for a bike seat, look for qualities such as the material it is made of, customer ratings on the web, and ergonomic design. Read on for a cheat sheet detailing the best selections currently available.
Bikeroo Oversized Comfort Bike Seat
A premium faux leather finish and supremely ergonomic shape make the Bikeroo Oversized Comfort Bike Seat an immediate standout candidate. Designed to alleviate pressure by spreading it evenly throughout the seat, this model is ideal for both stationary indoor bikes and outdoor bikes, including cruisers.

Easily mount this cruiser bike seat with the included guide and hardware for a simple installation. Some of the other benefits of this seat include:
Made of foam and rubber for durable comfort
Elastomer spring suspension evenly distributes pressure
Extra padding increases comfort level
Compatible with all standard bikes
Perfect for beginners and professionals alike
The most notable feature of this cruiser bike seat, though, is its comfortable oversized capacity. This makes it easy to use for bikers of all shapes and sizes and also minimizes the discomfort commonly caused by too-small seats.

The Bikeroo Oversized Comfort Bike Seat is a home run for comfort and its highly-rated reviews confirm customers' satisfaction.
Here are few other Bikeroo saddles for you to check if you're interested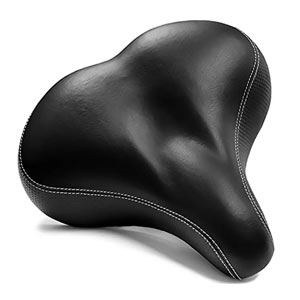 Comfortable Bike Seat for Seniors. Compatible with Peloton, Exercise, or Road Bikes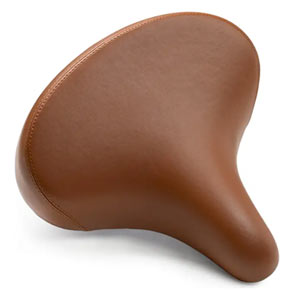 Comfortable Cruiser Bike Seat for Women and Men. Extra Wide Bicycle Saddle with Suspension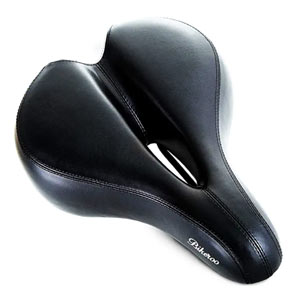 Universal Bike Seat for Women and Men
Check out the Bikeroo Bike Seat.
Roguoo Bike Seat
Available in blue, black, green, or red, the Roguoo bike seat is another top contender for the most comfortable bike seat on the market. In addition to dense memory foam padding and an anti-shock rubber coating, this seat boasts a unique central ventilation zone in the form of a hollow center. This offers a lighter construction and reduces pressure on the rider. Some of the other unique features offered by this bike seat include the following:
Elastic shock absorption built into saddle
Perfect for cruisers, city bikes, mountain bikes, and hiking bikes
High quality fillers minimize impact on the body
Easy installation that is compatible with all standard bikes
Narrow, decompressed front reduces friction during a ride
Dimensions:

Length: 9.8in (25cm)
Thickness: 3.5in (9cm)
Width: 7.5in (19cm)
These features make the Roguoo Bike Seat a great option for comfort, but comfort isn't all it offers. You'll also find that this option provides a range of premium safety features that minimize some of the risks commonly encountered while riding.

A red reflective strip on the back of this cruiser bike seat increases your visibility to drivers and other riders, and a waterproof coating minimizes slippage.
Check out the Roguoo Bike Seat.
Gincleey Comfortable Exercise Bike Seat
The Gincleey Comfortable Exercise Bike Seat is specially designed for bikers seeking a workout from their bike ride. With a sleek ergonomic design and superior ventilation, this seat provides a universal fit for standard bikes. Most importantly, riders will find that its narrow construction allows legs to move freely — and quickly — during an intense cycling session. Minimized friction and maximized comfort make it easy to bike for miles free from any discomfort. This seat offers other features, too:
Standard mounting tools included for easy installation
Soft elastic design absorbs shock throughout ride
Red warning strip on rear alerts other riders and drivers to your presence
Interior foam pad provides ample cushioning to maximize your comfort
Compatible with cruisers, BMX bikes, stationary bikes, road bikes, and electric bikes
Few bike seats match the fitness-focused comfort offered by the Gincleey Comfortable Exercise Bike Seat. A waterproof coating makes it safe to use in any weather, and the anti-shock suspension system means a smoother ride when you're on the road.

A hollow construction rounds out the features of this cruiser bike seat and offers riders a superior sense of breathability as they enjoy their bike.
Check out the Gingleey Comfortable Bike Seat.
Schwinn Comfort Bike Seat
When it comes to bikes, Schwinn is arguably the most immediately recognizable brand, and with good reason. Schwinn is synonymous with quality, comfort, and durability, and the Schwinn Comfort Bike Seat is no exception. This model aims to provide users with an improved level of comfort as well as a safer experience during their ride. It does so by providing a waterproof Lycra covering that repels water as well as an exceptionally secure construction so that you are stable and safe at all times. Other safety and comfort features this seat offers include:
Highly dense foam padding for a cushioned ride
Mid-level width that is specifically designed for urban and commuter users
Universally compatible with bike posts of all standard bikes
Elastomer springs inside seat to absorb shock and minimize bumps
Durable construction that is designed to last for years
These qualities make the Schwinn Comfort Bike Seat one of the top options for any commuter, urban biker, or other cyclists in need of a comfortable, affordable, and durable seat for their bike. You can't beat the quality offered by Schwinn, and this cruiser bike seat proves that their brand recognition is well deserved.
Check out the Schwinn Comfort Bike Seat.
Tonbux Comfortable Bike Seat
Another highly-rated contender, the Tonbux Comfortable Bike Seat, brings an ergonomic design to the table. Its narrow shape minimizes obstruction and allows you to move your legs freely without being slowed down by your seat. An airflow vent in the middle of the seat further supports comfort and ensures that you maintain breathability even on long rides. A surface made of microfiber faux leather adds a smooth, wear-resistant finish and ensures that you can ride this seat for years to come. Enjoy its other features, too, including:
A densely cushioned pad makes the seat comfortable
An anti-scratch finish protects the seat from visible signs of wear
Dual shock absorbing ball minimizes the impact of bumps in the road
Elasticity makes the seat durable and fit for all riders
Cooling technology ensures that moisture won't accumulate
Adaptable to any terrain, including urban areas and rough terrain
These features make the Tonbux Comfortable Bike Seat a standout option for anybody who needs a comfortable, durable, and well-ventilated bike seat.

Its extra-thick design provides more cushioning than the average cruiser bike seat, but this extra density is offset by the narrow design so that it never becomes an obstruction to the rider. This balance makes it ideal for cyclists of any skill level.
Check out the Tonbux Comfortable Bike Seat.
Selle Royal Respiro Bike Seat
If you're looking for sleek, you're looking for Selle. This brand offers modern, minimalist bike seats that cater to serious cyclists.
Bikers of any expertise will appreciate the Royal Respiro Bike Seat, though, with its tridimensional gel construction and unique ventilation channel.
The ventilation channel is especially designed to improve breathability and relieve tailbone pressure at the same time so that your ride is more comfortable in multiple ways. Some of the other features that riders can enjoy include:
100% sealed coating makes the seat completely waterproof
Clip on the rear of the seat makes it easy to attach a saddle bag
Cooling technology keeps the surface of the seat drastically cooler
Specifically designed for long rides in the athletic position
Open cell structure maximizes the seat's durability and comfort
The Selle Royal Respiro Bike Seat is the top of the line for any cyclist seeking a professional-grade seat that offers support and comfort throughout long rides. ]

All of the aforementioned benefits and its sleek design make it a top choice for any serious biker. This cruiser bike seat is compatible with all standard bikes and offers easy installation to users.
Check out the Selle Royal Respiro Bike Seat.
Planet Bike A.R.S Bike Seat for Women
Cyclists have depended on the Planet Bike A.R.S Bike Seat for Women for decades. Its sporty design and advanced pressure relief system make it ideal for short and long rides alike, and its waterproof coating keeps water and moisture-sealed out from its interior. Perfect for any conditions and all occasions, it's a classic companion for any cyclist, and it's designed specifically for women, too. You never have to worry about an ill-fitted seat that's too big or too small with Planet Bike's design tailored to women. Some of the other benefits this seat offers include:
Rails made of steel for superior durability and strength
Weight of just 367 grams for a lightweight construction
Foam padding secured on a flexible base for maximum support
Recess throughout entire center for pressure relief
Side panels resistant to abrasion for improved durability
These features make it the seat of choice for women cyclists who demand comfort and durability. Its sleek design provides an exceptionally ergonomic fit, too, so that you can ride for long periods without any discomfort. Planet Bike offers the best of quality and luxury at an affordable price point.

Check out Planet Bike A.R.S.'s bike seat for women.
Bikeroo Bike Seat for Men
The so-called "cloud of comfort" that the Bikeroo Bike Seat for Men offers is exactly as luxurious as it sounds. Constructed from premium quality memory foam and cushioned to provide extreme comfort, this seat is the optimal option for any guy seeking an adaptable yet durable seat for their cycling sessions.
Designed to provide a universal fit for all standard bikes, it is a reliable basic that offers the comfort you need. You can also count on this bike seat for the following:
Simple installation that includes all necessary tools and instructions
Saddle adapter included so that you can upgrade your seat easily
Perfect for cruisers, commuter bikes, and stationary exercise bikes
Center cutout to provide relief to perineal and tailbone area
Memory foam molds to your unique shape for superior comfort
Additionally, this cruiser bike seat is designed specifically for men, meaning that you don't have to worry about a wrong fit. It is shaped to fit the average man's needs and provides unique anatomical support throughout rides.
Consider biking's ability to reduce the risk of testicular cancer and ED, and you'll see why this seat is a must-have for any man who enjoys cycling.
Check out the Bikeroo Bike Seat.
Sgodde Bike Seat
The Sgodde Bike Seat offers a unisex design that's adaptable for both men and women seeking a comfortable, durable bike seat for their cycling excursions. This seat is constructed from the highest quality foam and offers a unique layer of artificial fatty padding made from gel. Unlike many competitors, it also offers an exterior made from real, waterproof leather, so if you like your comfort with a side of style, this seat has you covered. Some of its other benefits include:
Uniquely ergonomic shape that allows you to bike freely without obstruction
Double rails made from stainless steel for maximum safety
Reflective stripe surrounding seat to alert drivers and other riders to your presence
Deep cutout in the center minimizes pressure on the prostate and enhances breathability
Perfect for stationary bikes, cruisers, mountain bikes, BMX bikes, and electric bikes
Sgodde is the premium provider of professional-grade cycling seats. Whether you're a newbie or a committed professional, these seats are the top of the line for comfort, durability, and quality. Men and women alike can enjoy long rides with a Sgodde bike seat underneath them.
Finding the Right Bike Seat for Your Needs
Riding a bike is one of the best forms of exercise — you can enjoy a full cardio workout while strengthening many parts of your body, including your hips, legs, glutes, and back.

All of these benefits, combined with its low impact, makes it the exercise of choice for millions of people around the world. Even the most enthusiastic cyclist, though, may find themselves getting uncomfortable after a long period spent sitting on the saddle.

Luckily, there are many upgrades available, and these nine are at the top of the list. If you're looking for the most comfortable bike seat, consider one of these, and make sure it's installed securely before you hit the road for your next trek.
If you're looking for bike seats for women or bike seats for seniors, our dedicated articles may help.