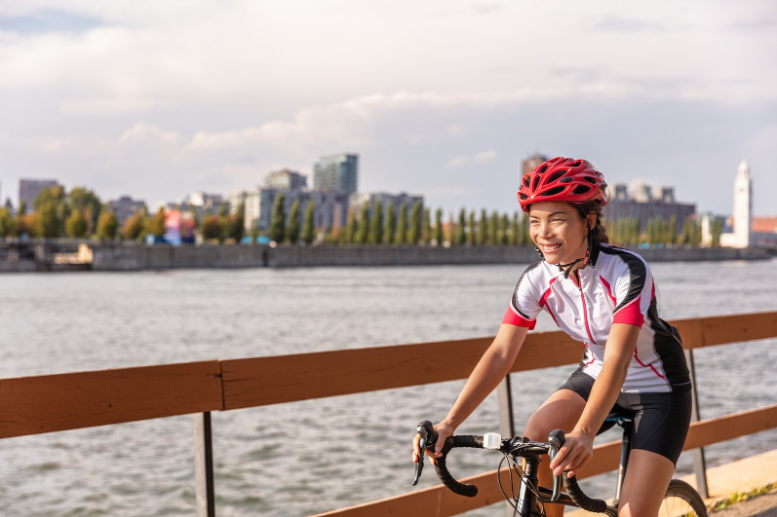 Bike short technology and styling your bike shorts have come a long way. For one thing, companies now use almost exclusively synthetic materials rather than the soft leather padding used up through the 1970s. They have also created new designs to accommodate women's specific anatomical needs.
With so many outfitters seeking to impress today's riders, women have lots of choices. We'll offer some suggestions to help you pick a pair of women's padded bike shorts—and to have the best possible ride!
What are your options when styling your bike shorts
Women's bike shorts come in many shapes and sizes. Fitted bike shorts come in longer and shorter versions depending on temperature and the rider's style preference. Some bike shorts aren't even shorts at all—many cyclists prefer three-quarter-length "knickers" or even full-length riding tights.
While fitted bike shorts are a classic look, cyclists may also opt for "baggies": bike shorts with a fitted liner on the inside and a "baggy" outer layer that looks like a regular pair of shorts. Baggies offer the broadest range of styles, colors, and patterns.
You'll also have the option of "bib" shorts, which are held up by suspenders instead of a regular waistband. Bib shorts are great for preventing slippage on the go, and many riders find them more comfortable.
One area where you won't have much of a choice? The chamois, or padded crotch section of your bike shorts. Every pair has a chamois. It is essential to reduce pressure on the crotch and prevent friction that can cause sores and infections.
Now that you have a sense of your options let's talk about how to style your bike shorts based on the season.
Styling Shorts for Summer Riding
Summertime—what could be better than a bike ride when the days are long and the sun is out? As any cyclist knows, the heat can be unpleasant for anyone on a saddle, especially since sweat can cause extra chafing and a risk of infection—yikes!
During the hot summer months, choose a lightweight bike short. Look out for lycra, nylon, and polyester—these materials help with moisture management by wicking sweat away from your skin.
Less fabric means less heat trapped close to your body, so you may choose to opt for shorter bike shorts.
Top Summer Priority: Chamois Fit
More than anything else, you need to make sure that the chamois is a good fit. When things get sweaty, you'll be glad your padded shorts suit your body—otherwise, you might be dealing with some unpleasant chafing and nasty saddle sores.
What to Wear On Top during Summer
When it comes to styling your padded bike shorts, choose a jersey with plenty of ventilation points and proper sun protection. If you can, aim for a UPF rating of at least 30-40.
Some cyclists also opt for sun sleeves to protect the lower arms from sun damage. Certain brands even offer sun sleeves treated with xylitol, a coating which turns fabric cold when it gets wet with sweat.
Styling your bike shorts in the summer should be a breeze—at least if you've chosen gear with enough air vents! But how should you protect yourself against the cold?
Winter Riding
Winter brings plenty of challenges for cyclists. Colder temperatures mean it's even more critical to protect the body against wind and rain. Luckily, there are a variety of high-quality women's bike shorts to choose from for the winter season.
Consider getting yourself a pair of bike shorts with a double-layer of fabric around the knees. This fabric will protect your legs from harsh winter winds and road spray.
Just look for shorts with mesh ventilation panels so that you can stay warm without overheating during your ride.
Shorter winter days mean less sunlight, so try to find bike shorts with plenty of reflective accents. Reflective accents will ensure that you are seen by vehicles, pedestrians, and other bikers wherever you go.
Top Winter Priority: Water-Repellent Fabrics
In many cases, staying warm means staying dry when you're cycling in the winter. Pick a bike short made of nanotechnology water-repellent fabric. These shorts are a bit thicker and less breathable, but they'll prevent moisture from entering from rainstorms and road spray.
What to Wear On Top during Winter
There are many winter cycling jackets to choose from, and you really can't go wrong. Just look for a jacket that is labeled "water-repellent" or "waterproof." Both of these descriptions are considered to be a step up from "water-resistant," which could leave you out in the cold if you get caught in a storm.
Consider a jacket with a quilted front or built-in vest section for added insulation. Both options will keep your core warm while allowing extra heat to leave your body so that you don't get too hot.
Now you're ready to handle whatever the winter throws at you. Up next: styling your bike shorts for different occasions.
Special Occasions: Trails, Tours, and Triathlons
There are so many different kinds of rides, and there's a pair of women's bike shorts for all of them. Let's look at three types of rides and how to style your bike shorts for each one.
Styling your Bike Shorts for Trails
A day of trail mountain biking might be a good day for baggy shorts. The extra layer of fabric provides additional protection against branches and thorns on the trail.
The Metro short lite bike short from Terry is an excellent option for trail riding, with generous above-the-knee coverage and a sleek minimalist look.
Styling your Bike Shorts for Tours
Choose bike shorts with more padding and enhanced ventilation for longer, multi-day rides. The Terry Touring short for women includes an increased level of multi-density foam to cushion the crotch area over days or weeks in the saddle.
Cyclists on more casual tours may opt for a baggy bike short. This option allows wearers to replace the inner lining but reuse the outer layer days in a row. Baggy bike shorts are a preferred option for some cyclists on casual tours because it allows for a more graceful transition from the bike to, say, a coffee shop or bookstore.
Are you interested in a travel-friendly baggy short? The Mixie bike short from Terry offers a stylish pattern and feminine cut for women looking to look and feel good throughout a casual bike tour.
Styling your Bike Shorts for Triathlons
Listen up, triathletes and Iron Women! For longer competition days when you will have the chance to change clothes, choose a high-performance bike short. This type of short, like the Terry Euro short for women, includes compression features to support muscles, reduce fatigue, and aid in recovery from long and intense rides.
However, many triathlons do not allow time for a quick change. In that case, cyclists should choose a triathlon-specific bike short with a thinner chamois pad, which still prevents friction but absorbs less water. It's a compromise, but this option allows for quick transitions during an event focused on speed.
Final Tips
You're now prepared to style your padded bike shorts for a variety of events and weather patterns. Before you go, just two more things to remember when you're buying and wearing your bike shorts.
First, when you're purchasing a new pair of shorts, try them on. You'll never know if the shorts are a good fit—or if they'll lead to chafing and misery—unless you see how they fit your unique body.
And second: no undies! While this can be uncomfortable at first, your bike shorts have been designed to go between your privates and the bike saddle. Anything else—especially cotton underwear—will interfere with the moisture-wicking and anti-chafing properties of the chamois. Trust us. It's better this way.