Category:

Fashion for cycling
In this article, we are looking at the best mountain bike shoes, and how they can improve your performance, comfort, and safety on the bike.
In this article, we will be guiding you on the benefits of a good pair of gloves and reviewing four of the best cycling gloves for the money.
Good and comfortable cycling socks are the most important ingredient for an awesome bike ride. In this article, we review the best cycling socks for women.
Love a good bike ride but aren't sure what should you not wear when cycling? Check out our guide and make sure you are well equipped for the adventure!
Ready to start commuting again? Let's review some of the best women's bike shorts for commuting!
In this article, we review our top picks for the best bike shorts for women. Let's dive right into it.
Looking to up your indoor cycling game? Make sure that you have the best indoor cycling shoes – they can make or break your indoor cycling fun.
Looking for the perfect gifts for cycling enthusiasts but the options are endless? Let's explore 10 presents that will make the perfect celebration!
What makes the best of saddles and the worst of saddles? In this article, we will go over a few points on why you should choose the best bike saddle for your needs.
We have done all the research to bring you the best women's padded bike shorts – reviewed! Find out more in this article and get ready for cycling.
Products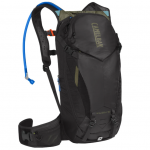 Go big and go brave with the the K.U.D.U.™ Protector 10, the ultimate pack for hydration and protection. The full back CE Level II protector panel helps absorb impact in a crash and 7-liters of cargo space ensures you can bring what you need for a day on the trail. Endlessly adaptable, the protector can be worn with or without the cargo pack and is capable of carrying a full-face helmet and armor.
Check the price